Outdoor rugs are a staple of the warmer seasons, no matter the style of your home or the amount of space you have. Whether it's a front door mat, a pool rug, or a rug for your patio, outdoor rugs are the perfect piece to add to your outdoor decor. Choosing the right outdoor rug can dramatically improve the look and feel of all of your outdoor spaces - and this is especially true for your patio. With so many options on the market, it might be difficult to choose the best rug to help give your patio the spring refresher it deserves, but we here at Decorsify are here to help. Here are some crucial aspects to consider while selecting an outdoor rug to help with the decision-making process: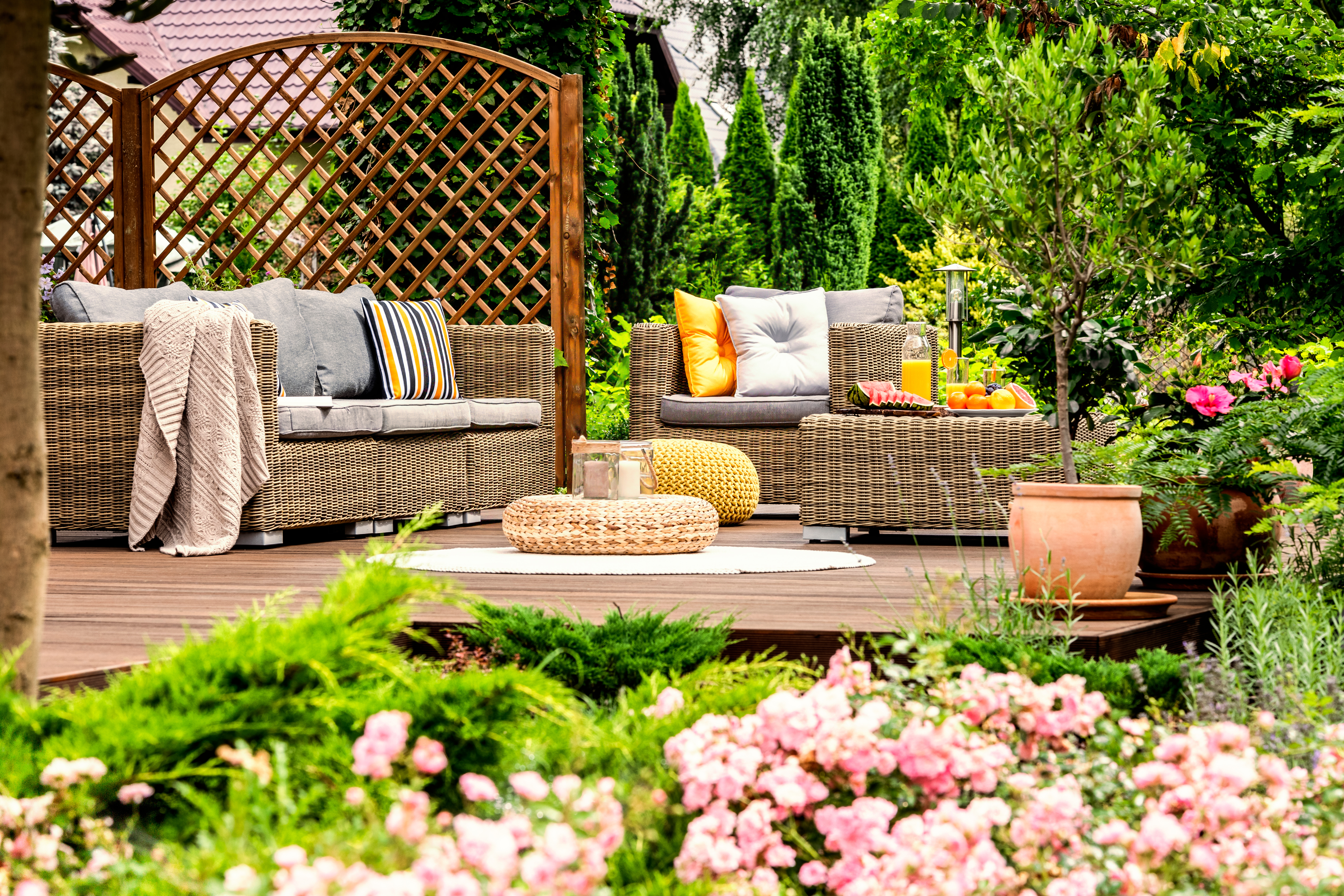 Material
The type of material an outdoor rug is composed of is one of the most important aspects to take into account, because in order for a rug to survive outdoors, it needs to be extremely durable. Often, synthetic fabrics like polypropylene, nylon, or polyester are used to make outdoor rugs. These materials are ideal for outdoor use as they are strong, weather-resistant, and simple to maintain. When buying an outdoor rug, it is important to make sure the rug is UV-stabilized, fade-resistant, and waterproof to survive varied weather conditions. You could also choose a washable rug for your outdoor rug, to make cleaning and re-using it a breeze!
Size and Style
It is crucial to choose the proper size rug for your patio, because the size you choose will determine the purpose that your patio rug serves. It is also important to assess the space where you want to put the rug, as this will help you figure out our optimum size. You need to make sure that the rug won't overwhelm the space by being too large, while also making sure that it isn't overshadowed and missed by being too small. Try taping out the area and seeing how different shapes and sizes would look if you were to implement them in your outdoor space.
Outdoor rugs are also available in a variety of designs, such as strong geometric patterns, subtle stripes, and solid colors. The design you select should go well with your outdoor furnishings and decor. A straightforward, solid-colored, contemporary rug can be a preferable option if your patio furniture is already striking and vibrant. And, on the other hand, a colorful traditional rug might work better if you want more pops of color. Play around with any stylistic ideas you may have beforehand by using imposing apps to visualize the rug in your space, by making mood boards with different style preferences, or even by ordering some small sample pieces that you can use in the space and observe how they look in different settings of sunlight and weather.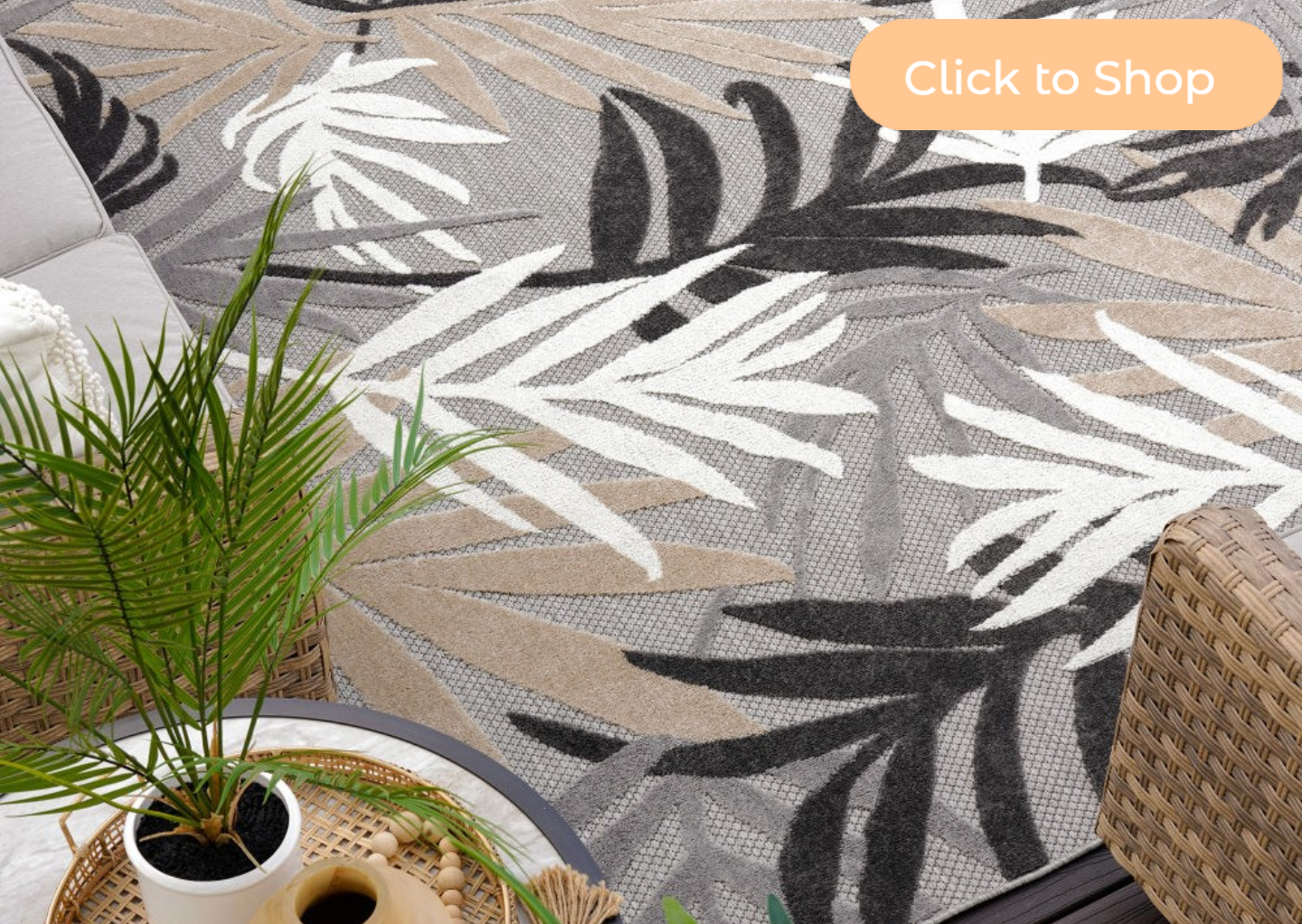 Texture
The ease of upkeep of the outdoor rug you choose may be impacted by its texture. The optimal rugs to choose for outdoor areas should be low pile or flat weave rugs, since they are less prone to collect dirt and moisture and are thus easier to clean. In rainy situations, a rougher texture can also offer traction, lowering the likelihood of slips and falls if you are to walk over your rug in wet conditions. Again, choosing something washable might be an even better option, especially if your rug will be in any walkways, or will get a lot of foot traffic.
Maintenance
Due to their exposure to the weather, outdoor rugs can easily get soiled and need to be cleaned frequently. It's important to choose a rug made of an easy to clean material for this reason, to assure that if you do get some stains from mud, snow, dirt, or debris, that you'll be able to clean your rug and make use of it in the seasons to come. To make cleaning easier, look for rugs that can be hosed off or washed with mild soap and water, or as previously mentioned, a rug that is machine washable.
If you need more information on washable rugs, what they're made of, or how to wash them in a washing machine, check out a few of our other blogs, like A How-To Guide for Machine-Washing Your Washable Rug.
Budget
Before buying an outdoor rug, you need to establish how much you're willing to spend, or at least determine a range that you'd like to stay between. It is important to purchase a high-quality rug that will last, but you also want to do so without breaking the bank. You can find fashionable and durable outdoor rugs at a range of prices depending on the size, shape, material, and pattern. When keeping in mind the quality and longevity of the rug, take into account your budget and adhere to it.
Durability
In most cases, outdoor rugs may be kept outside for long periods of time, even throughout the winter, because they are made to survive the weather. But all of this depends on the durability of the rug - so getting a rug that is designed to serve time outdoors matters, maybe most of all. You can use indoor rugs outdoors, but they won't stand the test of time, especially if they are thicker, high-pile materials like shag rugs.
It can be a good idea to take extra care to safeguard your outdoor rug if you live in a region that has severe winter weather, such as lots of snowfall or subfreezing temperatures. For example, until the weather improves, you could wrap it up and put it in a dry, safe spot. After the precipitation or heavy winds have passed, you can re-place the rug.
Jute Rugs: A Viable Option?
The short answer is no, unfortunately. Jute rugs are not often advised for outdoor usage since they aren't particularly durable and are easily damaged by dampness, sunlight, and other outside factors. Jute is a natural material that rapidly absorbs water and molds, causing the rug to break down and deteriorate over time. Additionally, continuous exposure to sunlight can damage jute strands, causing the rug to fade and lose its color. Choose a rug designed for outdoor use. It should be made of materials that can withstand rain and sunshine, such as polypropylene or synthetic mixes.
It's a bummer, especially considering how jute rugs have soared in popularity recently, but to be safe you should opt to only use jute rugs indoors, not outdoors on your patio or around your pool. Not permanently, at least.
All in all, a nice outdoor rug is going to completely change the look and feel of your outdoor patio area... but choosing the right rug for the job is important! Before buying a rug for your patio, make sure to assess the rug's style, material, durability, texture, size, its maintenance, as well as your own budget to make sure that it's the perfect rug for you. After you've checked all of the boxes, placing your outdoor rug is a breeze - and will help you enjoy the breezes, too!
If you're in the market for a new patio rug, or just want to browse some style ideas, be sure to check out the listings at Decorsify.com! Our online store has dozens of outdoor rugs to choose from, so you're guaranteed to find one that would work for you and your space.
While you're there, be sure to check out a few of our other blogs for more style tips!
The Best Places to Use a Medium Sized Rug
Everything You Need to Know About Shag Rugs