Shag rugs are soft and fluffy carpets that feature thick fibers that stick up in all directions. As a typically indoor rug, they come in all sizes, shapes, colors, and materials so you can find one that perfectly suits your home decorating needs. They can be used to add warmth and texture to any room, and are known for being one of the most comfortable rugs on the market, providing the perfect place to relax and unwind.
They are a great way to bring a cozy and inviting atmosphere into your home – so we here at Decorsify are eager to tell you all about them! Keep reading to learn all about shag rugs, and to see if a shag rug is the perfect fit for your home!
History of Shag Rugs
Shag rugs first became popular in the 1960's when they were used as decorative pieces to enhance the modern design trend of the era. With their long fibers and fluffy texture, shag rugs provided a cozy and inviting feel to any room they were placed in. They were often used in the center of a room to add warmth and texture, or used as a bold statement piece. The colors and designs of shag rugs were often bright and vibrant, adding a lighthearted and fun element to the room, and leading to their increased popularity in the 70's.
Since then, they have evolved from being an avant-garde statement piece into a timeless classic. As the years went on, shag rugs became increasingly popular, and eventually became a staple piece in many households.
Benefits of Shag Rugs
Shag rugs are incredibly versatile and can be used in any space in your home, from the living room to the bedroom, and even in outdoor areas such as covered patios and decks. If you prioritize a cozy rug for any of your indoor spaces, a shag is likely the way to go.
Additionally, they provide sound insulation by absorbing sound waves, making them especially useful for reducing echoes in large rooms. They come in a variety of colors, patterns, and textures, so you can easily find an option that suits your style and decor. Shag rugs are also highly durable, making them a great addition to any home.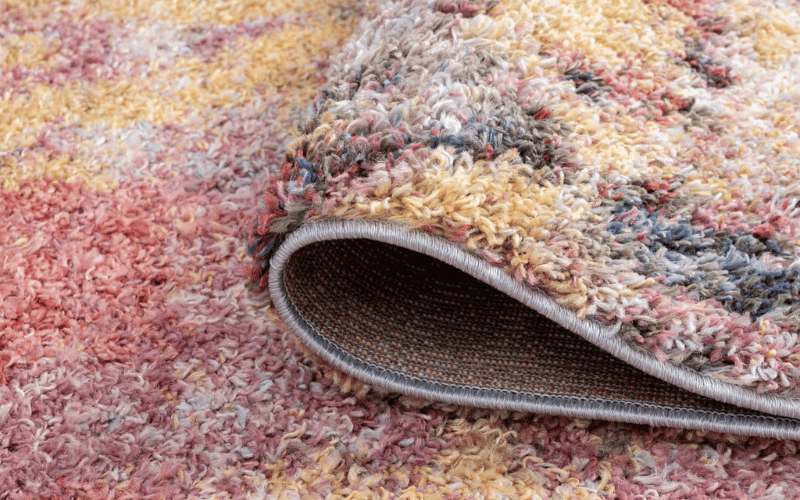 Where to Put Your Shag Rug
One of the greatest things about shag rugs is that they can be used anywhere in your home! They're extremely versatile, meaning they can be included in the decor of your living room, bedroom, kitchen, dining room, home office, bathroom, or any other space you can think of!
Not only do they look great, but they also provide a bit of cushioning beneath your feet to make walking and standing more comfortable in traffic where you might be on your feet the most. Their plush feel makes them perfect for children's bedrooms or play areas, too! Depending on the color and pattern you choose, a shag rug can heighten whatever you want about a specific space: add more elegance to your kitchen, add more coziness to your living room, or add a modern twist to your bedroom. Below, we'll list the benefits of incorporating a shag rug into the different rooms of your home.
Living Room
Living rooms are often the focal point of a home, meaning that you want to make a statement with your living room or entry room before any other spaces. A large shag rug in your living room is the perfect way to do that! Sized to perfectly-edge your couches and placed underneath your coffee table, a shag rug can draw your entire main room decor together with ease. Match the shade of rug or rug pattern to your current decor, and you've created a more cohesive space with minimal effort.
Bedroom
Shag rugs are very popular to be used in a bedroom, due to their snug and homey qualities. Placed centrally in the bedroom, underneath the bed, a shag rug will soften any harsh corners of the bedroom, as well as soften the light entering from any windows. Getting out of bed, you'll feel the thick material of a rug rather than your cool hardwood or vinyl flooring. Similar to the popularity of shag carpet in bedrooms, shag rugs achieve the same in a temporary and moveable way.
Dining Room
Having a rug in a dining room is always a good idea, whether your dining room is elegant and up-scale or cozier and promoting comfort. A shag rug can take either aesthetic and easily enhance it. Place your shag rug underneath the dining room table with enough room for the chairs, using a neutral shade to enhance elegance or choosing a brighter color if you want the rug to pop. Try a round rug for the perfect fit! Just be careful of any spills or stains; if your dining room is highly-trafficked or you have children who are messy eaters, you might prefer placing your shag in a different room to preserve its longevity.
Kitchen
Shag rugs can be used in the kitchen in several different ways, whether you decide to incorporate a mat in front of your sink, or a long shag runner rug! Either way, adding a smaller area rug to your kitchen can make any time spent cooking much more comfortable, with added padding underneath your feet.
Nursery
The thick fibers and plush material of shag rugs make them perfect for any child's space, especially nurseries. Your child can play safely both in their crib or on the floor if there is a thick rug placed beneath their feet. There's no danger of dropping and breaking toys, and in case of any trips and falls, the impact will be softened with a shag rug.
Home Office
Similarly to a runner used in your kitchen, a shag rug in a home office would add an extra layer of comfortability. As previously mentioned, shag rugs can also be sound-absorbent due to their thick material, which can be useful in a home office if taking work calls at home!
Care & Maintenance
Shag rug maintenance is fairly simple! You should vacuum them regularly (on average, once per week) using the lowest setting possible. Spot clean any spills or stains with warm water and mild detergent, and shake out any dirt or debris. With their longer fibers, it is also advised to rotate your shag rug every few months to ensure even wear over time.
For deep cleaning, it's best to hire a professional cleaning service that specializes in area rugs, as the material can get twisted or tangled if not washed properly. This will ensure that your rug is properly cared for and maintained over time.
Overall, there is no doubt that adding a shag rug or two to your home can truly elevate its style and comfort level! Not only do these beautiful pieces come in endless varieties but they also offer the added benefit of being exceptionally durable while providing unparalleled coziness underfoot. So if you've been considering sprucing up your home with some new decor options, consider investing in some gorgeous shag rugs—you won't regret it! If you're looking to shop for a new shag rug, make sure to look at Decorsify's listings for shag rugs!