Large outdoor rugs are an excellent addition to any outdoor space because of their ability to improve not only the aesthetics of the area but also its functionality. It doesn't matter if you have a large patio, a sprawling garden, or a cozy balcony; if you choose your large outdoor rug carefully, you can turn any outdoor space into a cozy and welcoming haven, a vacation right in your own yard. Rugs offer a tremendous amount of versatility and can be utilized in a variety of different ways, depending on what you're trying to achieve.
In this article, we will walk you through the process of selecting the large outdoor rug most suited to meet your requirements in the simplest way possible. We will cover everything from several of the different sizes and designs available, to some key considerations that you need to keep in mind both when choosing and styling your outdoor rug. So, follow along!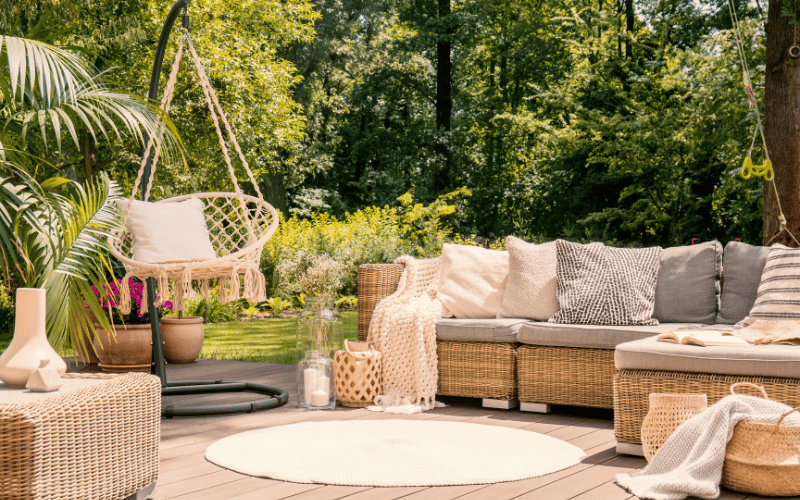 Assess Your Outdoor Space
Before delving into the realm of large outdoor rugs, it is important to first carefully evaluate the size of the outdoor space at your disposal. Then, take into account the current furnishings, as well as the area's dimensions and layout, before purchasing anything new.
Measure the area where you're planning to put your rug so you're sure to get the size that you need. Assess whether or not the ground is level, whether or not the area is enclosed or not, how much sunlight that the rug will be getting, how exposed it is to the elements, and any other deciding factors that you can think of! Make sure you have a clear idea of the location in mind while making choices on the rest of the factors below.
Make Sure You Choose the Right Material
Because outdoor rugs are exposed to a variety of weather conditions, it is critical to select a material that is both durable over time and resistant to the effects of the environment. Keep an eye out for materials developed specifically for use in the great outdoors, such as polypropylene, synthetic blends, or natural fibers like jute or sisal.
Materials like these have been specifically designed to withstand the elements of nature. With these materials, large outdoor rugs are resistant to damage caused by water, ultraviolet rays, and heavy foot traffic.
Consider the Style
It is of the utmost importance that you search for a large outdoor area rug that is compatible with the aesthetics of your outdoor space. Before starting your project, you should decide whether you want to go for a coastal, bohemian, contemporary, or traditional appearance. Be on the lookout for patterns, colors, and textures that complement the overall theme of the outdoor space you are creating and that you can incorporate into it.
Remember that choosing the appropriate large outdoor rug can enhance the aesthetic appeal of your outdoor space and help bring together the various elements that make up your outdoor area. This is something you should keep in mind when making your selection.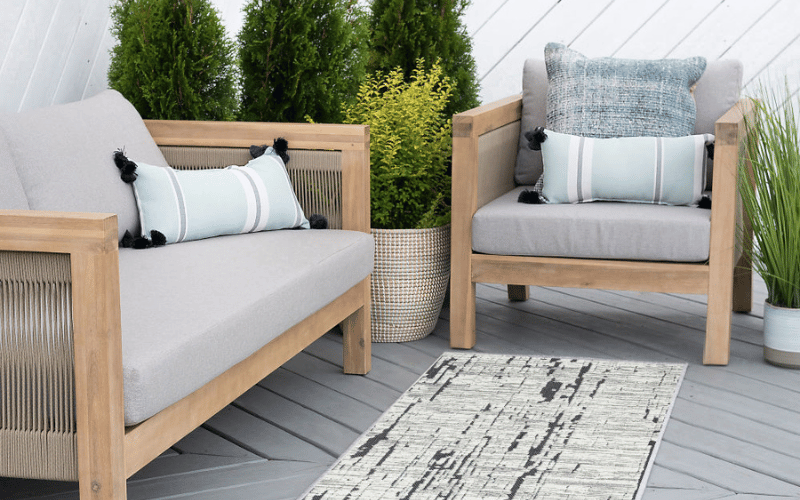 Waterproof and Easy to Clean
It is essential to select water-resistant or waterproof options when decorating an area subjected to the weather because this will be a high-risk spot for damage. Because of their construction, these rugs are resistant to moisture and dry out very quickly, which makes them an excellent choice for preventing the growth of mold and mildew.
In addition, you should select a rug that can be cleaned in a manner that is not overly difficult. When shopping for outdoor rugs that are larger in size, look for options that can be easily cleaned with a hose or wiped clean with a cloth. Or, even better, choose a rug that can be machine-washed! This will cut the effort of your rug maintenance in half, and will allow you to maintain your outdoor rug's fresh and vibrant appearance throughout the changing seasons.
Check out this article on how to clean an outdoor rug.
The Right Size
The size of the outdoor rugs that you buy should be determined by the dimensions of the outdoor space that you want to cover. Whether those rugs are round, rectangular, or runners, you need to make sure that they're both large enough, but not too large so that they overwhelm or overpower the area. Perform an accurate measurement of the space and check for adequate room around the furniture and in the aisles.
Large rugs can generate an inviting and warm atmosphere, whereas smaller ones are better suited for delineating specific seating or dining areas. Therefore, when looking for a large outdoor area rug, it is essential to remember the dimensions of the outdoor space you have available to you.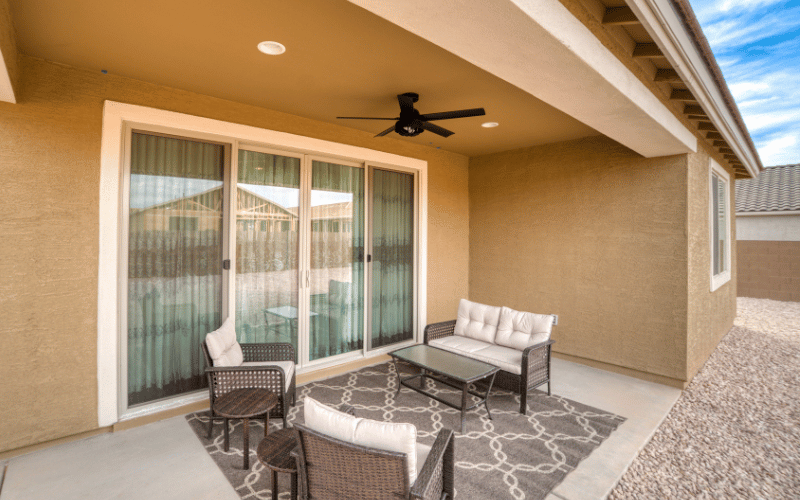 Budget Considerations
When looking through large or extra-large outdoor rug options, the amount of money you have available should be the last thing on your mind. The cost of an outdoor rug can change drastically based on the kind of material it is made of, the dimensions it is sold in, and the manufacturer.
Set a maximum budget for yourself, and then prioritize the aspects of the product that are most important to you, whether it be the durability of the product, its appearance, or both. It is important to keep in mind that purchasing a large outdoor rug of superior quality is an investment that, over the course of a number of years, will make the time you spend outside more enjoyable.
Are you looking for an affordable waterproof outdoor rug? Here is everything you need to know about waterproof outdoor rugs.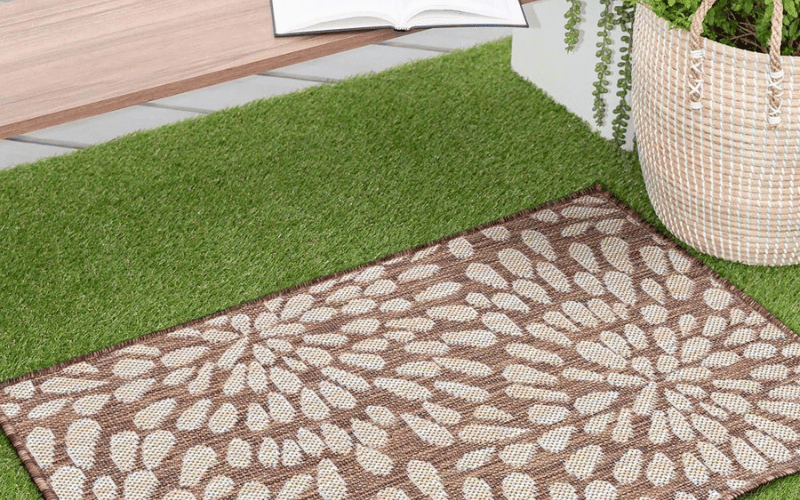 Frequently Asked Questions
Q: How do you clean a large outdoor rug?
A: When it comes to cleaning a large outdoor rug, only a few simple steps need to be taken. Shaking the rug or using a broom to remove any loose dirt and debris from it is an excellent way to start the cleaning process. After that, thoroughly rinse the rug using a hose or a pressure washer with a low setting by giving it several sprays of water. After applying a gentle detergent or cleaning solution formulated specifically for outdoor rugs, give the rug a light scrubbing using a soft brush or broom.
It is necessary to repeat the rinsing of the rug until there is not even a hint of soap remaining. Allow the time required to completely dry out in the air before putting it back into your outdoor space.
Q: How large of an outdoor area rug do I need?
A: The dimensions of the outdoor space you have available will serve as the deciding factor in determining the size of the outdoor rug that you need. Therefore, you should take precise measurements of the area you want to cover, leaving sufficient space around any existing furniture and walkways.
Keep in mind that smaller rugs can be used to define specific seating or dining areas, while larger rugs can create a cozier atmosphere by covering a larger surface area. It is essential to consider the measurements of your outdoor space to select the appropriate size for the outdoor rug you intend to place there.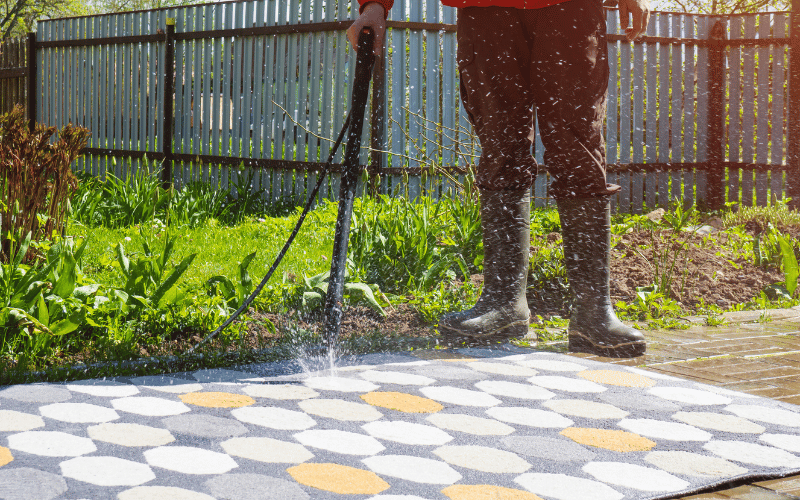 When searching for the ideal large outdoor rug, it is essential to consider several distinct aspects, including the dimensions, materials, designs, and prices of all of your different options. By doing so, you'll be able to choose an outdoor area rug that satisfies your requirements for comfort, durability, and and the perfect aesthetic appeal you've been looking for.
If you're on the lookout for a new outdoor area rug, then make sure to take a look at the listings on Decorsify.com! We have a handful of different outdoor rug collections available in plenty of different sizes, shapes, colors, and patterns. Good luck, and happy decorating!