When it comes to interior design, the right rug can transform a room and tie all the elements together. Choosing the perfect rug size is extremely important, especially when placing one under a queen-size bed. In this blog post, we here at Decorsify will explore various rug styles, including everything from cabin-style rugs to muted-tone rugs, all while keeping in mind the unique needs of a queen-size bed and how the size requirements might differ between different styles. So, if you're looking for a new rug for your bedroom, or just want to make sure that you're using the right size rug underneath your bed, keep reading!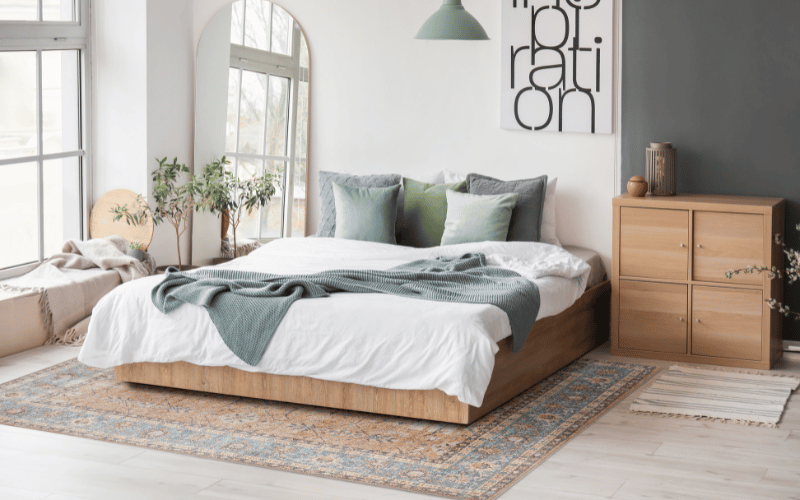 Western-Style Rugs
A Western rug is the perfect choice if you want to create a rustic or Western-themed bedroom. These rugs often feature Southwestern or Native American-inspired designs, adding a touch of character and warmth to your space. When placing a Western rug under a queen bed, opt for a size that extends at least 2-3 feet beyond the edges of the bed, allowing for ample coverage on both sides. With patterns like these, a larger rug is typically the safer choice a long as you have room for it, that way the pattern doesn't end up feeling cramped or too compact underneath the bed.
Cabin-Theme Rugs
For those who appreciate the charm of a cozy cabin or lodge aesthetic, cabin area rugs are an excellent option. These rugs often showcase nature-inspired patterns like wildlife or forest motifs. To achieve balance with rugs like these, it is also safer to opt for fuller, larger options when it comes to size, as the pattern or mural has enough space to truly be seen rather than completely hidden underneath the bed.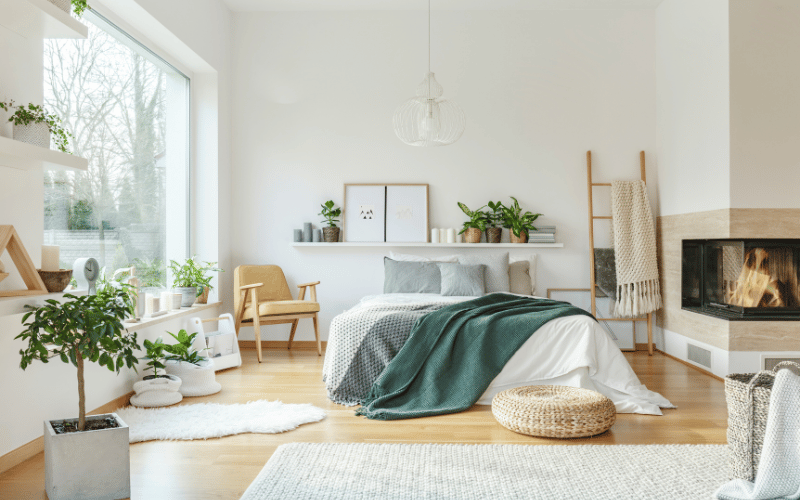 Bold Area Rugs
If you aim to make a statement with your choice of rug, bold area rugs are the way to go. These rugs feature vibrant colors, intricate patterns, or eye-catching designs that are a focal point in any room. When placing a bold area rug under a queen bed, there truly is no size limitations! If you want a pop of color without overwhelming the space you can go for a smaller size to serve as an accent rug, at the foot of the bed, or as runners along each side. Or, if you want your entire room to feel vibrant and lively, you can choose a larger size and place it directly underneath the bed for a statement-making effect.
Muted Color Rugs
Muted color rugs are a fantastic choice for a more subtle and calming vibe that you might be hoping to achieve in your bedroom. These rugs often feature soft, understated hues that blend seamlessly with various bedroom designs. Since these rugs are most often used to achieve balance or to serve as an anchor for the room, opting for a medium-sized or large-size area rug will probably work the best. Choose a rug that extends beyond each side of your bed by 1-2 feet, creating a neutral-tone border around the bed's sides and corners.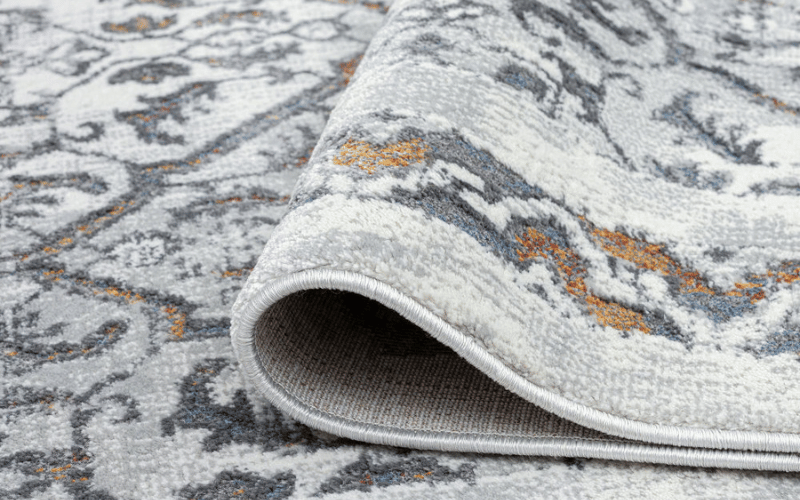 FAQs
Q: Can I use a Western rug underneath a queen bed?
Absolutely! Western rugs can add a rustic and charming touch to your bedroom. When placing a Western rug under a queen bed, ensure that it is large enough to extend beyond the edges of the bed by 2-3 feet on each side.
Q: How much of a rug should be visible on each side of a queen bed for a balanced look?
To achieve a balanced look, it is recommended to have at least 1-2 feet of rug visible on each side of the queen bed. This ensures that the rug complements the bed and the surrounding space.
Q: Can I use a bold area rug for a queen bed?
A bold area rug can make a striking statement in your bedroom. When choosing a bold area rug for a queen bed, aim for a size that allows 1-2 feet of a mat to be visible on each side, enhancing the overall visual appeal.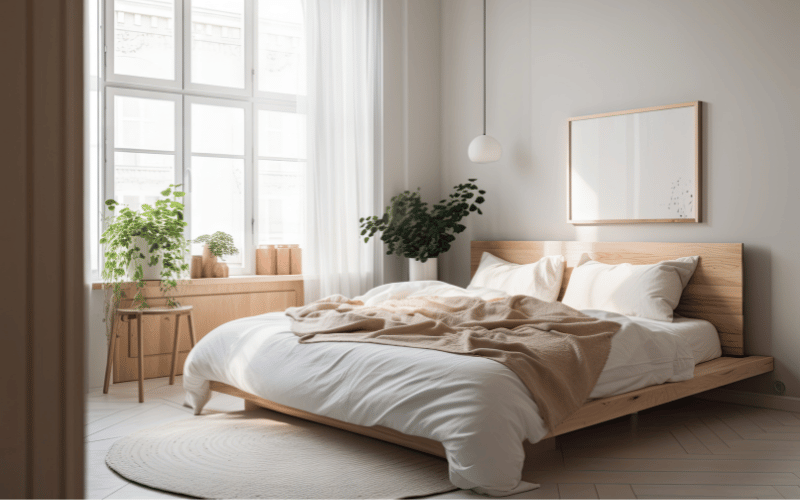 Here at Decorsify, we understand the significance of finding the right rug to enhance the different spaces around your home, especially one as important as your bedroom. The rug you choose to place in your bedroom will determine the room's mood, its ambiance, its calming factor, as well as its overall flow of design. While choosing the right style and pattern of rug is the first step, choosing the right size is a close second. But with this guide in mind, you should be well on your way to making sure you're using the right size rug in your bedroom.

If you're in the market for a new bedroom rug, or just want to see what options are out there, be sure to take a look at the options on our website! And as always, happy decorating!