As any home decor lover knows, rugs are an integral part of any home's decor because they impact the overall feel of the space. They not only add visual appeal to your interior but also make the room feel more welcoming and homey. Rugs have the power to do incredible things, as long as you know how to choose the right one for you and the theme you're hoping to achieve in your space. And if you aren't sure exactly how to do that... that's why we're here! In this blog series we're diving into the dozens of different option when it comes to your rug choices, and today we're going to tell you everything there is to know about circular rugs.
Many homeowners favor round rugs because they can serve as a conversation piece, break up the monotony of otherwise square or rectangular pieces of furniture, and inject a bit of fun into the room. However, knowing how to choose the circle area rug that will work best in your home can be challenging because there are so many different options available. Here are our tips for making the right choice and bringing home the rug of your dreams!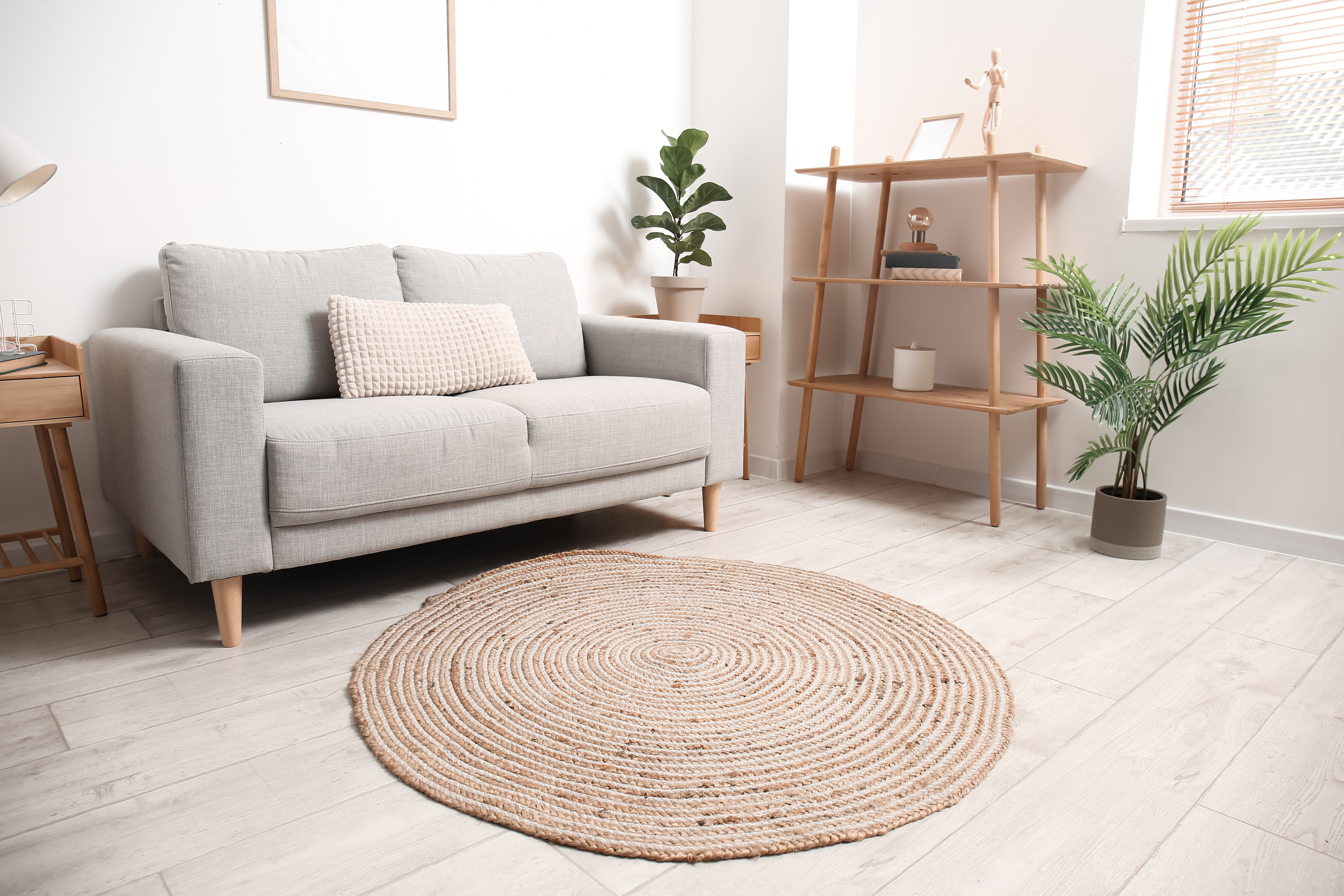 Consider the Size and Shape of the Room
When shopping for a circular rug, the first thing you should consider is the dimension or layout of the room. For example, a larger rug can be accommodated in a more spacious room with higher ceilings; however, to avoid the rug dominating the space, a smaller rug should be used if you don't have as much space or have a lot of nooks and crannies in the room.
Additionally, consider the layout of the room. For example, while a round rug maybe a good choice for a space that is either square or rectangular in configuration, it may not be the most appropriate option for a room with an unusual shape. Or, if the rug would be too close to one wall due to the room's layout, it might not look as good as it would if it were centered, or placed somewhere else. You have to take all of this into account while you're making your final decisions.
Assign the Rug a Function
Next, think about what the rug is going to be used for. For example, do you want a large rug to secure your furniture in a seating area or a smaller rug to highlight a specific area of the room?
If you want the rug to be the focal point of the room, choose a pattern or color that is striking and memorable. If you want to use it to pull the space together, select a design that isn't too flashy but still goes well with the furniture and the rest of the decor. Rugs can have many functions, from anchoring your furniture together to serving as a protectant of your floor – and it can do more than one of these jobs at a time! It all depends on you and your personal preferences for what exactly you'll use your rug to accomplish.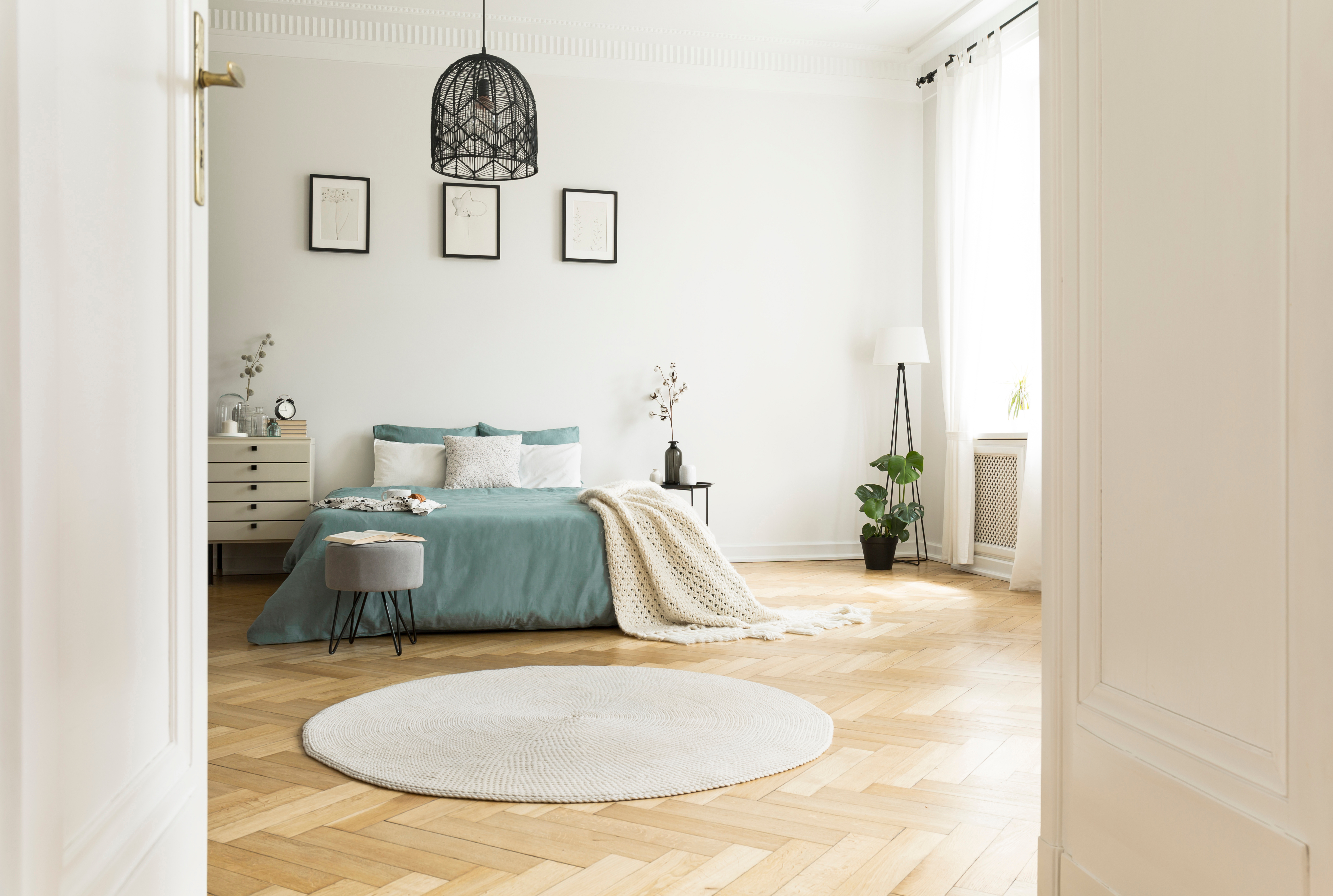 Choose the Right Material for the Job
Another essential aspect to take into account is the rug's construction. Because they are long-lasting, simple to clean, and able to withstand heavy foot traffic, wool rugs are a popular choice for places with a lot of foot traffic, such as living rooms and hallways. Wool is known to attract dust and dander from pets, though, so it might not be the best option for people who suffer from allergies and have pets in their homes.
On the other hand, synthetic materials like nylon and polyester are more resistant to stains and allergens, making them a great choice for homes with pets or people with allergies – but they aren't as plush as other options.
For those who want to rely on a rug that is easy to care for, there is also the option of a machine-washable rug! They are typically thinner, so not as high on the scale of comfort, but they make worrying about stains and spills a thing of the past. A circular washable rug would be the perfect addition to your dining room, or even in a child's playroom to avoid extra mess.
Pick a Color and Pattern
Select a rug for your room that, in terms of color and pattern, goes well with the rest of the space. If you have furniture and decor on the bolder side, choose a rug with a pattern and color scheme on the more subdued side to ensure that it doesn't clash. Or, if you want to continue with your eclectic theme of bright and funky colors, just make sure that the colors in the rug will still flow with what you already have going on in the space.
Choose a rug with a more striking pattern or color to add interest to a neutral room, even if the furniture and the rest of the decor are more muted. Beige, gray, and cream are neutral colors that are versatile and can work with various styles of interior design, so you are essentially able to bring in a rug of any color you'd like if that is what your decor consists of.
Think About Texture
Last but not least, take into consideration the rug's surface. A flatweave rug can create a more contemporary and uncluttered appearance in a room, while a plush and shaggy circle rug can add a whole lot more coziness than you had previously. When selecting a rug for your home, it is important to take into account the overall texture of the furniture and decor. For instance, a plush rug might not be the best choice for use with a sleek and contemporary sofa. Or, for a rustic look, going with a rougher texture like jute would make the most sense. Take a long look at your stylistic preferences, and choosing the texture of your rug will be a breeze.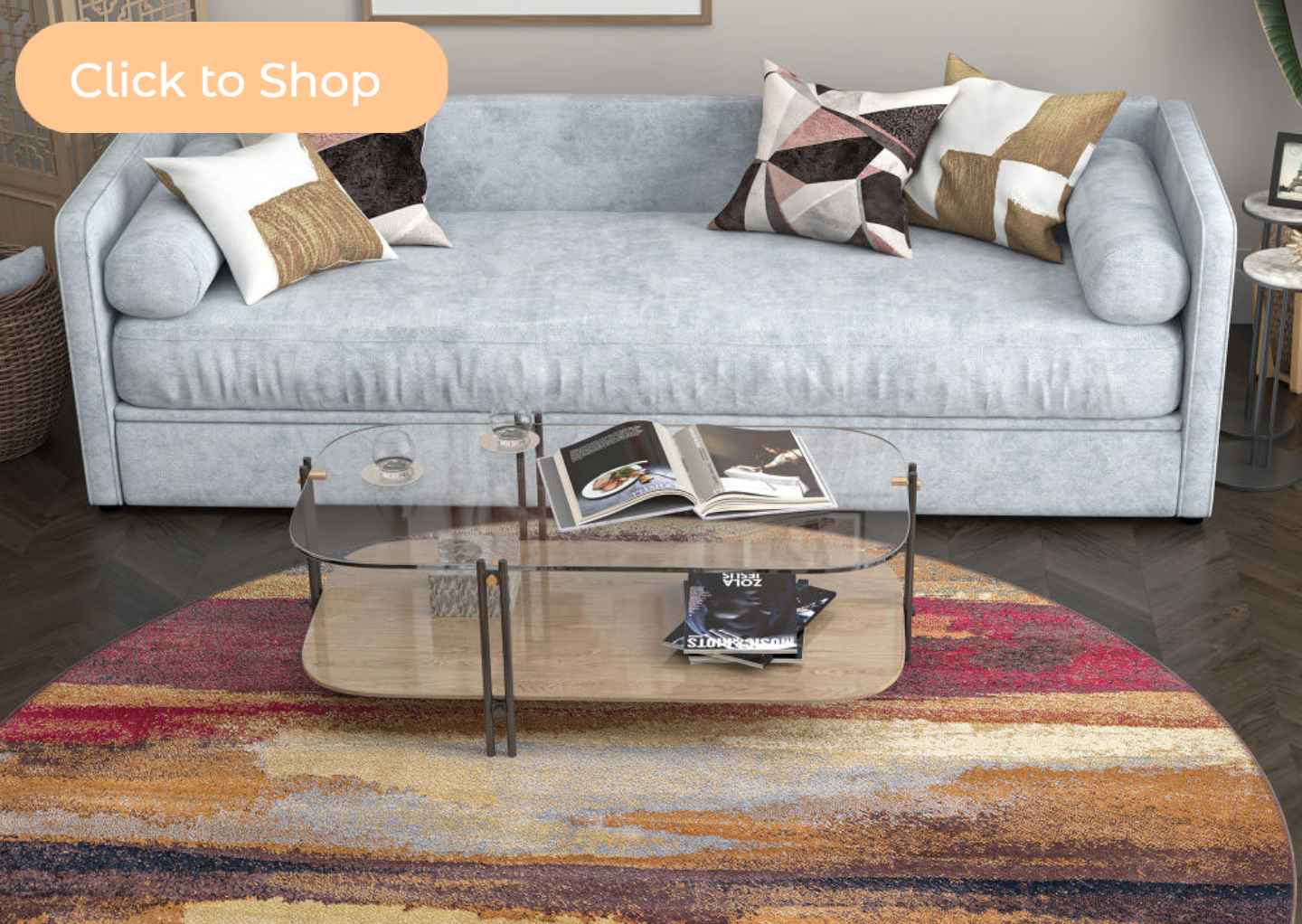 Frequently Asked Questions
Q: Where can I buy a circle rug?
A: Starting your search online is one of the simpler options when you start off looking for your round rug. Numerous websites, including those of large shops and individual vendors, have a huge assortment of circle rugs. You may find items that match your style and budget on many of these shops because they provide a choice of sizes, colors, and materials. And of course, starting with Decorsify is never a bad idea, either!
On the other hand, there are various options available if you prefer to purchase in person. You might be able to find a circle rug in a home decor store, or in the home goods section of other stores. While online shopping typically offers you more variety, and you might be able to find better discounts, some people prefer to shop in-person and to be able to feel the rugs themselves before using them in their home. Weigh your options and decide which option works better for you!
Q: What are the differences between a circle and a half-circle rug?
A: The primary distinction between circle area rugs and half-circle area rugs is found in the shape of the rugs themselves – which, yes, is a given. Rugs that are a full circle are called circular rugs, while rugs that are called half-circle or half-moon rugs are called this because they are, you guessed it, a half-circle shape. Because of this, full-circle rugs are likely to be more appropriate for larger rooms, whereas half-circle rugs are likely to be more appropriate for smaller rooms in which a full-circle rug would be too large, or to be placed with their flat side up against a wall or counter.
Other distinguishing characteristics between full-circle and half-circle rugs include the following:
- Placement: Full-circle rugs are ideal for placing under round tables or in the center of a room, while half-circle rugs can be used against a wall or in front of furniture.
- Style: Full-circle rugs tend to have a more traditional look, while half-circle rugs can be more playful and modern, or might be the right choice for those with funkier or more whimsical tastes.
- Cost: Full-circle rugs may be more expensive than half-circle rugs because they require more material to make, though this all depends on the material itself as well as the design.
- Versatility: Half-circle rugs can be more versatile than full-circle rugs because they can fit into smaller spaces and be used in various ways.
If you have a smaller area in your home that you're considering a rug for, this article might also help you come up with some design ideas!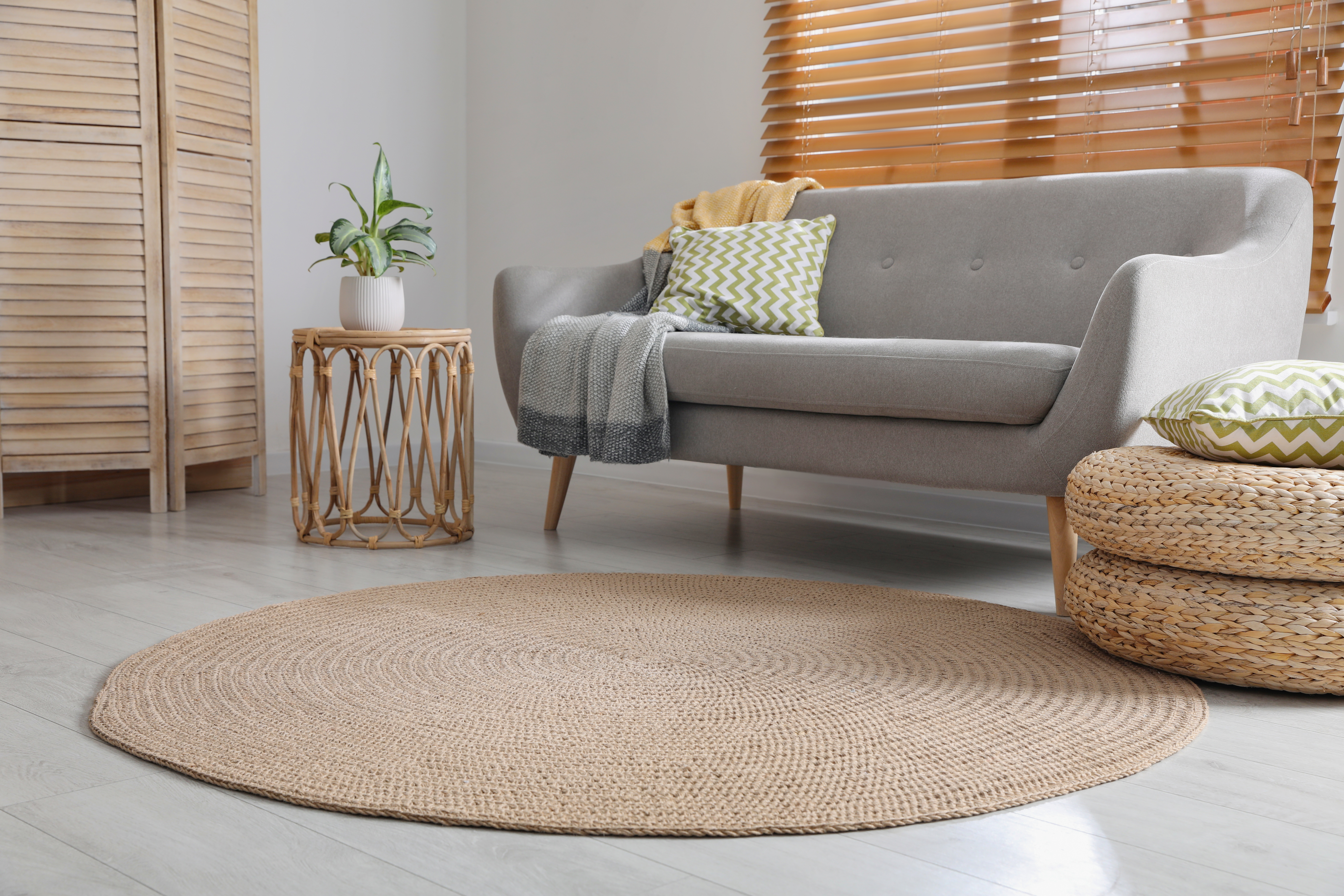 To summarize, when looking for the ideal circular rug for your house, you should take into account the dimensions of the room, the primary function of the space, the material, the color scheme, the pattern, and the texture. If you keep all of these things in mind when shopping for a rug, you should be able to find one that not only looks great but also satisfies the functional requirements you have for the space itself. With just a little bit of preparation, and with this style guide in mind, you're sure to find the ideal round rug for you.
Don't forget to take a look at the listings that Decorsify has to offer on their website as you begin your search! We offer a wide variety of different rug options, both round, rectangular, or otherwise. And if you need any other style advice in the future, take a peek at the rest of our blogs in this series so you're able to fully weigh your options with that knowledge in mind. Good luck, and happy shopping!