Working from home has gotten more and more popular recently, as more jobs offer remote options. You should invest in a office rug because it is an important component that can significantly improve both the aesthetics and the functionality of your workspace. It is more than just a piece of decor; it serves several important functions, such as comfort, noise control, and floor protection, in addition to being merely decorative.
However, because there are so many different options to choose from, the process of selecting the ideal rug for your office might be a little overwhelming to you. That's why we're here, with this detailed guide to help you when it comes to selecting the office rugs that are best suited for your setting.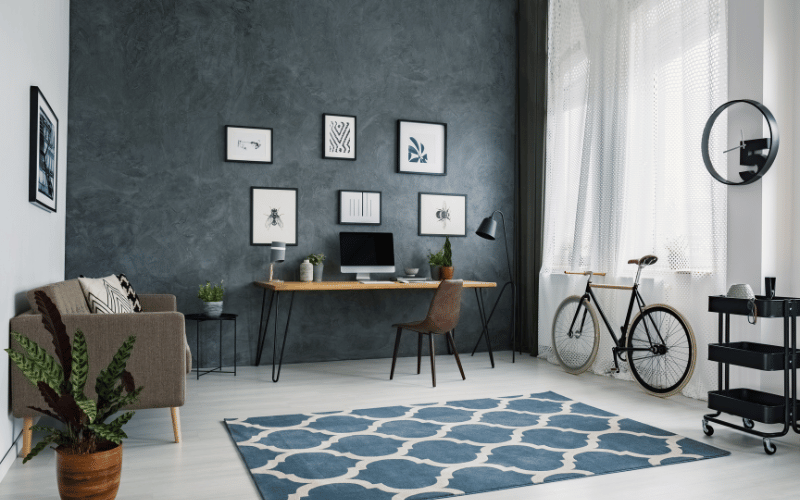 Why Office Rugs Are Essential
It is impossible to overstate the significance of having rugs for office spaces. By bringing together different aspects of your office's design, they are an essential component in the process of making the space more aesthetically pleasing. Your workspace can have a more unified look and feel by strategically selecting an office area rug, which can help create an environment that is conducive to increased productivity and creativity.
If you use a chair that rolls, an office rug can make the movement of the chair more seamless and protect your floor from being damaged as long as you choose the right style and material of rug. A rug for your office chair can effectively prevent the unsightly marks that chair wheels frequently leave on the floor.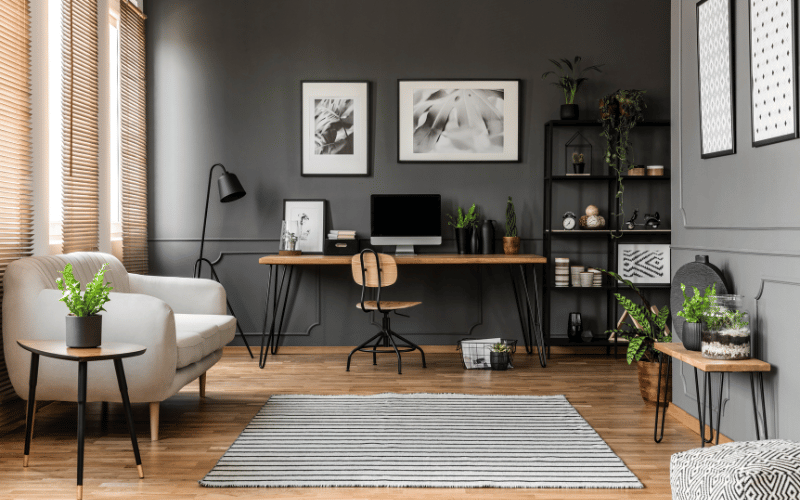 Size and Placement
It is essential to have a clear idea of the dimensions of the office rug that you are looking for before beginning the shopping process. The dimensions of your office and the way it's laid out will have a significant impact on the dimensions of the rug you choose to purchase. It's possible that a single office rug could do the trick for a more compact workplace.
On the other hand, if you need to cover a larger area, you might want to think about getting several office area rugs. These rugs are able to assist in defining and distinguishing distinct areas within the office, such as the workspace, the meeting area, or a casual lounge space.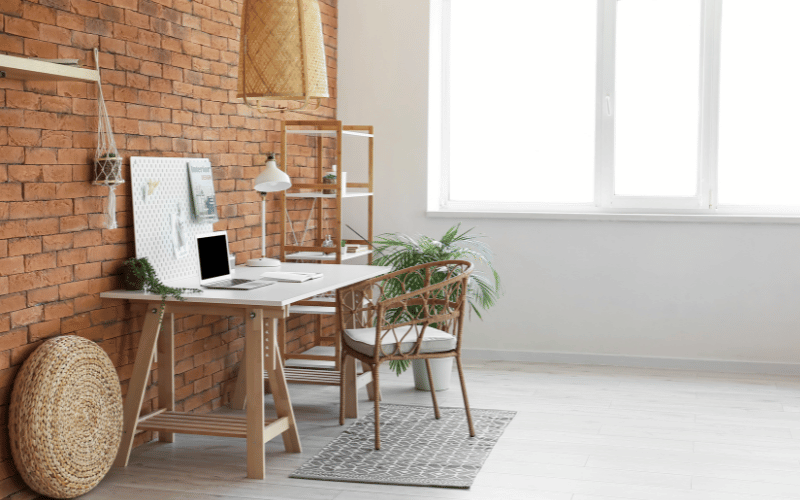 Choosing the Right Material for Durability
Choosing the appropriate fabric for your office rug is one of the most important things you can do to ensure that it will last for a long time. The best office rugs are typically crafted from materials that are durable enough to withstand the rigors of a busy workplace and the heavy foot traffic that occurs there. Because of their long lifespan, luxurious comfort, and inherent resistance to stains, wool rugs are consistently one of the most popular options.
Synthetic materials, on the other hand, such as nylon or polypropylene, offer durability and stain resistance at a price point that is more affordable. This material is also used to make machine-washable rugs, which means that getting out those stubborn stains is even easier, making the maintenance of your office much less overwhelming.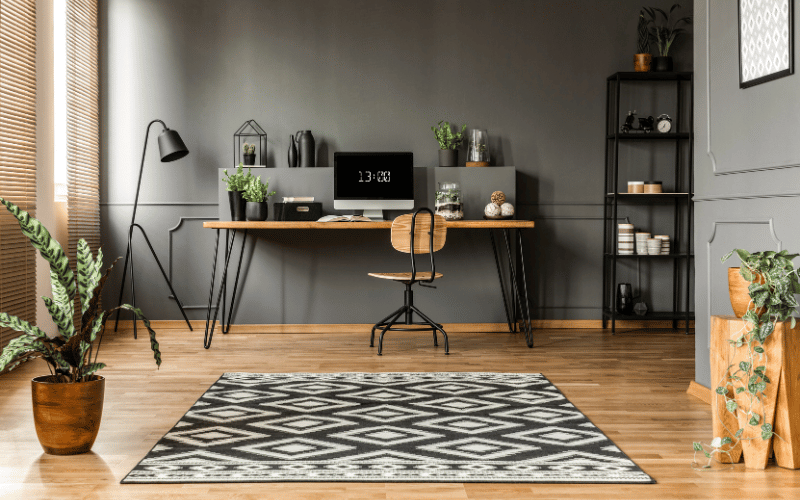 Designing Your Office with Rugs
When considering office rug ideas, there are almost an infinite number of design possibilities to consider. In addition to complementing the aesthetic of the rest of your office, the pattern on your rug should also be a reflection of your one-of-a-kind sense of style. The following are some suggestions for the layout of your office rug:
- Minimalist: For a neat and contemporary appearance, choose rugs that have simple patterns and neutral color palettes. Your workspace will feel more at ease and organized with the addition of these rugs, which can easily blend into the background to anchor your other furniture to the rest of the room.
- Professional: Traditional patterns, such as geometric or oriental designs, can give your office a more polished and upscale appearance, lending it an air of sophistication. These rugs exude a feeling of order and structure, making them an excellent choice for furnishing an official place of business.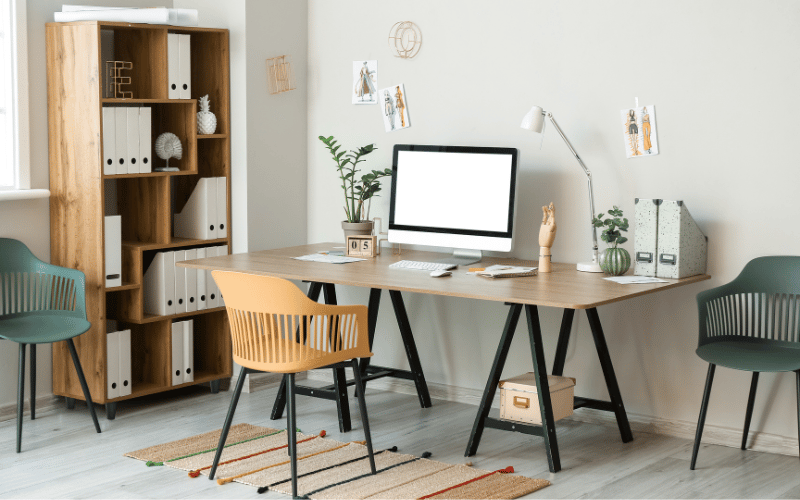 Maintenance and Safety of Office Rugs
When looking for an office rug, maintenance is yet another important aspect to take into consideration. Most rugs require regular vacuuming to make sure they always look their best. However, you should make sure that the rug you choose can withstand having its color or texture professionally cleaned without suffering any damage.
A focus on safety is also essential. For safety reasons, the office rug ought to come equipped with a backing that is non-slip. This is of the utmost importance if it is intended to be used as a rug for office chair, as the rug must be able to remain firmly in place despite the movement of the chair. Even if the rug has nonslip backing, it is never a bad idea to also purchase a rug pad to go underneath it to ensure that it stays in place.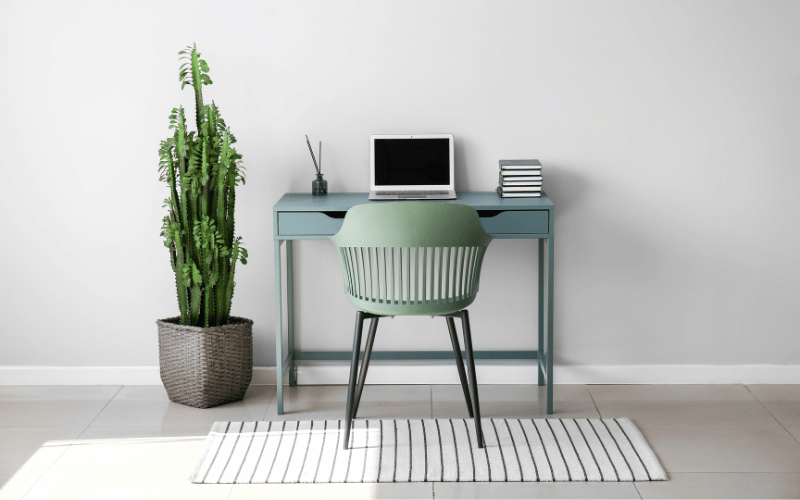 Figuring Out the Cost of Your Office Rug
Even though it's common knowledge that the cost of a office rug is a good indicator of both its quality and its expected lifespan, this doesn't mean that you can't find affordable office rugs that combine comfort, style, and longevity in their construction. Finding a solution that is both affordable and meets the requirements of your business or home office should be your top priority.
Evaluating Rug Shapes and Textures
The appearance of the rest of your workspace can be significantly altered by factors such as the form and feel of the office rug you choose to use. The shape of the rug you select should be determined by the layout of your office and can be either rectangular, square, or round. Each shape has the potential to produce a distinctive visual effect and functions more effectively in a particular setting.
Similarly, the texture of your rug can lend a sense of visual interest to the area in which you work. A low-pile or flatweave rug can provide a sleek, contemporary appearance, while a high-pile rug can produce an inviting and plush ambiance. The texture of the rug can have an affect on the durability and comfort of the rug, making it an essential factor to take into consideration.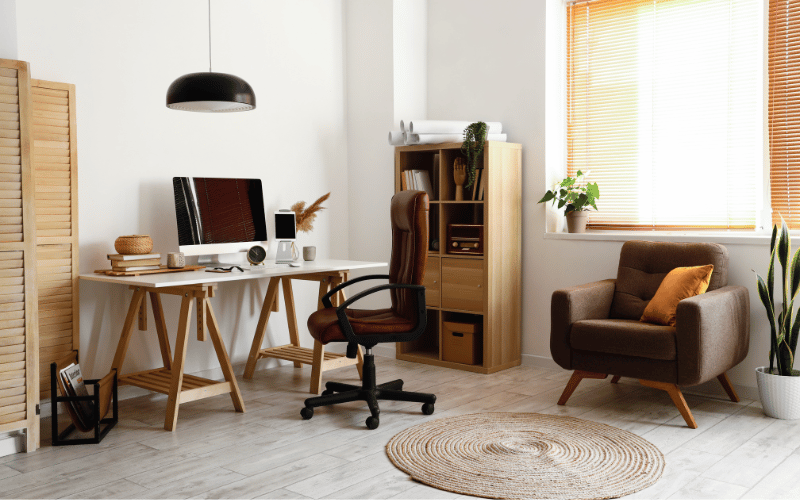 Frequently Asked Questions
Q: What size rug should I choose for my office?
A: The dimensions of the office rug that are ideal for your space are going to be determined by a number of distinct aspects, such as the dimensions of your workspace, the configuration of your furniture, and the particular regions that you want to emphasize or define.
When considering how big a rug should be in an office, think about how much square footage you have available in your office. If you choose a rug that is too small for the room, it could get lost in the space, while selecting a rug that is too large could make the room feel claustrophobic.
In a large office, the rug should ideally be large enough to fit under the majority of the furniture, which will help create a unified appearance throughout the space. When the room is not very large, the rug should be placed in the room's center and should be big enough to anchor the chair and desk.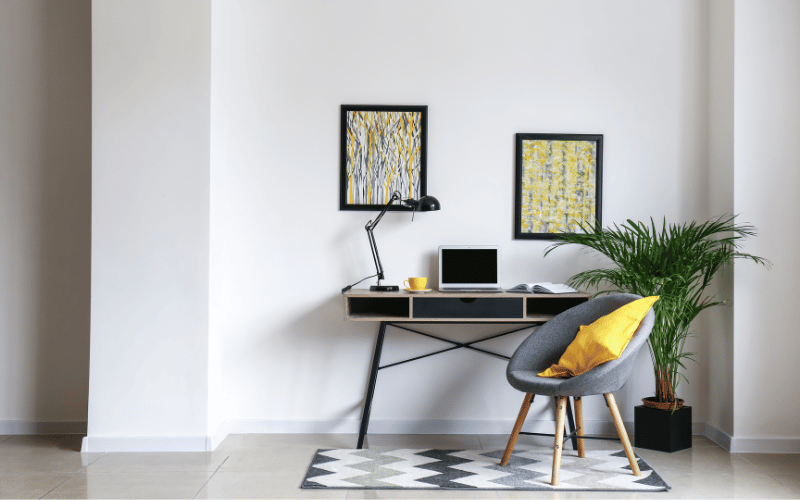 Your office, whether it be at home or in a different work building, might be where you spend a majority of your day. This means that you should allow it to be as comfortable as possible, no matter the work that you might be doing at your desk. One of the easiest ways to achieve a higher level of comfort: an office rug. With this guide in mind, you should have everything you need to choose the perfect rug for your home office, as well as everything you need to keep it looking its best once it's placed in the room. And if you're in need of a new office rug, be sure to take a look at the options on Decorsify's online store!