Every tiny detail matters when you're designing a new space; everything from the color of the walls to the style of the furniture, down to the texture of the curtains or the finish on the fixtures. Home decor is an art form, one that requires a certain level of attention to detail, whether you're decorating a living room, bedroom, kitchen, outdoor space, etc. This attention to the smaller things is especially important when you're picking out the right rug for the different spaces of your home. You have to pay attention to all of the different aspects of the rug, ranging from the material it's made from, the color and pattern, the pile height, and of course, the size. While size seems like a fairly straightforward factor to consider, there are a lot of different, smaller details you have to take into account when planning for the right size of rug. Using the right size for your area rug can drastically improve a room's appearance, can define specific spaces, can add new depth and warmth, and can shift a room's entire purpose.
In this blog, we here at Decorsify will walk you through all of the different things to keep in mind when choosing from different area rug sizes, from the broader topics to all of the smaller details you might skim over. We'll give you size ideas for all of the different rooms in your home, discuss the pros and cons of the different sizes, and even talk about placement recommendations. So, keep reading!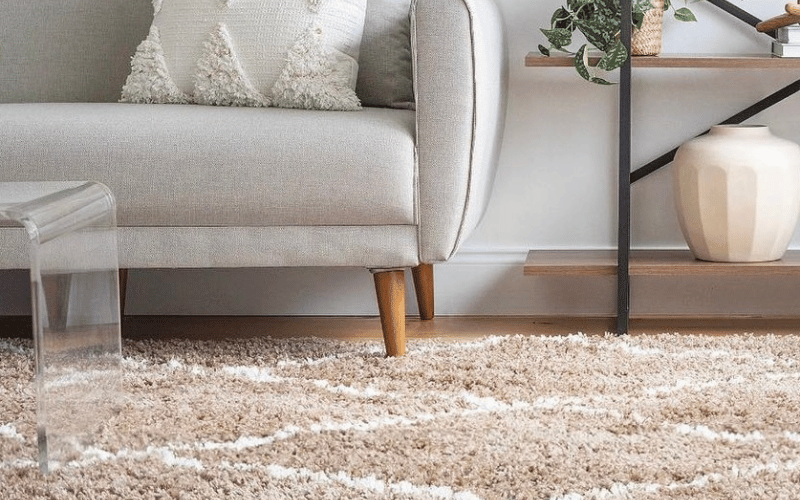 Living Room Rug Sizes
The main gathering place in the home is frequently the living room. It is where we go to unwind, have fun, and spend time with our loved ones. When choosing the right area rug size for a living room, it is important to take the space's size and furniture arrangement into account.
An 8x10 or 9x12 area rug is frequently used in larger, more spacious living rooms. These large rugs can support a conversational seating arrangement, in which every piece of furniture, including sofas, chairs, and coffee tables, are centrally positioned. A large 9x12 rug can accommodate all furniture with ease, making the space cohesive and proportionate.
On the other hand, an 8x10 rug frequently works well for a more private or minimalist seating arrangement in which only the front legs of your seats are on the rug. The size of the rug makes the space appear larger and strikes a careful balance between covered and uncovered floors.
A 5x8 area rug might be ideal for modest living areas, or more compact arrangements like a smaller apartment living room, or media rooms. It can tuck underneath a large piece of furniture, like a coffee table, to make a pleasant focal point without taking over the room.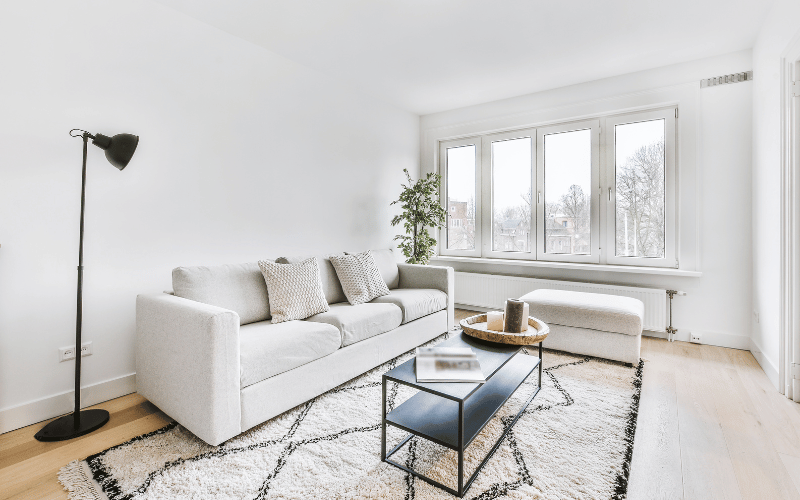 Bedroom Rug Sizes
When picking an area rug for the bedroom, the focus is on accentuating the bed and creating a smooth landing space for bare feet.
The standard guideline for an area rug for a queen bed is an 8x10 rug. An 8x10 rug provides for around 2 feet of rug to be visible on either side and at the foot of the bed given that a typical queen size bed measures 60x80 inches. This gives the appearance of being well-balanced and guarantees that when you wake up, you can step into a plush rug.
Due to the king size bed's increased proportions, an area rug of a bigger size is advised. A typical king-size bed is 76 by 80 inches. A 9x12 area rug is often perfect for such a bed. This size guarantees that the rug is visible and useful while maintaining the proportional appearance around the bed. You can also use this larger size of rug for a smaller bed, if you want the rug to give the room a fuller, more complete look, or have other larger pieces of furniture that would benefit from the rug being larger in comparison.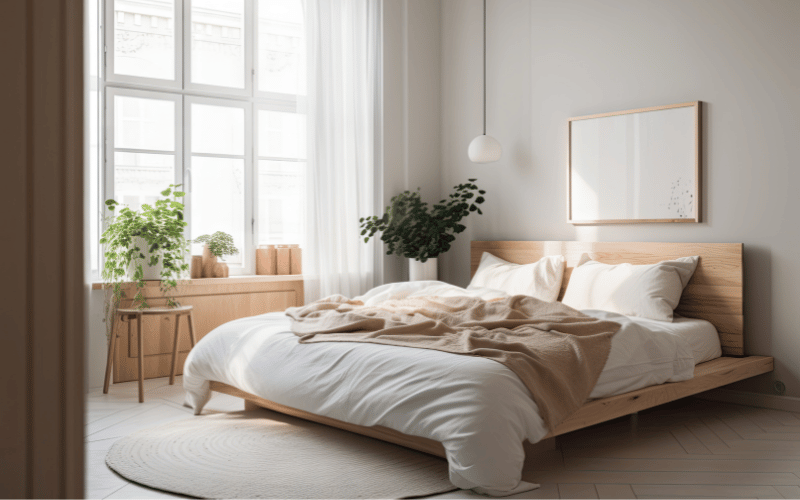 Dining Room Rug Sizes
Dining room rugs have grown in popularity over the years, especially since machine-washable rugs hit the market. Your dining table's size and shape are the two main determining factors when it comes to choosing the right size rug to go underneath them, as well as how many chairs the table might have. A rug that extends at least 24 inches past the dining table on all sides is ideally what most designers shoot for. As a result, even when pulled out, the dining chairs can stay on the rug.
An 8x10 rug usually works nicely for a typical rectangle table that seats six people. If you have a round dining room table, you have the option of either accommodating it by using a round rug underneath, or creating some contrast to the shape by using a traditional rectangular rug, instead. There is no right or wrong choice here, and your decision is based entirely on your own stylistic preferences!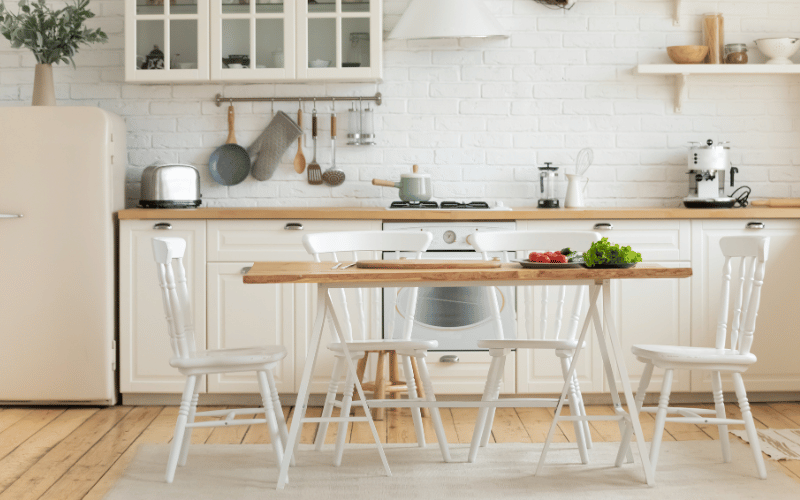 Size and Style: Creating a Unified Aesthetic
Although we have included advice on average sizing, and the typical answers to choosing the right rug size, keep in mind that these are only recommendations and not absolutes! The "right" size for an area rug comes down to personal preference, the way your furniture is arranged, and the design aesthetic of your home.
For instance, to designate distinct zones like a dining area, a living area, and a workspace in an open-concept space, you might use a larger area rug or many rugs of diverse sizes. On the other hand, a single smaller rug can help a small studio apartment feel cozier and more defined. The way that you incorporate rugs is completely dependent on your style, your budget, and the parts of your home that you want to emphasize.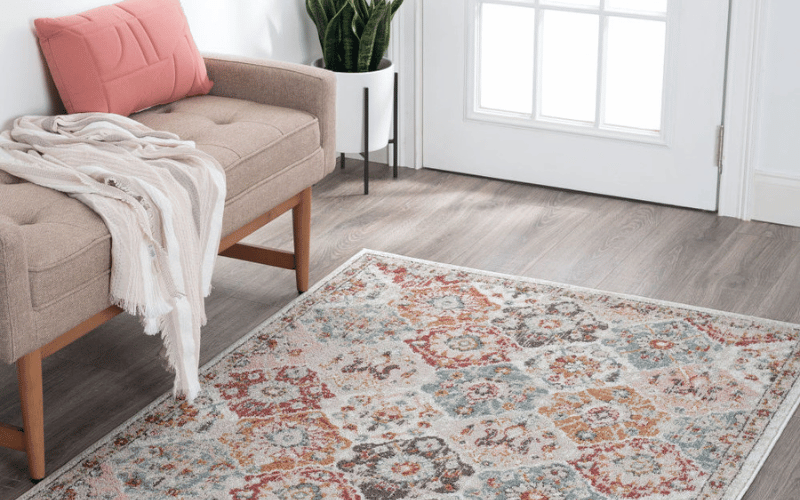 FAQs
Q: What size area rug is the best for a living room?
A: A living room's optimum area rug size will depend on the size of the space and how your furniture is arranged. A 9x12 rug is often appropriate for bigger living spaces with a central furniture grouping. An 8x10 rug is sometimes an excellent fit for a simpler sitting arrangement where only the front legs of your seats are on the rug. A 5x8 rug can work nicely in smaller living spaces, especially if it is positioned underneath a statement piece of furniture like a coffee table.
Q: What size area rug is the best for a dining room?
A: The size of the rug in your dining room is determined by the size and shape of your dining table. To ensure that the dining chairs stay on the rug even when pulled out, a rug that reaches at least 24 inches beyond all edges of the dining table is typically recommended.
An 8x10 rug usually works nicely for a typical rectangle table that seats six people. To preserve balance and proportion, you could need a 9x12 or even a circle rug for larger tables or for round tables. For this purpose, extra-large rugs could also be an option.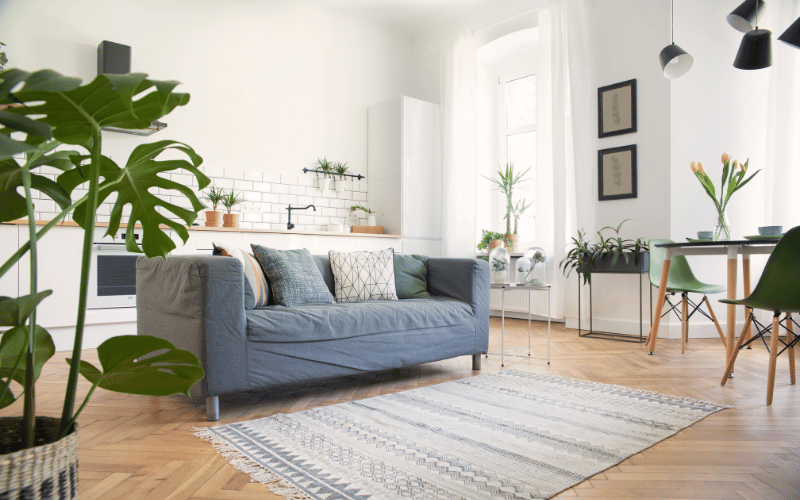 Choosing the right rug for the different spaces around your home can be a difficult task, especially considering the variety of options at your fingertips. There are dozens of different colors, patterns, styles, materials, and sizes. The size of rug you choose can make a huge impact on the impression that your room makes, and how the rest of your style flows throughout the space. Smaller rugs can identify focal points across a wide area, medium-sized rugs work perfectly for smaller rooms or underneath mantles and furniture, and larger rugs are the best choice if you're trying to create an anchor to build the rest of your decor off of. There are different sizes that work better for specific places, as we've outlined above to help you on your way, but all in all it comes down to the goals you're hoping to achieve with your design.
If you're in the market for a new rug, or are interested in seeing the different options available, be sure to make Decorsify.com your first stop. And, as always, happy decorating!