An outdoor patio rug is one of the most adaptable and effective items you can use to spruce up your outdoor living areas. Patio rugs, a frequently underutilized accessory, play a crucial role in establishing a welcoming, cozy, and fashionable ambiance that is ideal for summer picnics, leisurely afternoon naps, or exclusive evening gatherings. In this article, we here at Decorsify will examine every facet of outdoor rugs for patios, from size and material to design and upkeep. We're here to make sure you know everything that there is to know, so keep reading!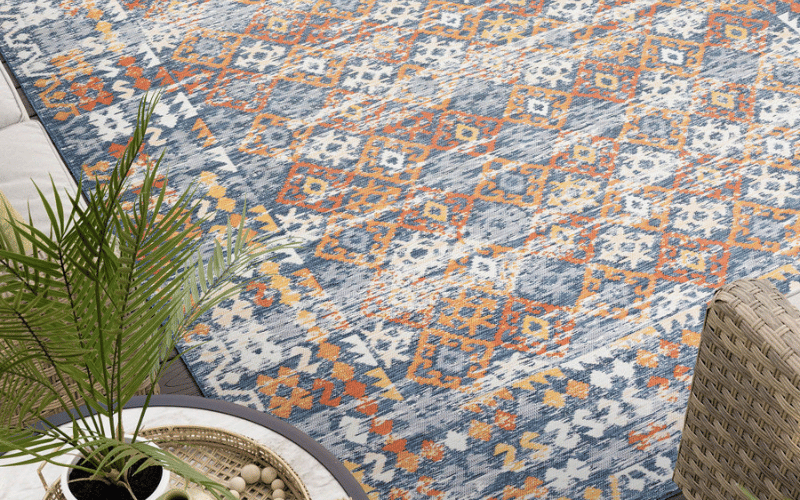 An Introduction to Patio Rugs
Although rugs are typically associated with interior settings, an outdoor rug for a patio can have an equally powerful effect. It serves as the room's focal point and defines the dining and seating sections while also bringing in color, texture, and pattern. Your patio may seem as comfortable and stylish with an outdoor patio rug as your living room does indoors. It blurs the distinctions between your indoor and outdoor environments, increasing the size of your living space.
Patio Rug Sizes
Size is a key consideration when picking the ideal patio rug. Your outdoor space's primary section should be covered by the rug without seeming crowded. 8x10 outdoor patio rugs are a well-liked choice since they provide adequate coverage for the majority of patio furniture sets. This size results in a uniform and coordinated appearance because it is big enough to fit underneath a coffee table and at least two seats. To guarantee the rug fits properly, you must, however, measure your room in advance. Keep in mind that the size of the rug can significantly alter the scale of the room.
Patio Rug Materials
For patio areas, outdoor rugs must be weatherproof. They ought to be durable against the effects of the sun, rain, and foot traffic. As a result, synthetic materials like polypropylene, polyester, or nylon are frequently used to make patio outdoor rugs.
These substances are renowned for their sturdiness, mildew resistance, and cleaning simplicity. Additionally, they are typically UV resistant to stop the colors from fading from continuous sun exposure.
A new aesthetic can be achieved by using natural fabrics like sisal, jute, or bamboo for patio rugs. These materials, however, could not hold up as well in severe weather and require extra maintenance.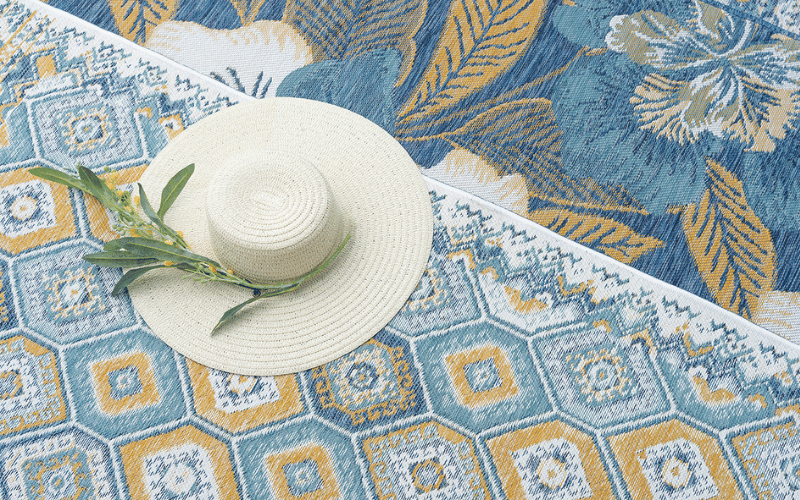 Patio Rug Design
The shapes, patterns, and colors of outdoor rugs are as varied as those of their interior counterparts. Consider the overall aesthetics of your outside space when choosing a design for your patio rug. A geometric or abstract pattern can look good on a contemporary patio with sleek furnishings and straight lines. Consider floral or oriental rug designs for a patio that is more classic or rustic.
Your outdoor rug may be an opportunity to brighten up your patio. Neutral colors can produce a quiet and refined ambiance, while vibrant and colorful patterns can provide a sense of joy and energy to the area.
Patio Rug Maintenance
Your outdoor rugs will still require maintenance even if they are made to resist the outdoors. To avoid stains, regularly shake off any dirt and mop up spills right away. Many synthetic outdoor rugs can be hosed off and allowed to air dry for a complete cleaning. For detailed cleaning recommendations, consult the manufacturer's instructions.
Consider keeping your patio rugs indoors during the winter or other severe weather to extend their lifespan. They will be shielded from the weather and will last for many years while enhancing your outside area.
Layering Patio Rugs
The practice of layering rugs is popular right now for patio outdoor rugs as well as indoor rugs. Layering may give your space depth and interest. You can experiment with patterns, colors, and textures to create a distinctive design that reflects your personal taste.
For a flash of color, you might layer a smaller, vividly multi-colored rug on top of a larger, neutral one. Just make sure both rugs' materials are appropriate for outdoor use.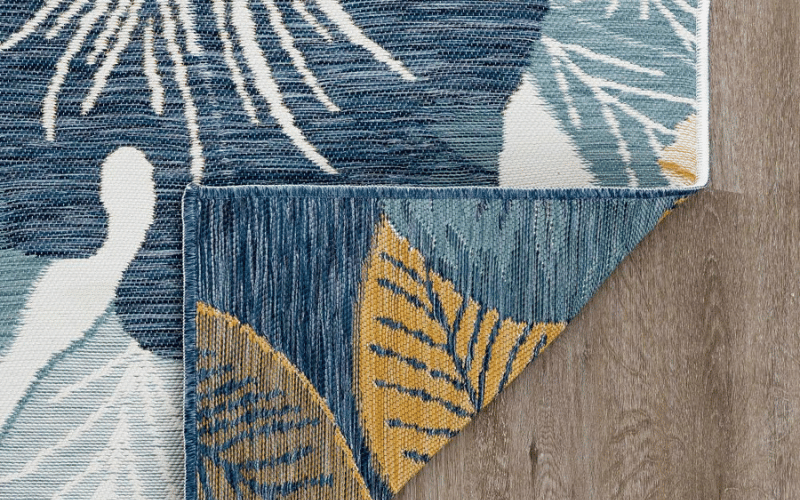 FAQs
Q: How do I clean a patio rug?
A: The type of material used to make a patio rug will determine how to clean it. In most cases, you can hose down a rug made of synthetic materials like polypropylene or nylon, gently scrub it with a soft brush while using mild soap and water, and then allow it to air dry in the sun. Sisal and jute are examples of natural materials that demand more careful handling. For the most effective cleaning procedures, always follow the manufacturer's instructions.
Q: How do I keep a patio rug in place?
A: Use a rug pad to prevent your rug from sliding or moving. Outdoor rug pads offer grip to hold your rug in place and are made to endure the elements. They may also provide a little extra cushioning, enhancing the comfort of your rug.
Q: Are patio rugs waterproof?
A: Most patio rugs are water-resistant, which means that they can withstand rain and moisture without becoming harmed. To avoid mildew and mold, they are made to dry quickly. They cannot, however, be submerged in water for an extended amount of time because they are not waterproof. To extend the life of your patio rug, it is a goodidea to move it inside or cover it during intense downpours.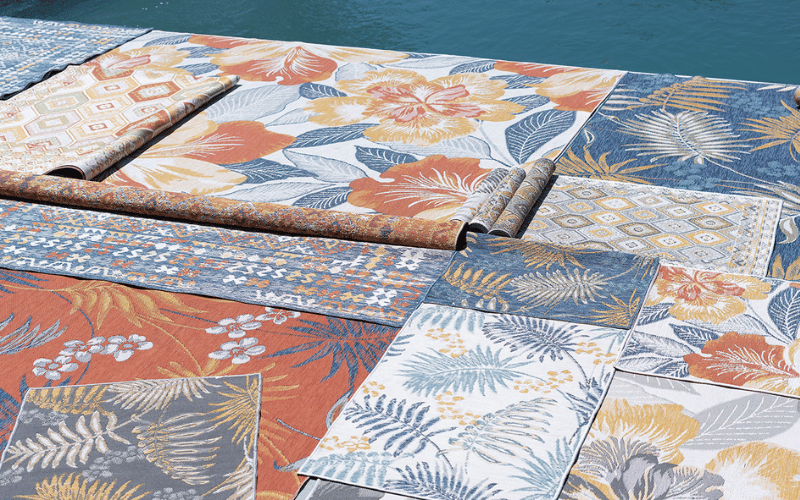 An outdoor patio rug may completely transform your outdoor settings by defining spaces, as well as by adding color and pattern. You may pick the ideal rug to beautify your patio by taking into account the size, material, style, and practicality. And with the right maintenance, your patio rug may offer comfort and design for many more seasons.
If you're in the market for a new rug for your patio, be sure to check out the options available on Decorsify.com first! We have plenty of outdoor options, ranging anywhere from mat-sized 2x3's to larger, area-covering 9x12's. There are plenty of different colors and designs available, so you're sure to find the patio rug that works the best for you. As always, happy decorating!