Decorating isn't always simple and straightforward, this is something that most home decor lovers have come to understand. This is sometimes especially true when it comes to decorating a bathroom, given all of the challenges that come with decorating a room with excess moisture, a room that is typically smaller than the others, a room in need of a certain color scheme or design. More goes into finding the ideal bathroom rug than merely selecting a mat that goes with your decor, for instance. It's important to understand how bathroom rugs can improve the appearance of your bathroom, prevent slips and falls, and provide a plush, comfy surface to stand or walk on. A warm, inviting atmosphere may be created in your bathroom by adding color, texture, and personality with the perfect rug.
The unsung heroes of the bathroom are frequently the bathroom rugs. In addition to absorbing water, they also act as a warm, comfortable surface and as decorative elements. They must be carefully chosen, though, taking into account elements like size, materials, style, and upkeep necessities. Keep reading, and in this blog we'll walk you through all of the different things you should know when choosing a bathroom rug.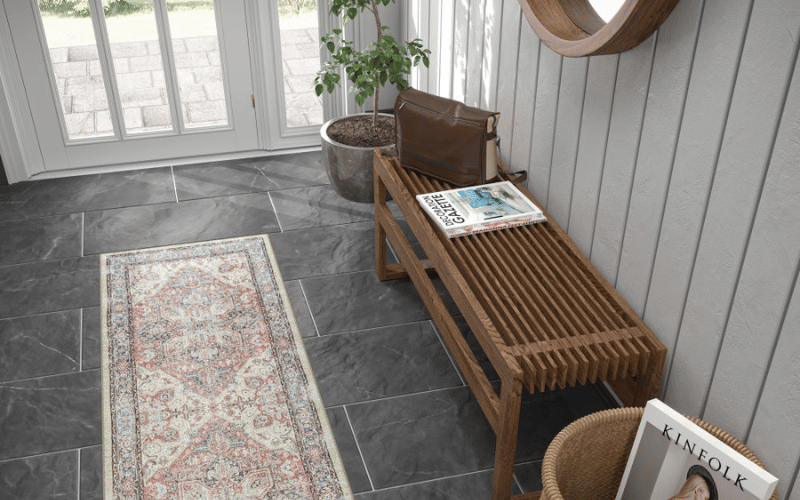 Measure the Area
When it comes to bathroom rugs, size matters. A rug that is too little will not provide enough protection and may look out of place, while a rug that is too enormous may make the room feel claustrophobic. Always take measurements of your room before purchasing rugs.
It is crucial to take the rug's shape into account in addition to its size. Most bathrooms benefit from standard rectangular rugs, but if your area is oddly shaped, you may want to think about oval or round rugs.
The rug's size should also match that of the bathroom's furniture. If you have a double sink and require a longer mat to cover the space in front of both sinks, for instance, a bathroom runner rug is a perfect option.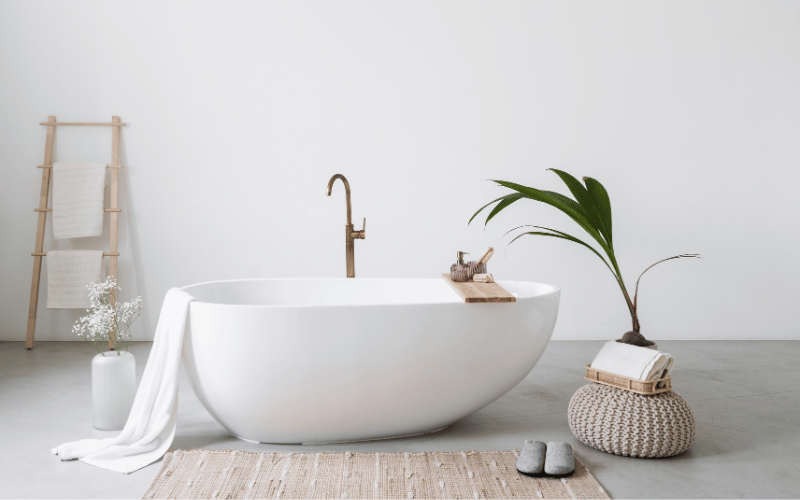 Select a Material
The material is yet another crucial thing to consider. All rugs for bathrooms are not made equal, and the material will have a significant impact on how well the rug performs and feels. For instance, cotton rugs are a well-liked option for bathrooms since they are comfortable, absorbent, and simple to clean. Microfiber carpets are an excellent choice as well because of how extremely absorbent and quick drying they are.
Additionally, take into account rugs with a non-slip backing, particularly for bathrooms used by kids or the elderly. Even on slippery bathroom surfaces, the rug will remain in place thanks to the backing.
Consider Sets
While purchasing individual rugs is perfectly fine, you might also want to think about bathroom rug sets. A bathroom rug set often consists of multiple coordinating rugs in diverse sizes. This is a great method to make sure that your bathroom has a unified look and feel.
A runner for the sink area, a small rug for the toilet area, and a mat for the shower or bathtub can all be found in bathroom rug sets. By selecting a set, you can make sure that all your rugs match and are a good fit for your room.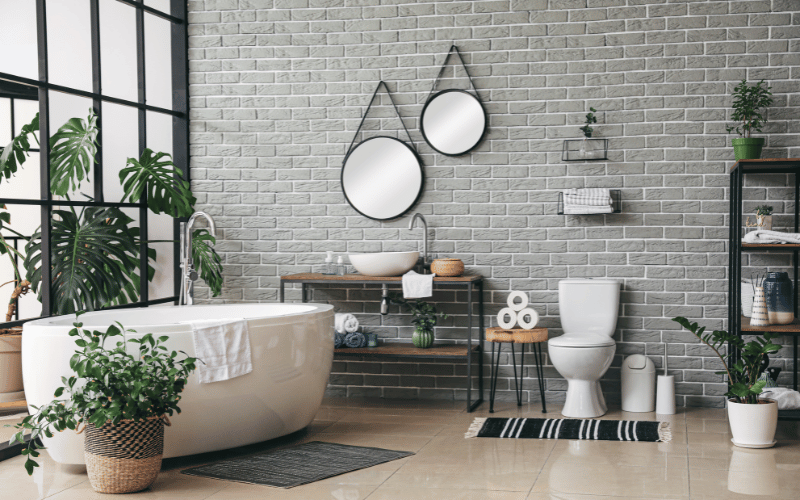 Keep Your Style in Mind
Bathroom rugs add to the aesthetics of your bathroom in addition to serving a practical purpose. Consider the rug's color, pattern, and style as well as how it will complement your bathroom's overall decor when choosing a rug or bathroom rugs set. There is a rug to complement your aesthetic, whether your bathroom is sleek and contemporary or has a rustic, country feel.
The stylistic options for bathroom rugs are endless, ranging from bold, varied patterns to delicate, minimalist ones. Don't be afraid to experiment with different hues and designs, but always keep in mind the bathroom's general design and color scheme
Simple to Maintain
The resilience and ease of upkeep of a rug should be kept in mind too, especially in bathrooms. Bathrooms are high-usage, high-moisture places, so the rugs in these areas need to be durable enough to endure repeated use and washing.
For the simplest maintenance, pick a rug that can be machine washed and dried. Remember to read the care instructions before making a purchase because some materials could need specialized cleaning supplies or care. Look for words like waterproof or water-resistant when looking at the product labels, to make sure your choice of rug would be able to hold up in a steamy bathroom.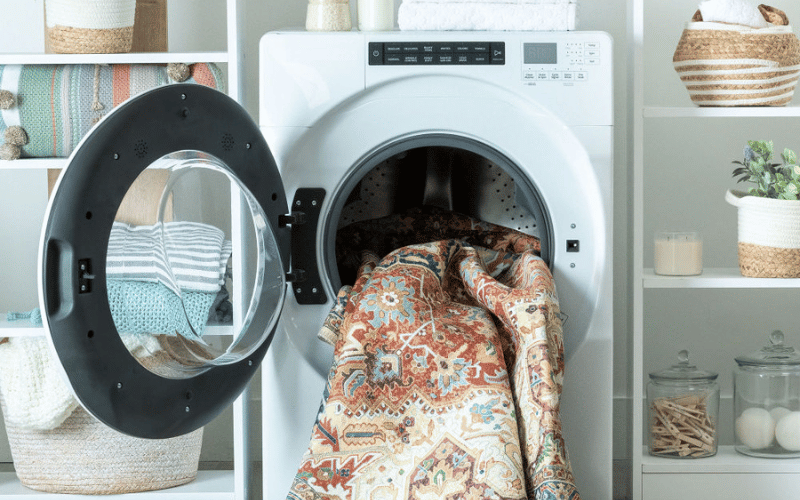 Think About Comfort
One of the main benefits of having a rug in your bathroom is to offer a nice and pleasant area to stand, even though aesthetics and durability are significant factors. A plush rug can give your bathroom a sense of luxury, especially if you have hard flooring.
Consider Texture
Your bathroom rug's texture has an impact on both how useful and appealing it is. High pile bathroom rugs can feel soft and opulent underfoot, which can be very comforting on chilly mornings. These rugs, though, could take longer to dry and, if not cleaned well, they might contain more mold or bacteria.
On the other hand, low pile or flatweave rugs can give your bathroom a sleek, contemporary feel and are frequently simpler to keep dry and clean. In comparison to a bare floor, they can nevertheless offer warmth and softness, even if they do not offer the same level of velvety comfort.
Analyze the Durability
Be sure to think about durability when purchasing a rug for your bathroom. The timeless nature of the design is equally important to the long-lasting nature of the materials and the high caliber of the construction. Bathroom trends can change quickly, so choose a style that you think you can live with for a long time unless you intend to update your bathroom rug with every new trend.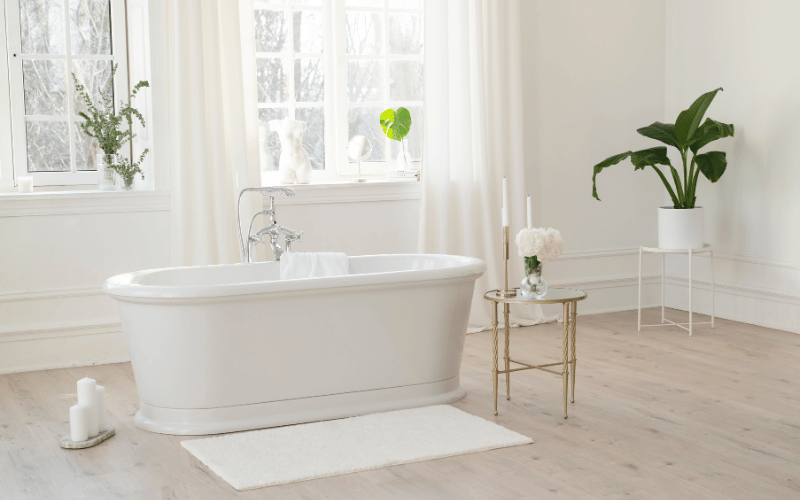 FAQs
Q: How do I clean washable bathroom rugs?
A: Bathroom rugs can be cleaned in a variety of ways, but the overall process is as follows:
To get rid of any loose dirt or particles, shake the rug outside. The rug's care tag should have detailed instructions that you can follow, or move on to the following step if there are none. In the washing machine, put the rug. Use a warm, gentle cycle. To balance the burden, it is a good idea to add additional towels if the rug is small. Apply a gentle detergent. Bleach should not be used as it could harm the rug. After the wash cycle is complete, take out the rug and give it a little shake. The rug should air dry, and then re-placed when it is completely dry.
Q: How often should you replace bathroom rugs?
A: The use, the quality, and the maintenance of bathroom rugs can all affect how often they need to be replaced. Bathroom rugs should typically be changed every one to two years, on average. It might be necessary to replace your rug sooner if it exhibits indications of wear and tear, such as fraying edges, thinner material, color loss, or a failing backing.
Q: How do I choose the right size bathroom rug?
A: Your bathroom rug should be the appropriate size for the space you have. Measure the space where you intend to place the rug before going shopping. You may determine the size you need by measuring the area in front of the sink or vanity, which is a frequent arrangement.
Additionally, consider your rug's shape. Consider a bathroom runner rug if you have a double sink because it is longer and can cover more area. A circular or rectangular rug might suit better if your space is smaller or has a unique shape. Finding a rug that is large enough to cover the floor and absorb water while not taking over the room is the objective.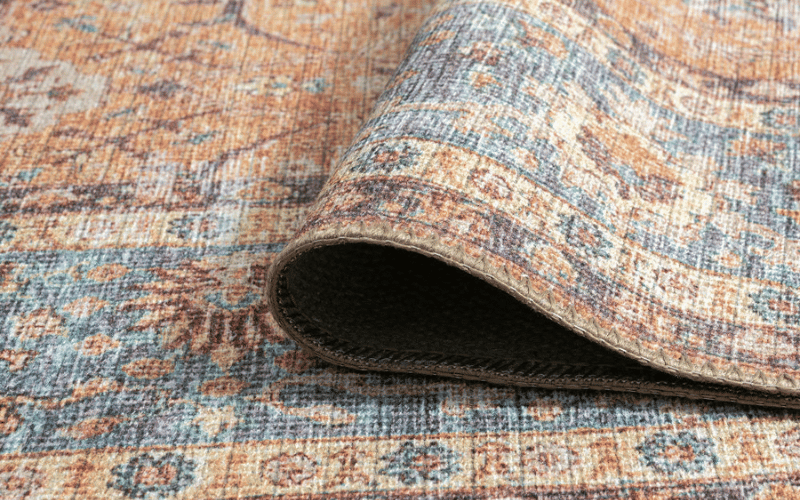 Choosing the ideal bathroom rug requires considering a variety of practical, aesthetic, and functional factors. You can easily pick out the ideal rug or rug set that serves its purpose and enhances the overall appearance and ambiance of your bathroom by taking the time to carefully analyze each of these factors. The perfect choicecan significantly improve the look and feel of your bathroom while also ensuring safety and comfort, whether you choose a single rug, a bathroom rug set, or a bathroom runner rug.
If you're looking for a new bathroom rug or set of rugs, then be sure to take a look at all of the different options we have available right here on Decorsify.com. We have plenty of machine-washable and water-resistant rugs that are sure to give your bathroom the new flair that it needs.