Traditional rugs are a timeless and classic decorative element that can help to enhance the look and feel of any home. They can be used to add a touch of elegance, warmth, and texture to a space, and are a great way to bring color and pattern into different rooms.
Traditional rugs come in a variety of materials, designs, and styles. These designs can range from handmade and hand-knotted Persian, to Oriental-style rugs, to traditional-pattern rugs that can even be used outdoor. They can be used to create a focal point in a room, or to tie together already-existing decor and style. Traditional rugs are also highly durable and can last for years with proper care, making them a great investment for any home.
Traditional rugs can be used in any area of your home, from the entryway to the bedroom. If you're interested in incorporating the classic style of a traditional rug into your home, keep reading for the five best ways to do that!
As a Focal Point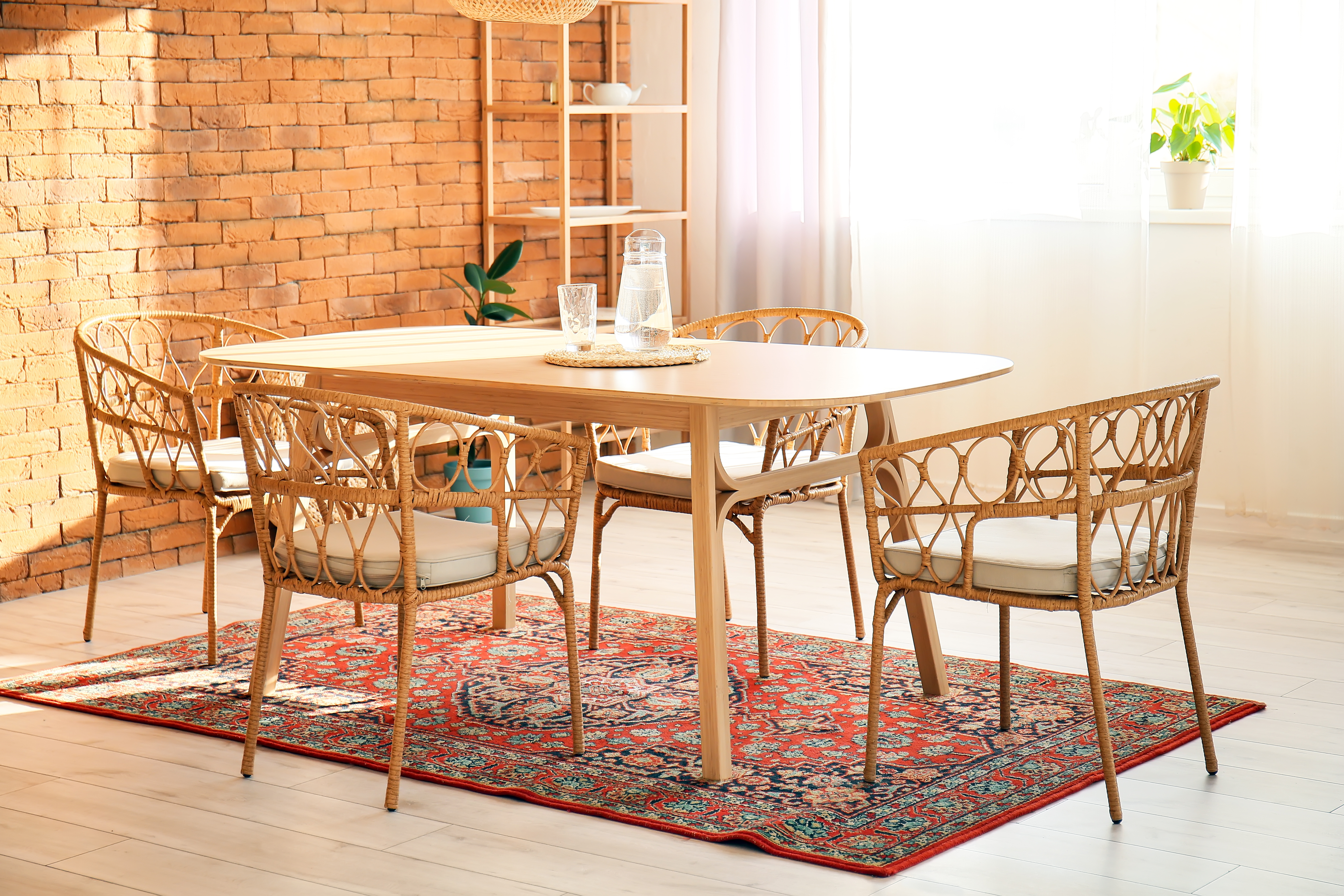 Large area rugs can easily become the focal point of any room they're placed in. Whether that be a living room, a kitchen, a bedroom, a home office, or any other space they can fully occupy. Traditional-style rugs, especially, have the power to fully bring a space together and to serve as the final, functional piece to a fully-embraced theme or style.
Oriental or medallion patterns typically found on traditional rugs are easily-paired with other aesthetics or designs, making them some of the most accommodating rugs around. Place a traditional living room rug underneath a coffee table and other furniture, or lay a traditional bedroom rug underneath your bed to make the rooms feel complete.
Or, as an alternative if you're looking for a focal point in your kitchen, you can use a washable area rug instead! Washable area rugs also come in traditional styles, like Persian rugs, oriental rugs, or medallion rugs. Washable rugs are durable and stain resistant, meaning that they're the perfect addition to your kitchen or dining space.
As an Accent Point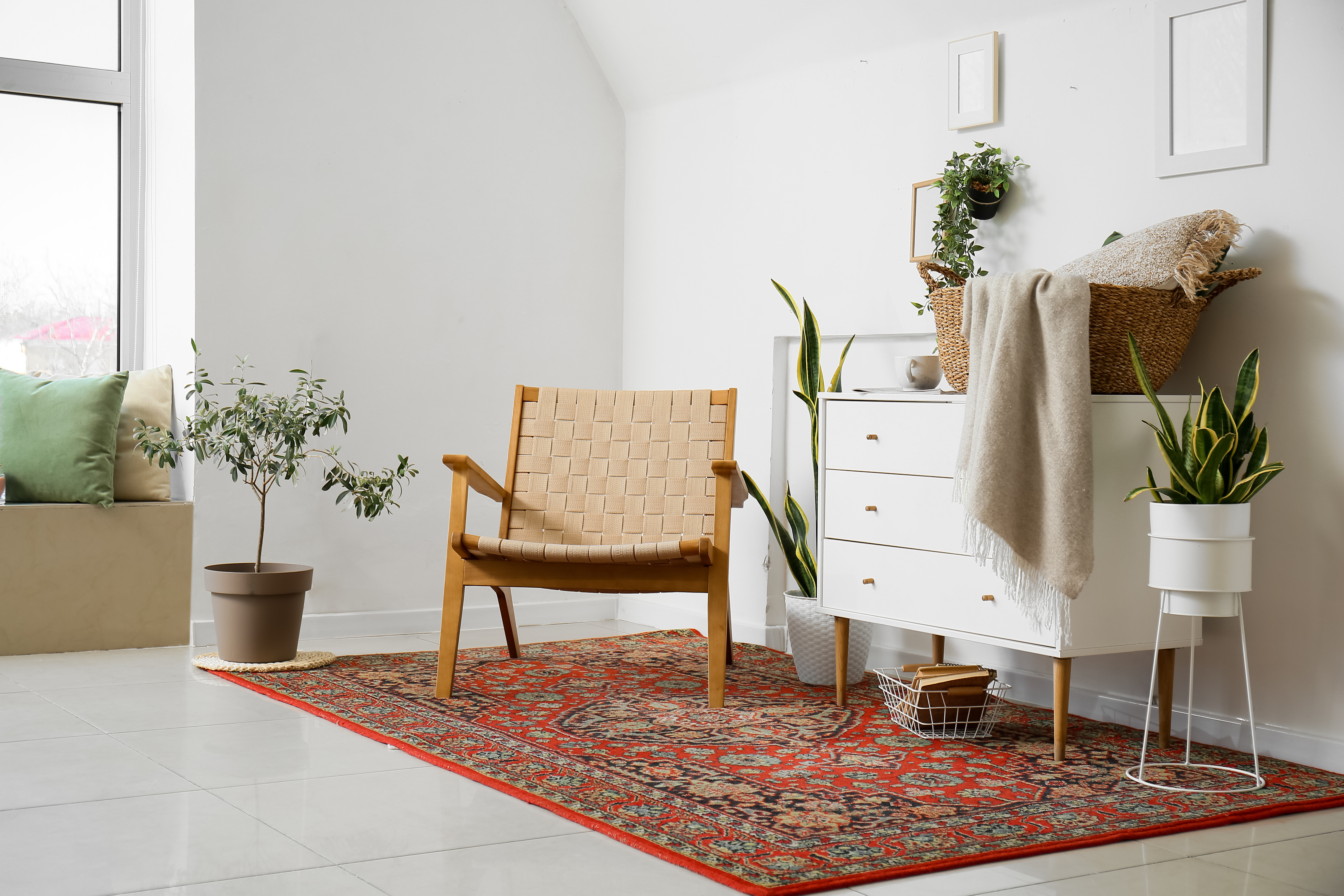 Less impactful than using a rug as a focal point but still just as essential to the layout of a home: an accent space. Accent spaces are some of the most pivotal in home design, and require a little more delicacy and finesse when designing.
Accent spaces can be any number of things - coffee bars, activity corners, coatracks, a shelving area, or even just a wide window with open space in front of it. If used in addition to central pieces, accent spaces can elevate a room's design from simple to layered beauty with ease.
Using traditional rugs in accent points of your home can be beneficial for adding depth to the space. The design of traditional rugs are beautiful while still remaining subtle; they won't overpower the rest of the items in your accent space. Place a small traditional rug in front of a bar or a bedroom door. Position a traditional-style rug underneath a bay window, underneath some hung wall art, or in front of some draped curtains. Depending on the amount of space you have, the options are endless!
In an Entryway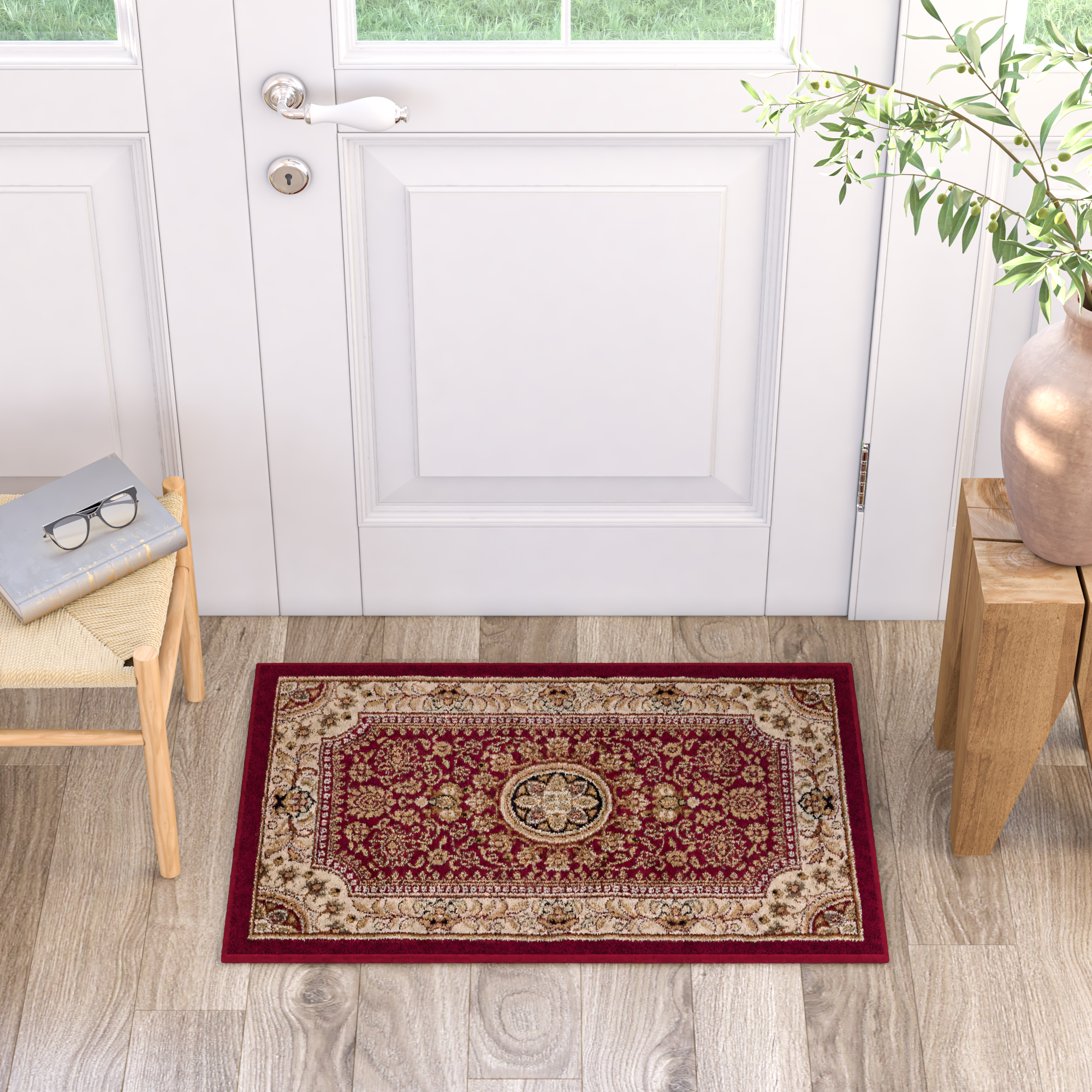 If you're looking to make a statement at your front door with an area rug, a traditional area rug is one of the best styles to choose! With entryway rugs, it's easy to play around with the style and color choices, not necessarily having to stick to the style that runs throughout the rest of your home. If your home is earth-toned, for example, using a black oriental rug or a sharp red traditional rug will make your entryway stand out from the rest of the room.
Entryway rugs can be doormats, runners, or smaller area rugs depending on your available space. To make sure you purchase the ideal shape and size, take some measurements of your entryway or mudroom and then lay down some tape. This will allow you to see where exactly your rug would be placed, and how it would look when filling the space.
Down a Hallway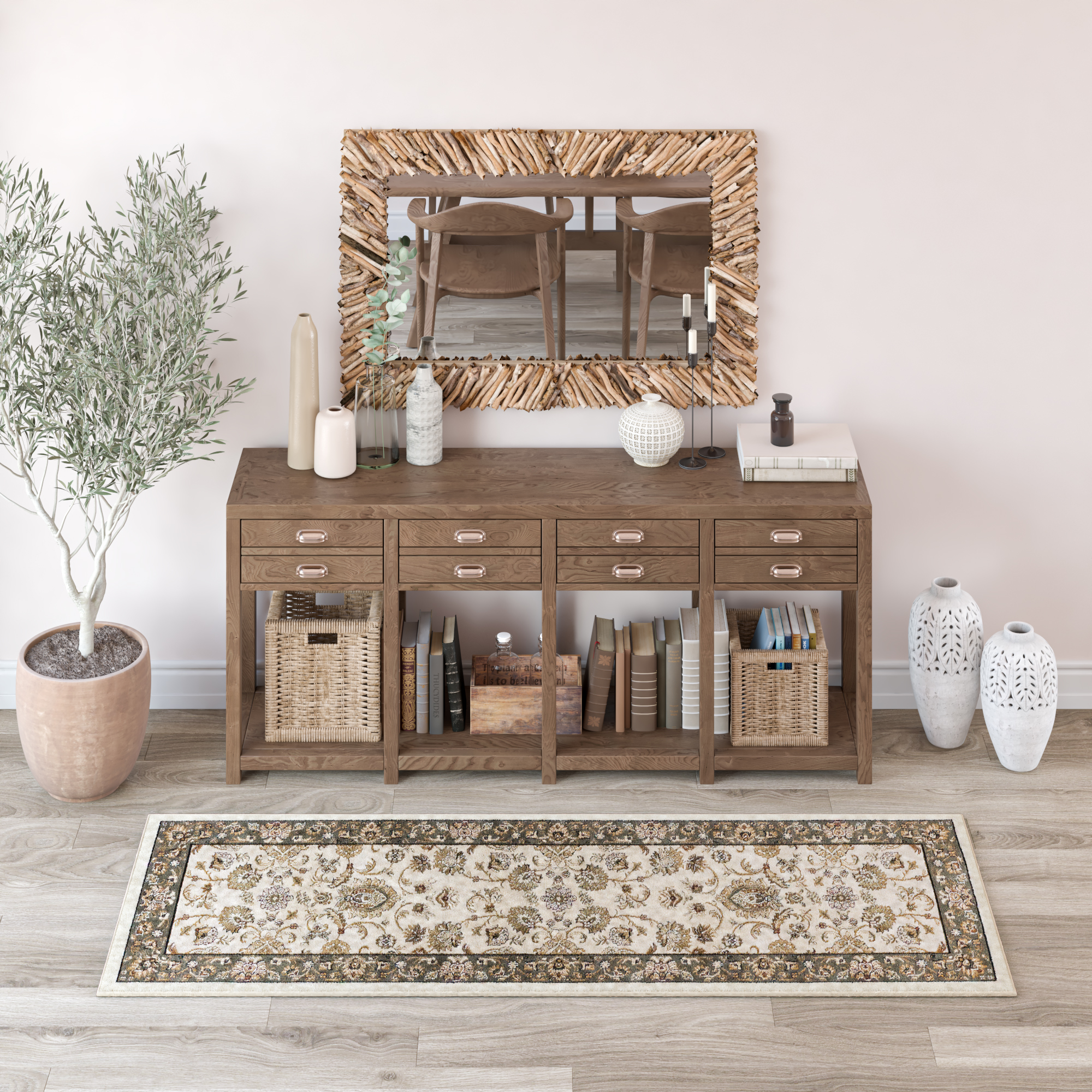 Traditional rugs come in a dozen different shapes and sizes, one of which is the size of a runner! Runner rugs are fantastic additions to any home, whether they're being used underneath a dining room table, through a kitchen, in front of a bathroom sink, or down a lengthy hallway. Hallways are an area of the house that often get left out of decorating, as the destination spaces tend to be the rooms themselves rather than the hallway used to reach those rooms. An easy way to make the journey as enjoyable as the destination is with a runner rug!
The length and style of hallway you have in your home should determine what color and design of traditional runner rug you bring into your space. If your hallway is dark and doesn't have any natural light, you could consider bringing in a runner rug of a lighter shade, with subtle patterns. But if your hallway is brighter and has a lot of windows, a darker hue or pattern would most likely suit the area better!
Layered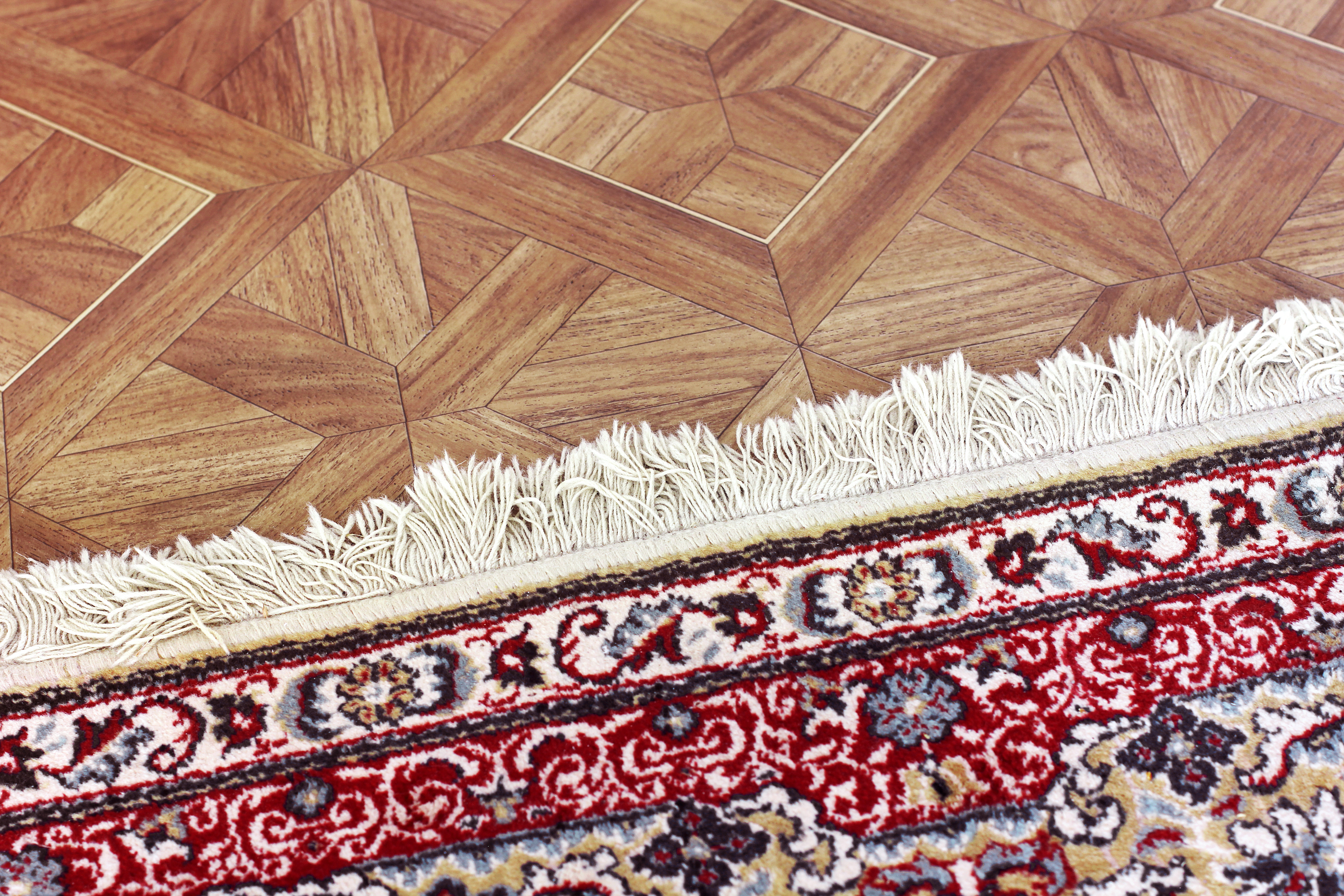 While this tip doesn't necessarily have anything to do with the placement of your rug within your home, it is still extremely helpful! If you are looking for the classic design of a traditional rug but want to add an extra flair of design, you should consider layering more than one rug. Layer a thinner, patterned outdoor rug with the traditional rug overtop to create an extra level of depth. Or, if your issue is with a lack of texture, maybe layer a smaller shag rug over one portion of your traditional rug!
Layering rugs doesn't have to be an overwhelming task; it can be as simple as taking a solid-colored rug and placing a patterned rug overtop, or putting one color above another to tie in different aspects of your decor.
Bonus: Outdoors
Our five tips are up, but as an extra we want to also mention the benefits of using traditional-style rugs not only in your home but outside of it as well! Outdoor rugs are a spectacular way to showcase your decor skills both inside and outside of your home. If you have an outside space that needs some sprucing up, consider finding an area rug to cover the ground area, whether you own a patio, a garage, a studio, a porch or a deck.
There are dozens of designs to choose from when picking an outdoor rug, and while your outdoor rug doesn't necessarily have to match the design you use indoors, it is nice to have one theme flow into the other. This can be accomplished by using complimentary colors, complimentary styles, or just continuing the same type of decor throughout. Traditional rugs, thankfully, are the easiest to pair with any other styles, complimentary or not! Their classic look isn't at all plain, but is well-loved and well-rounded enough to be partnered with plenty of other styles. If you need to spiff up your outdoor spaces, consider a traditional rug the next time you go decor shopping.
When it comes to decorating your home with timeless style that stands out from all others, nothing beats traditional rugs! From living rooms with hardwood floors to kitchens with tiled surfaces, traditional rugs can provide a twist to any room in your home alongside the rest of your decor.
Whether you're hoping to put an elegant spin on classic design, or want a pop of color alongside your home's theme, an area rug is the perfect piece to do that! And there's no better area rug to do it than the traditional style. So don't be afraid to get creative when styling traditional rugs in your home; you'll be sure find something that fits perfectly!
For some stylish and affordable traditional rug options, be sure to check out Decorsify's website.