Just like shoes can make or break an outfit, it's easy to say that an entryway can make or break a home. It is the very first space that people see as they head through your front door, whether they're family, friends, guests, or one-time visitors. The entryway needs to create a lasting impression on any and everyone, and one of the easiest ways to accomplish this is with a rug. Of course a rug alone isn't enough to complete an entryway, but if you've already got a clean and organized space with other smaller interior decor pieces, adding an entryway rug will take your design up another level.
Choosing the right rug for your entryway can be a daunting task, with all of the different things you have to consider. You have to think about size and shape, just like all rugs, along with colors and patterns, but in addition you have to take the durability into account. It can be a lot to keep track of, and in order to simplify the process, we've listed out the five main factors you need to keep in mind whenever you're shopping for your entryway rug.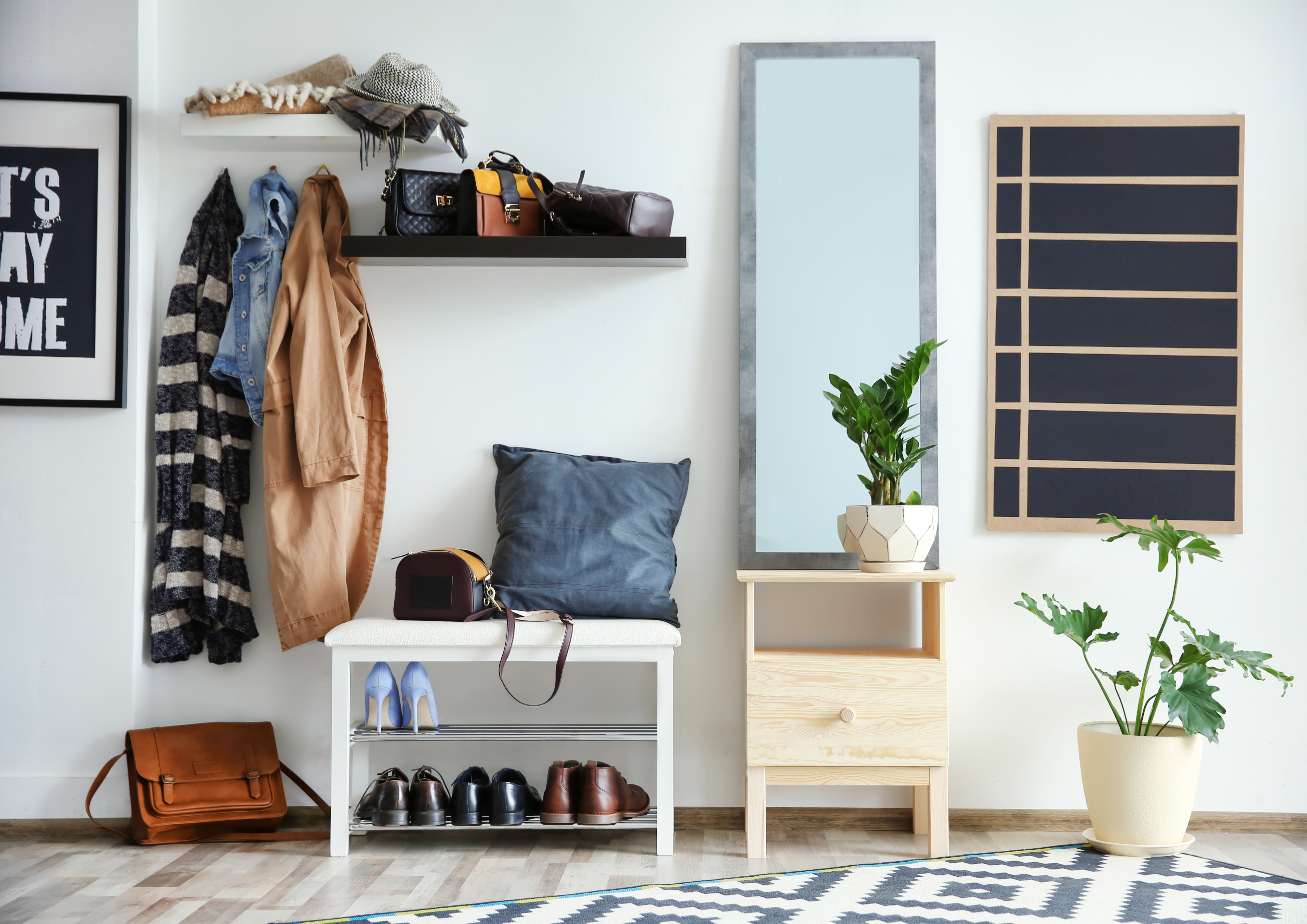 Shape
First, as we all know, entryways come in various shapes and sizes. So, before starting to consider purchasing a rug, one should first keep the shape of the entryway in mind. For instance, a rectangular rug would be the natural choice for a narrow entryway in order to achieve geometrical and optical balance. However, if your entryway is square, curved, or round, you'll have to take For example, a round rug at the entrance would make even a comparatively small space look larger than it is and cozier as well.
Size
Just like shape, the size is also a crucial factor while choosing a rug for your entryway, whether your entryway leads into a mudroom, hallway, or a destination space like the living room or kitchen. Ideally, the rug shouldn't cover your entire entryway, as small bare spaces around the edges of the rug render the entryway to be more visually appealing. Try and choose a size that will fit comfortably in the center of your entryway or in front of your door, with at least a few inches of space between the rug's edges and the walls.
Depending on the size of your entryway, a runner rug might also be a good choice! If your entryway leads into a hallway, or if it is longer/wider than the typical entryway, a runner rug would fill the entire length of the space without feeling crowded. Before making a choice in size, measure out your entryway and then lay tape down to symbolize a few different rug sizes so you'll be able to visualize which would be the best fit.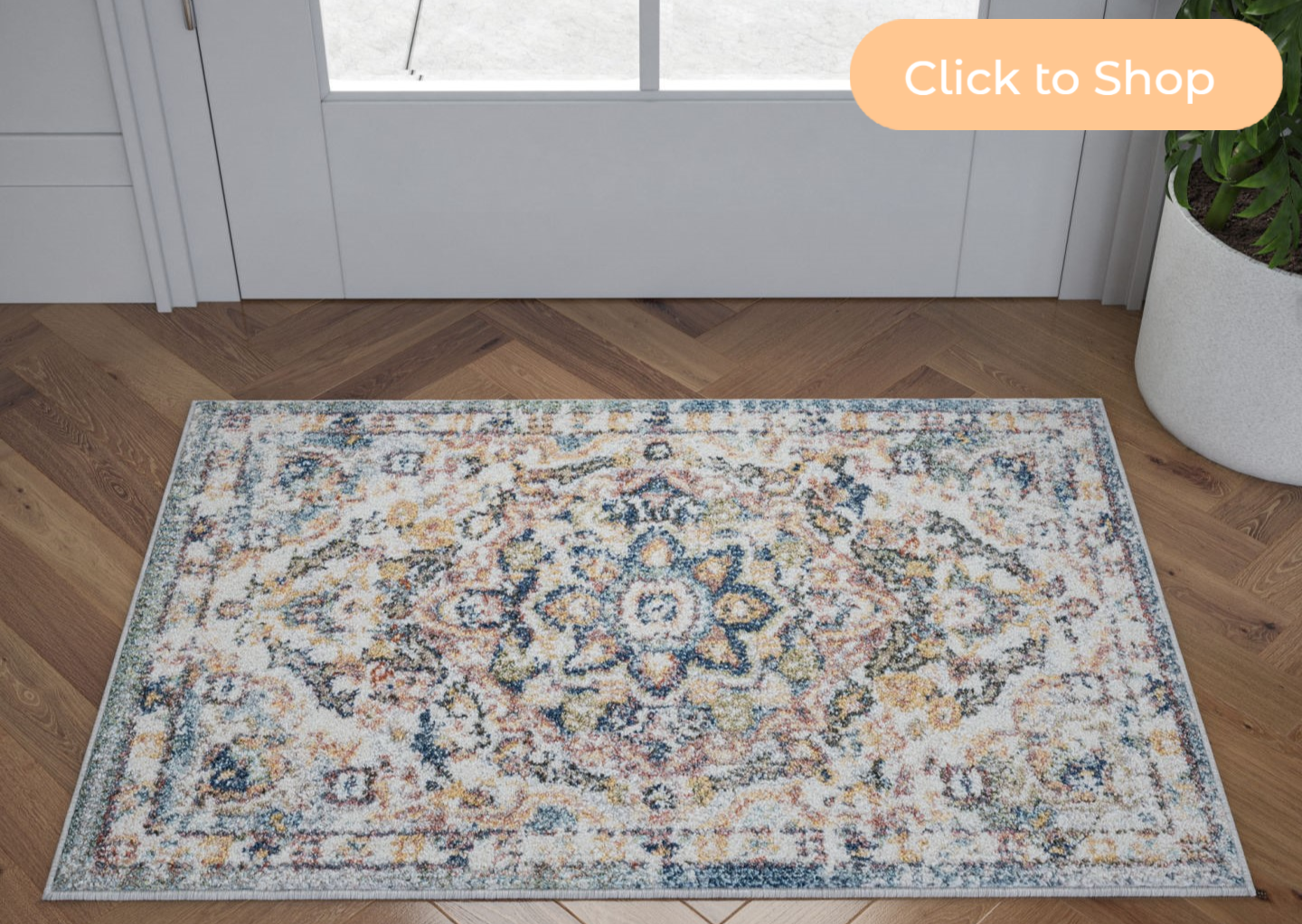 Style
In order to choose the best style for your entryway rug, you first need to analyze your style choices throughout the rest of your home. The entryway of a home functions like a mirror, reflecting the impression you want to make onto your guests, so it needs to reflect the rest of your home accurately. For example, an oriental or traditional rug could be the right choice if you have classic or rustic decor through the rest of the house. On the other hand, if the rest of your home has modern decor, you can try to go for an abstract contemporary rug with geometric patterns, or a monochrome rug if your modern twist is more grayscale. Not every room of the home will have the exact design as the other, but they should be able to flow into one another seamlessly.
Something else to consider style-wise when you're choosing an entryway area rug is the style of your front door. Your decor can flow well throughout the house, but if it doesn't mesh with the style of your front door, then that can throw off the entire look if you aren't careful. Some front doors have windows and allow in more light, others have traditional detailing and intricate trim, others are heavy and modern with chrome fixtures - whatever the case, your entryway decor needs to accommodate your front door's design.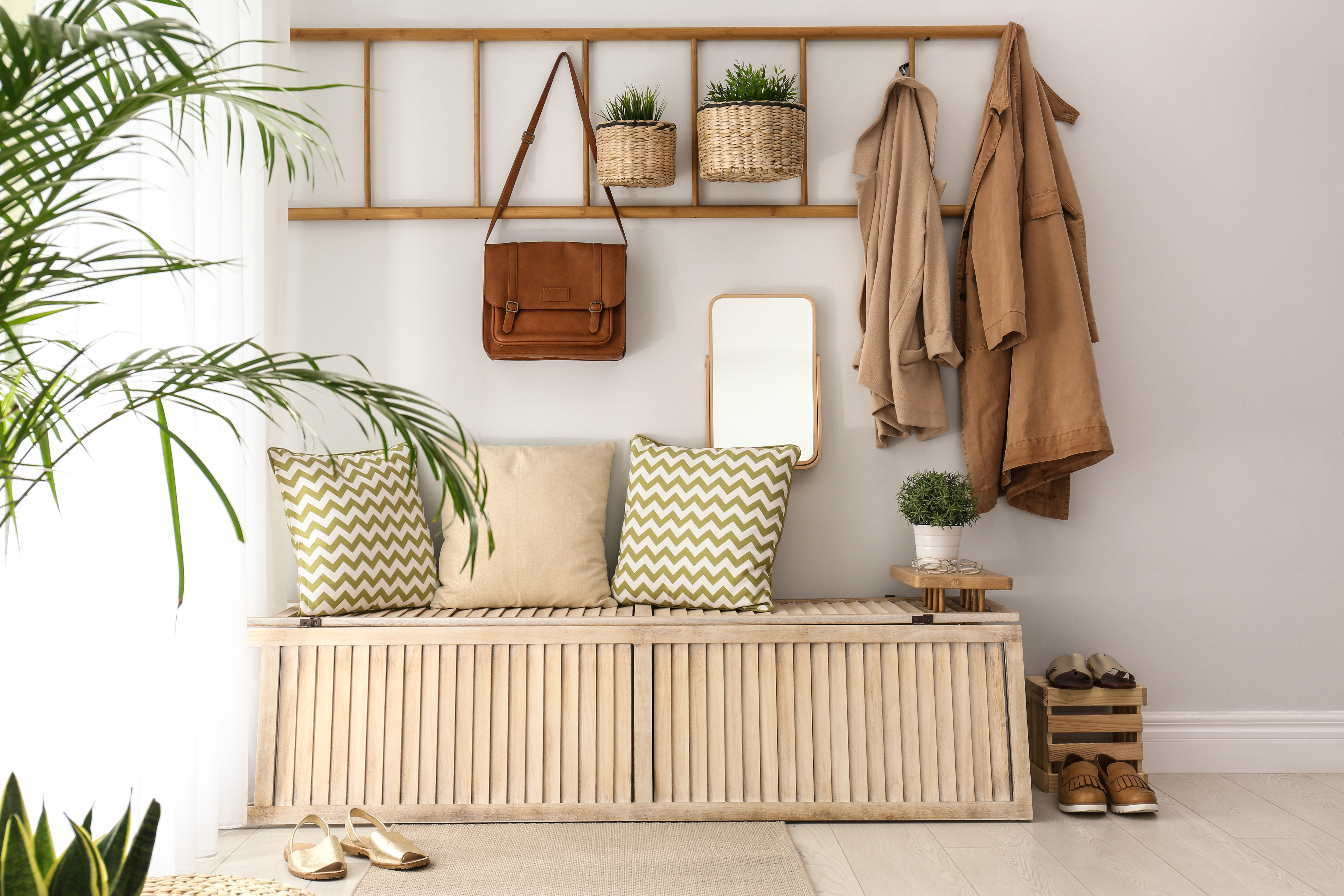 Material
When you're choosing a rug for your space, taking size and shape into account comes naturally, but many forget to consider the different material options for their rugs. Whether it is for an entryway or another space, material of a rug is extremely important, as it directly impacts the durability and functionality of the product. Since the entryway is a space where you will have a lot of foot traffic in the house, the rug you use there should be easy to clean, and optimized to last. The same criteria that you would use when choosing an outdoor rug, you should apply here to choosing one for your entryway. Choose a durable fiber, maybe a rug that is machine-washable to make the cleaning process even easier. A low-pile rug, regardless of material, is a smarter choice because higher-pile rugs aren't as suited for higher traffic areas.
Maintenance
While this factor isn't as determinate of style or visual impact, the maintenance of your new rug is still something that you should take into account before you make your final decision. As mentioned above, this is that area of your home where you will have the heaviest foot traffic, especially if you enjoy hosting friends or family in the comfort of your own home. Therefore, your entryway rug must be resilient, durable, stain-resistant and easy to clean with a vacuum cleaner. As it was stressed above, the choice of material plays a big role here. Apart from that, using a rug pad underneath to protect the floor and to prevent accidents is also not a bad idea. A rug pad will keep your floor cushioned and will also add some extra lift to the rug itself, keeping it from wilting or wearing out as quickly.
Buying a washable rug is an extremely beneficial choice in situations like these, where you will most likely be cleaning the rug more often. Instead of doing heavy spot-treatments or needing to have your rugs professionally cleaned, you can do all of the cleaning yourself, without much difficulty at all! With our washable rugs, you can do a light spot treatment before just tossing your rug into the washing machine with a light detergent, and your rug will be good as new when you take it out and let it air dry! For your entryway, for dirty shoes and dirty paws alike, this will save you a lot of time.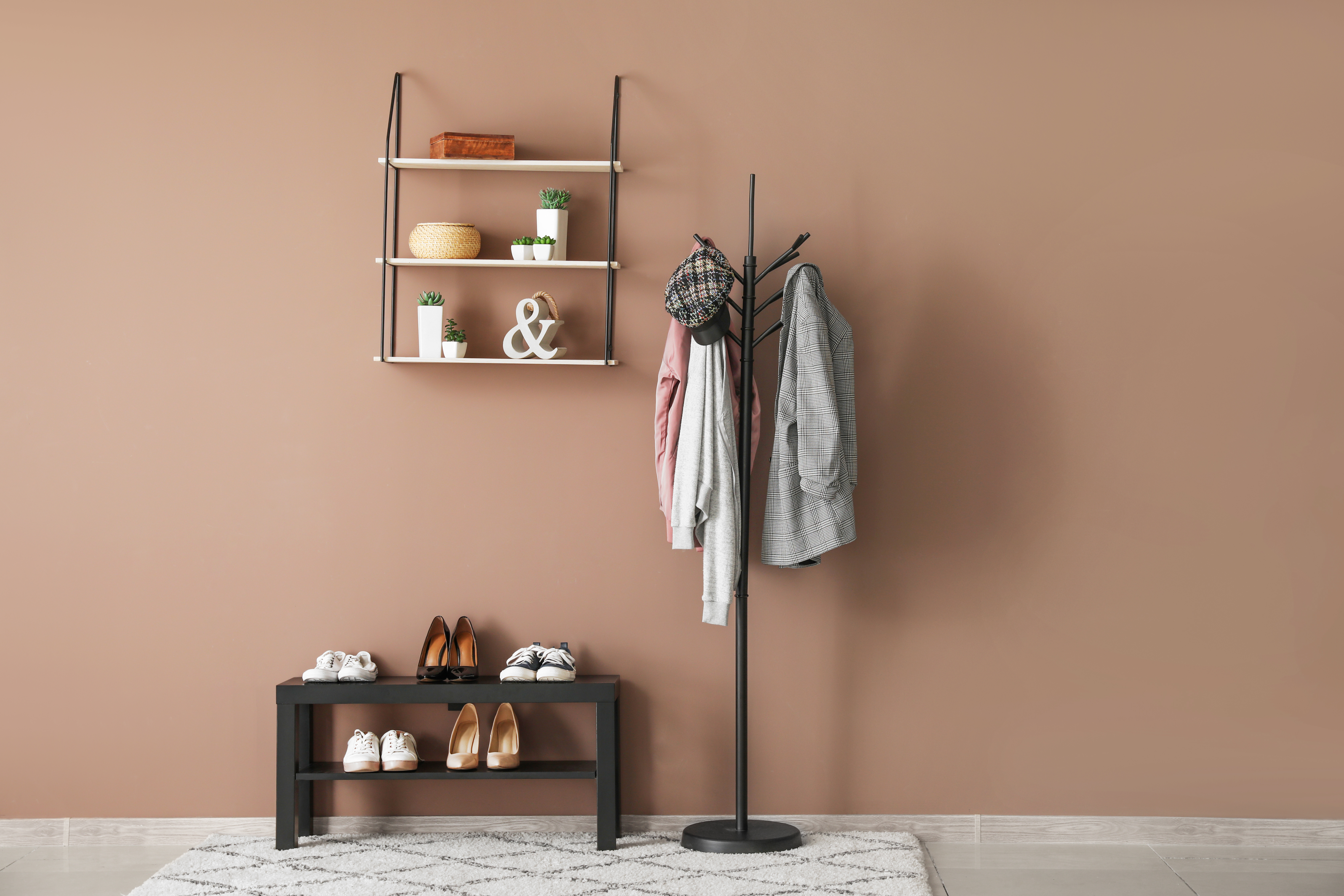 All in all, no matter how small, your entryway's design matters. It makes a hefty impact on anyone that walks through your front door, and one of the easiest ways to make that impact a positive one is with an area rug. Whether you use a full-size area rug, an entryway mat, or a runner rug, adding the texture and warmth from an area rug to your entryway will be beneficial! If you're looking to refresh your entryway, or if you're just on the hunt for a new rug, make sure to check out Decorsify's listings at Decorsify.com to see if we've got what you're looking for! With our assortment of styles, sizes, colors, and shapes, we're sure to have something that would be a good fit for you!