If someone asked you to imagine a rug in your mind right now, what would that rug look like? Chances are, your imaginary rug - no matter the color, size, style, or thickness - is rectangular, right? Most people are accustomed to the sharp corners and straight lines of square or rectangular rugs, as those are the most commonly purchased rugs all over the world. From doormats to bathroom mats, runner rugs to full-size area rugs, the majority of rugs that you see in homes and online are rectangular... but not all of them! Round rugs have soared in popularity over the last few years along with other decor items with rounded shapes: arched doorways, curved mirrors, and oval sectionals.
Round rugs accomplish the same thing as traditional-shaped rugs by protecting your floors, creating extra comfort, and adding a fresh pop of color. But in addition to that, the soft shape of round rugs adds another level of stylistic flair that allows you to experiment with your decor. Whether you place it underneath a dining room table, use it as a bedroom rug, or place it in your home office, a round rug is sure to leave a lasting impression. If you're interested in the modern elegance of round rugs and want to try one out in your home, here are the five best rooms to consider!
Dining Room
The dining room is one of the first rooms where round rugs truly soared into popularity. Many dining room tables are oval-shaped or rounds, to avoid bumping hips and elbows on sharp corners, and so the idea rose to make dining room rugs in the same way: round. This assures that the dining space is fully cohesive and flows from entrance to exit. If you have a bar area in your dining room, this is also a popular place to highlight a round or oval rug, just in front of the bar or underneath any bar stools.
The most popular style of round rug for dining rooms or kitchens are traditional, or shag rugs. Shag rugs are for dining rooms that don't have as heavy foot traffic as others, and are more for comfort purposes. Traditional-patterned rugs are very popular in dining rooms, an area of your home that you want to be warm, inviting, and elegant as to not overpower whatever meal is being shared among friends or family. And the great thing about traditional rugs is that there are many options that are washable! This is perfect for those with large families or an abundance of kids and pets, since spills are a lot more likely to happen.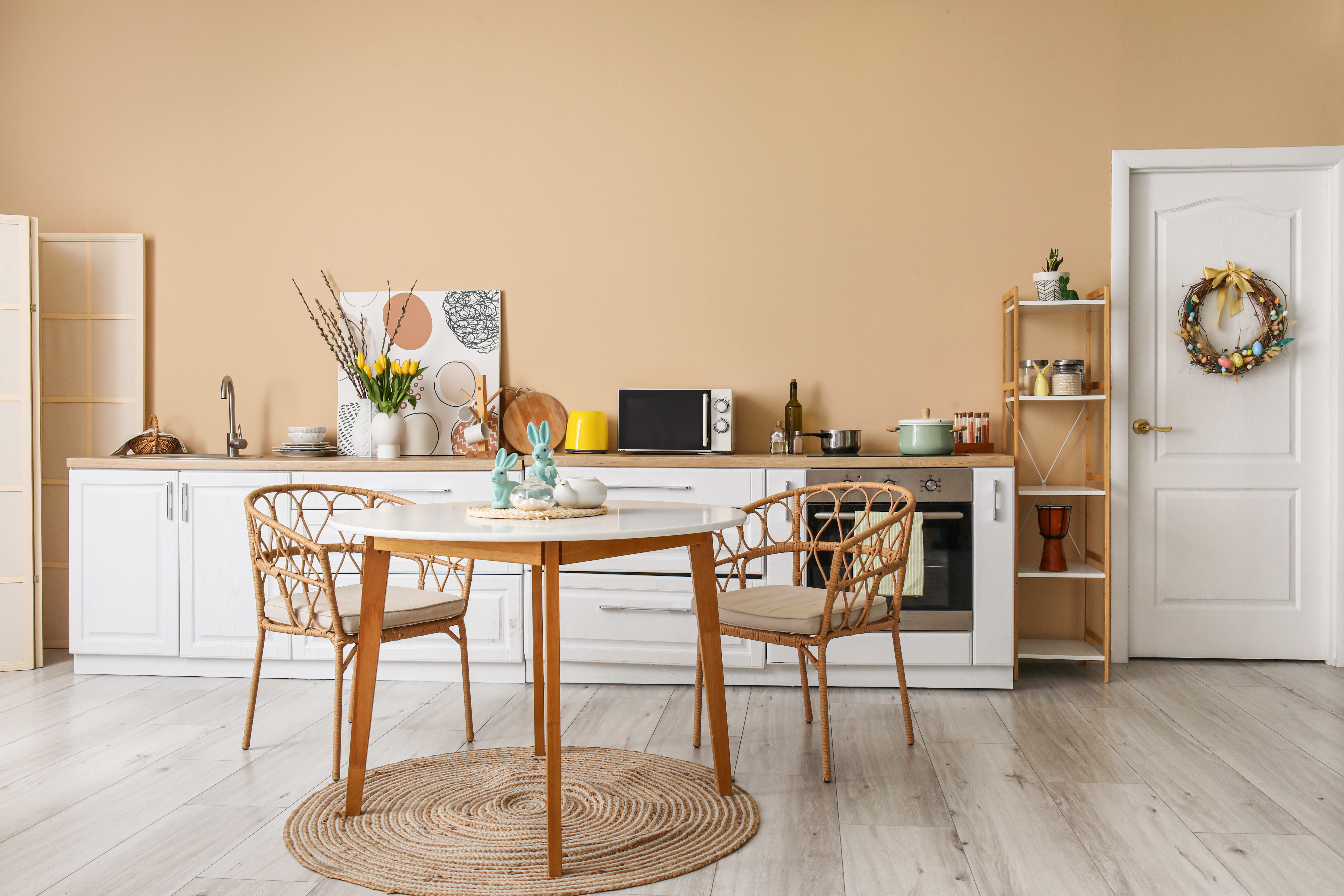 Living Room
This is a bolder placement for your rug, considering most people incorporate rectangular objects in a living room. A TV, TV stand, L-shaped couches or loveseats, coffee tables - the majority of these are typically made of sharp corners and straight lines. But if you're looking for decor that will add some diversity to your usual style, and create more of a pop against your standard furniture shapes, then a circle or oval is the way to go for the shape of your living room rug.
If you decide to incorporate a round rug in your living room, the best placements for it are underneath your coffee table, or if it is a larger rug, underneath the majority of your living room furniture. The round edges of the rug will add excellent contrast to the flat front of your couch or loveseat, and serve as an anchoring centerpiece for the table it will be placed under. In addition, if you're looking for more pop, purchasing a coffee table with a glass top that allows a visual of the rug underneath is a great idea!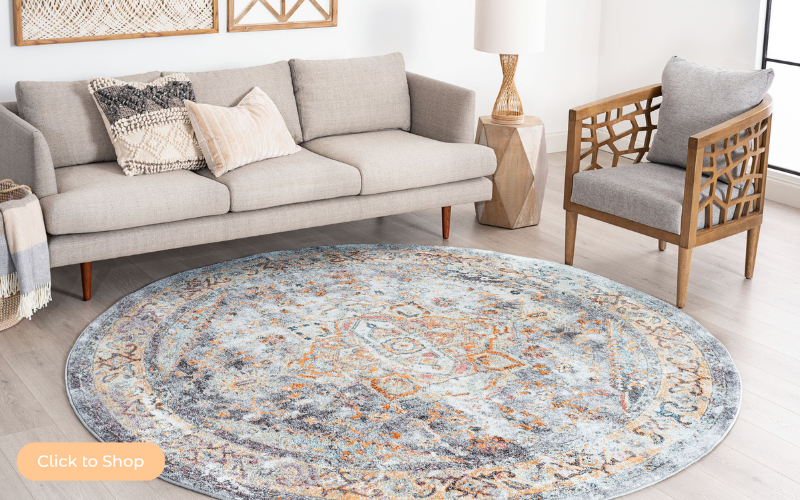 Bedroom
Your bedroom is the area of the home where you want to amp up the cozy factor, and a round rug is a great way to do just that. Place a large round rug in the center of your bedroom or align it with the placement of your bed to create an added layer of warmth and comfort both for the room, and for your feet when you get out of bed on those colder mornings! One of the best round rug styles for your bedroom are shag rugs, with their high pile and plush material.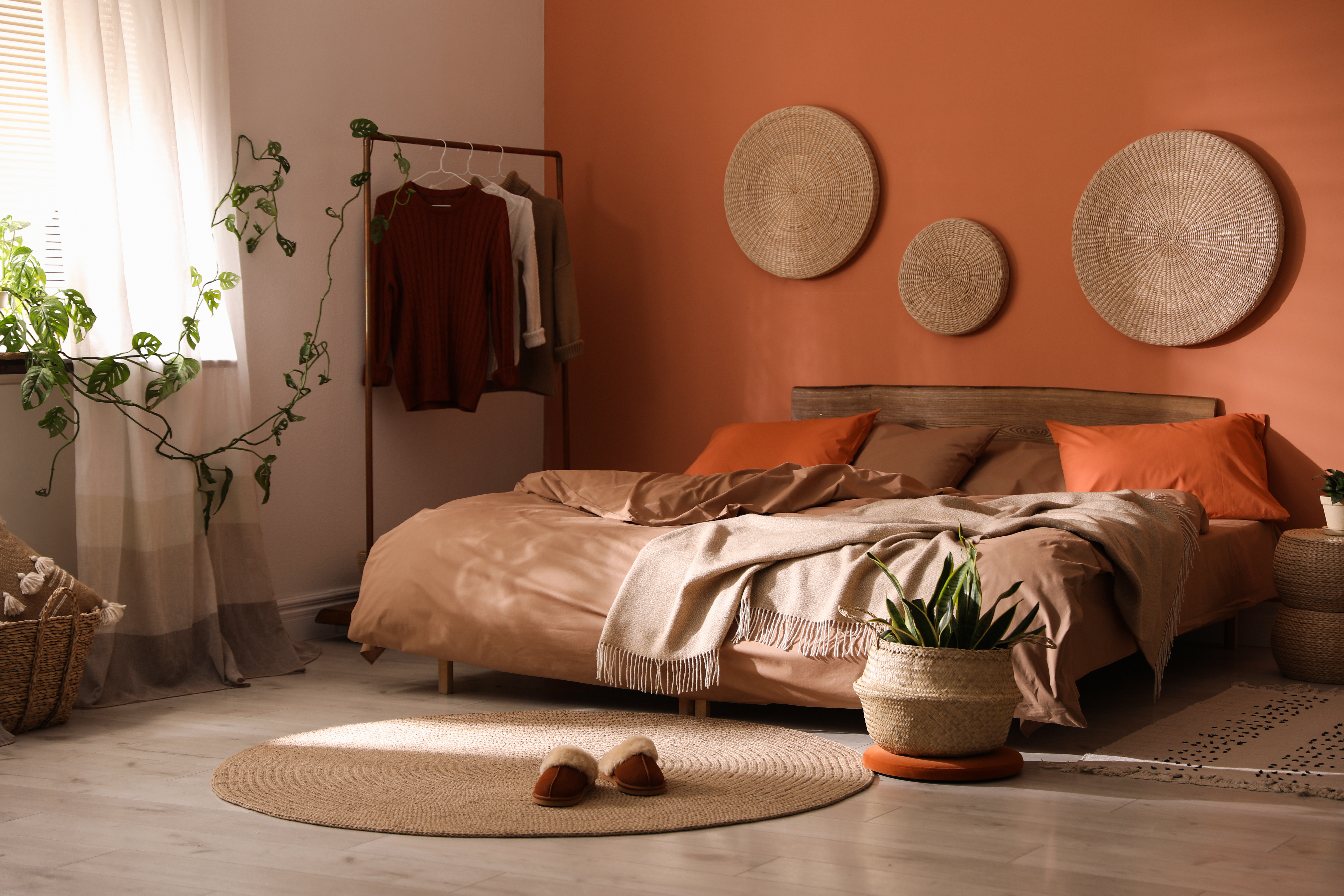 Nursery or Playroom
A rug is never a bad idea in any room where toddlers or babies are present. Whether it's a nursery rug or a playroom rug, having an added layer of protection under your child's feet is a must. With a rug underfoot, dropped toys won't damage the floors, and if your child happens to fall, there'll be added thickness between them and the floor as well. While any rug can achieve this protection, not all shapes and styles of rugs can achieve the whimsical feeling of a round rug! Children's spaces typically tend to be round in nature, with polka-dots or flowing shapes on the walls, round-corner furniture, round toys... so why should your rug be any exception?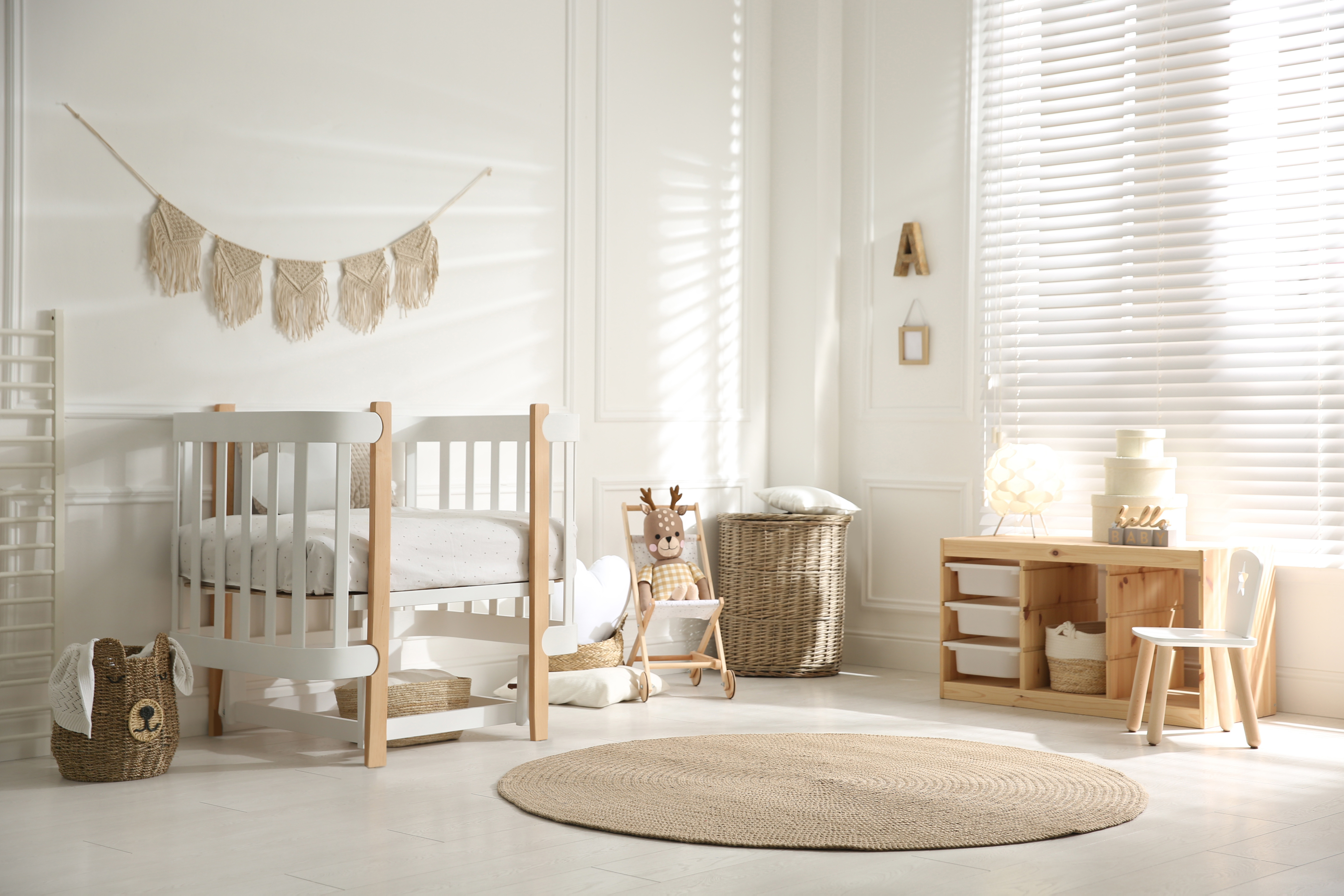 Home Office
Last but certainly not least, a home office is the perfect place for you to use a round area rug. Home offices are typically smaller rooms in comparison to living rooms and bedrooms, meaning a round rug can fully fill the room without too much gap between its edges and the room's corners. Placing a round rug underneath your desk and chair not only adds some cushion to where you'll spend your time working from home, but it also adds a level of protection for both the office's floors and the wheels of your desk chair.
The right choice of round rug for this room would be one that's low-pile, so shag rugs would most likely be a no-go if your chair is one that rolls. Option for a low-pile rug in a traditional or transitional style is your best bet, and there are a variety of different color and pattern options to choose from! Plus, if you're someone who likes to take your meals at your desk, going washable for your office rug might be an even better option!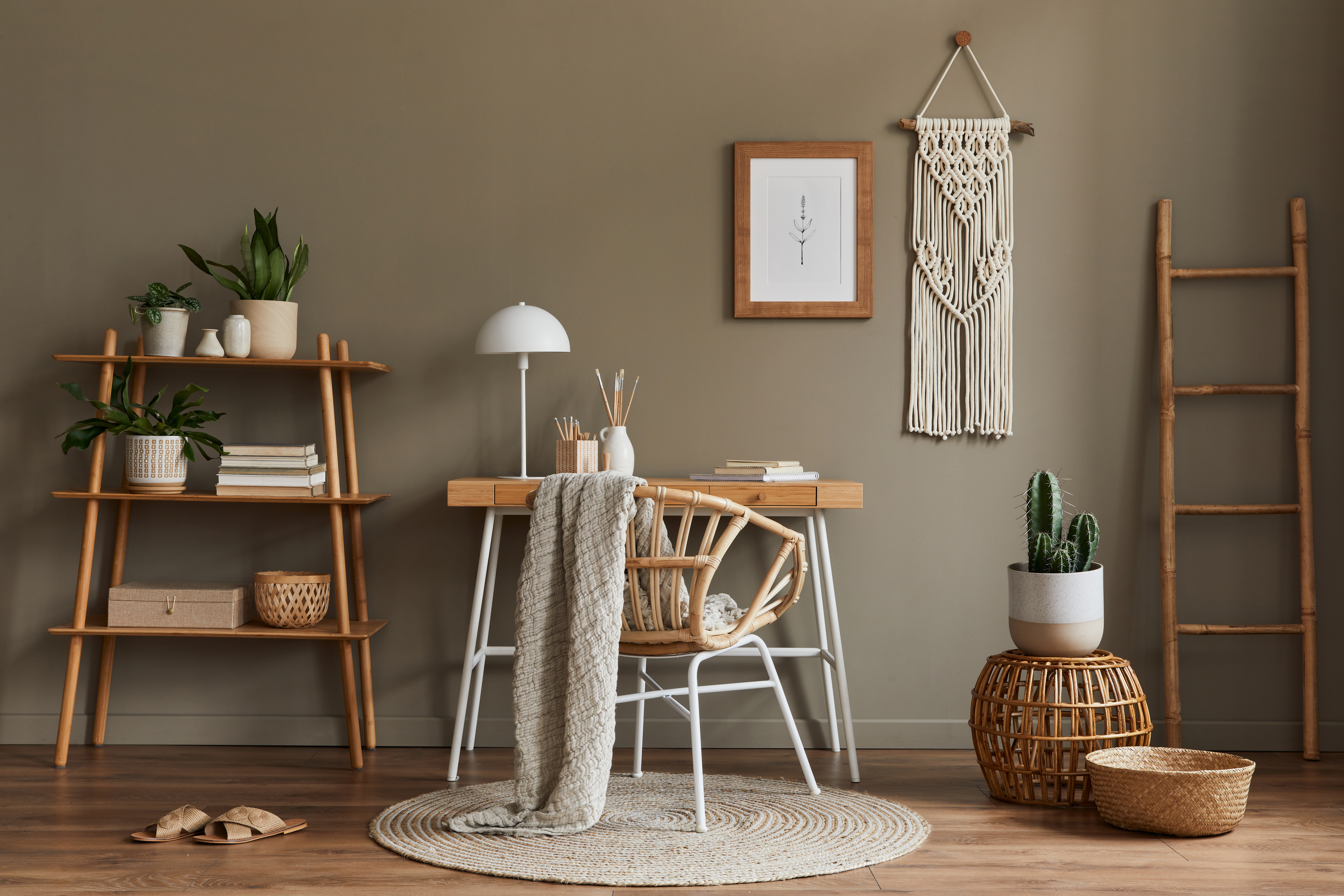 In short, the pros of buying a round rug always outweigh the cons! While you might be losing the typical rectangular style of rugs that you're used to, you're opening the door to an abundance of new designing techniques for all of the different rooms across your home, from the bedroom, to the living room, to the home office. If you're in the market for a new rug and think a round rug might be the right fit for you, make sure to check out Decorsify's website and see if one of our listings is exactly what you need!