When decorating our homes, we tend to focus design on the major rooms that will have the most impact. We add pops of color to our living rooms, plush rugs to our bedrooms, add a new backsplash to our kitchen, or re-paint the walls of our bathrooms. The one area of the home that we tend to leave out as we go through the motions of decorating and designing isn't a room at all, but is just as important: our outdoor space! Your outdoor decor is the first thing guests will see before they even step through your front door; it makes a huge first impression, one that lasts! And while you can spruce up your outdoor spaces with everything from flowers to wreaths to fences, one of the best things in to incorporate into your outdoor decor: an area rug!
Area rugs can transform the rooms inside your house, so who's to say they can't do the same to your outdoor spaces? Your patios, your garages, your decks, or even poolside, outdoor rugs will take the outside of your home from drab to stylish! If you've never used an outdoor rug, or want to know how to style one, we here at Decorsify are here to help!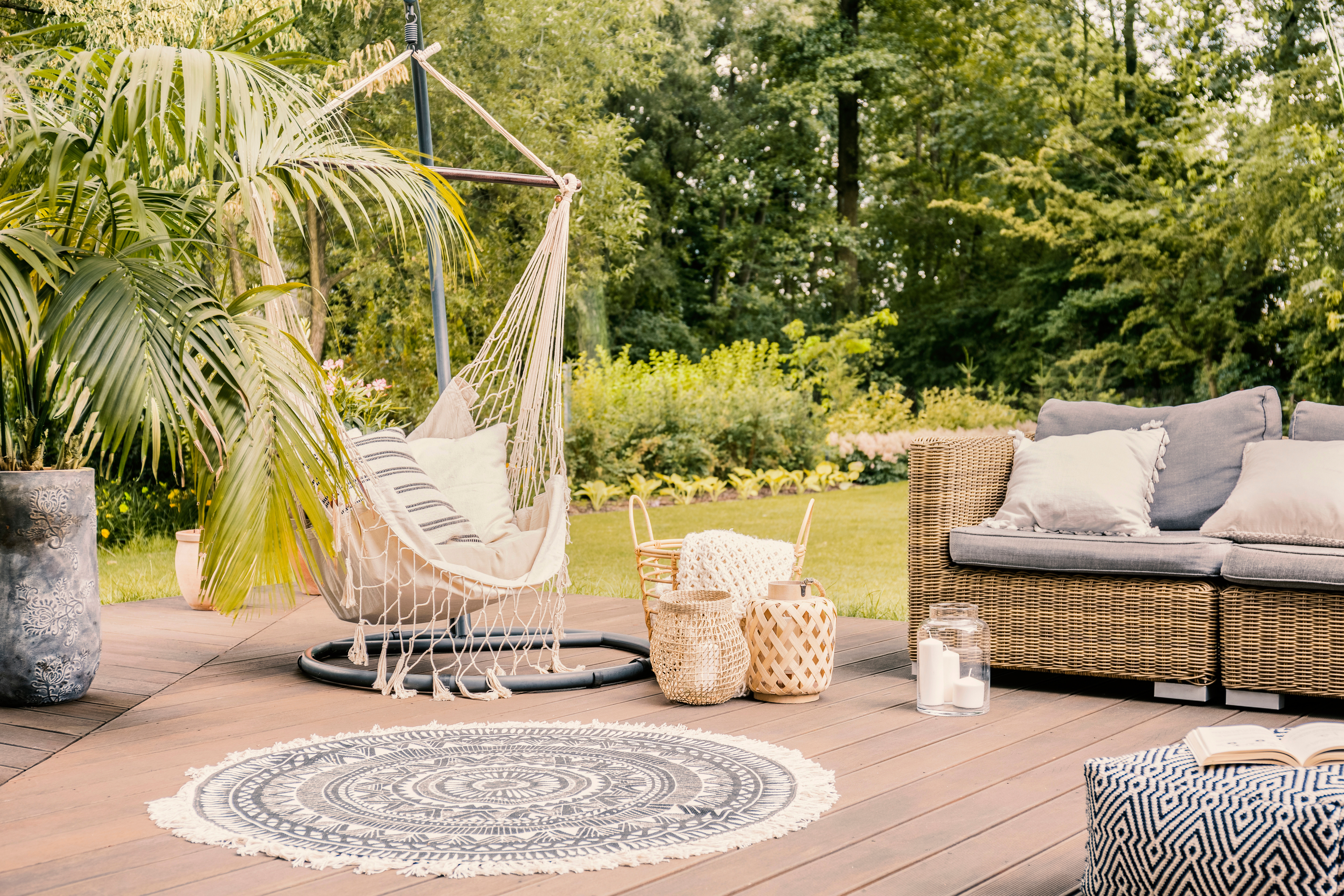 The Benefits of Outdoor Rugs
Durable
Outdoor rugs are extremely durable, designed to withstand the elements no matter where you live. They are typically thicker fibers no matter the color or design, which means they are less-likely to be damaged by any rain or snow. Outdoor rugs are also stain-resistant, meant to withstand the foot traffic of shoes in and out of a home. This doesn't mean it's impossible for them to get dirty or to stain, but it does mean that they will typically last longer than other styles of rugs when faced with dirt, debris, or heavy foot traffic.
Easy to Clean
Similar to our washable rugs, outdoor rugs are typically very easy to clean. Beating out any dust, spot-treating with detergent, and then rinsing or scrubbing the rug outside will usually do the trick! And the best part about washing an outdoor rug is that you never have to move it in or around the house to clean it; you can simply wash it where it's placed. The same is true about drying it - you can either hang your outdoor rugs to dry, or let them dry in the sun where they're placed.
Useable Year-Round
Outdoor rugs are useable year-round, which makes them one of the most efficient home decor pieces around! While other decor needs to be shifted, or some colors shift in and out of style depending on season or holidays, this is less true when it comes to designing your outdoor spaces. While you might still want to have a couple of options to switch out for winter and summer seasons, your outdoor area rugs can typically remain the same year-round! The placement can stay the same unless you feel the need for a move, and the designs of outdoor rugs are typically cohesive enough to mesh with any other decor that might change around them.
How to Style an Outdoor Rug
There are plenty of different ways to style an outdoor rug, depending on the aesthetic you're trying to achieve in your space. For fun and flashy outdoor decor, you can choose a brighter outdoor rug and pair it with a bench with throw pillows, or a set of deck chairs with vibrant seat cushions. If you're trying to achieve a relaxation space, cooler neutral tones might be the way to go, partnered with a rocking chair and some potted plants, as well as an outdoor portable speaker. Or, if you're concerned with entertaining, getting a larger outdoor rug with a set of chairs, a patio table, and a small fire pit could be the perfect way to unwind with your guests!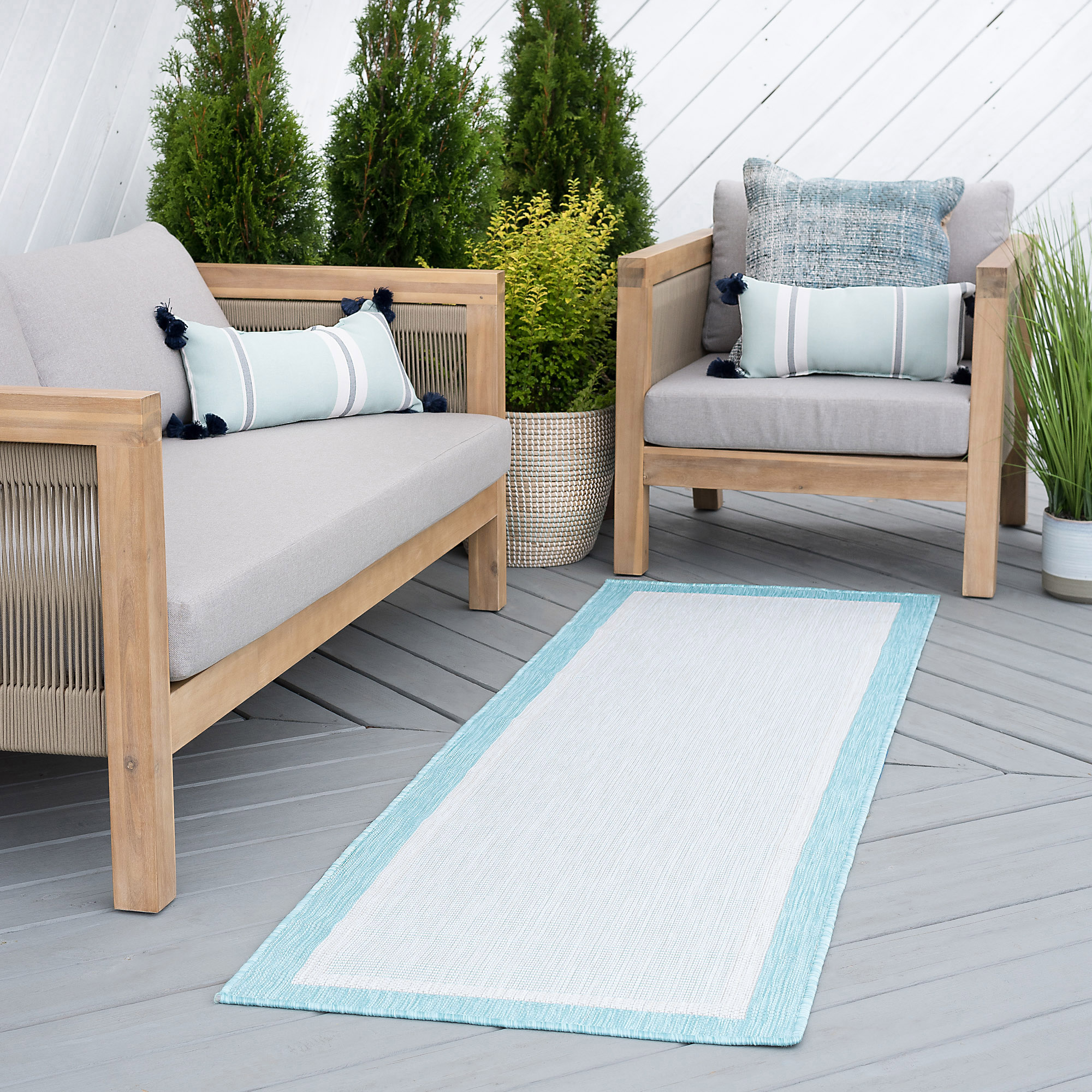 Where to Place Your Outdoor Rug
Depending on the style of your home, there are dozens of different places to use an area rug outdoors. Whether you're adding a little flair to your front step or redesigning an entire patio area, an outdoor rug can be the perfect addition.
Front Porch
While your front porch might not be the idea place for a large area rug, depending on your porch size, it is definitely the perfect place to use a smaller rug or a doormat! Your front porch is the area that most guests will see first when arriving at your home, so whether it's a full wrap-around porch with string lights or just a garage with a few front steps, your entryway is the ideal place to make an impression. Using a smaller-size outdoor rug just in front of your door can make a world of difference, especially when partnered with a wreath or a potted plant to one side of the entrance.
Outdoor Patio
Outdoor patios can easily steal the show when it comes to outdoor decor, and a way to enhance that ability is to throw in an area rug! Place a full-size outdoor rug underneath your patio table or patio chairs, maybe with a centerpiece like a firepit or statue in the middle, and you'll capture the attention of any guests for sure! Use complimentary colors when choosing an area rug and the cushions for your patio furniture to really tie the entire look together.
Deck
While decks are typically used to focus on views of the yard or the scenery, their own design can often get forgotten about as you bask in the beauty. Wooden decks are statement pieces on their own, especially when stained a signature color, but a way to heighten their appearance is with an outdoor area rug. You can use a smaller rug near the door that leads out to the deck, or you could use a larger rug near the railing, placed underneath some chairs that face the view. Give yourself and any of your guests the perfect hangout spot to watch the sunrise or sunset with a comfortable rug and some cozy furniture.
Poolside
A pool can practically function as decor itself, with the color of its lining and the rippling effects of the water, reflecting sunlight onto everything nearby. But a way to increase the beauty of your pool is to add decor around it - and that includes an outdoor rug. Add potted plants and shrubs, some pool furniture, and a vibrant rug that will partner nicely with the shimmer of the water without overshadowing it. You can even try to match the rug with the color of your pool liner or the color of the cement surrounding your in-ground pool in order to truly lock in the cohesive elegance of the space.
Trendiest Outdoor Rug Colors
Trends in colors for outdoor rugs tend to shift depending on the season, though there are some colors that ring true no matter the time of year. For summer, the go-to colors are reds and yellows, greens and teals. For winter, softer neutrals or cooler blue tones are the ones most commonly chosen. For spring, pastels like baby blue and coral pink are popular, and for autumn earth-tones are clearly the right choice. If you're looking for something that you can use year-round, going for a solid-colored area rug rather than a print might be the correct choice; you could opt for something beige, gray, or black so that it is guaranteed to match any seasonal or holiday decor you use around it.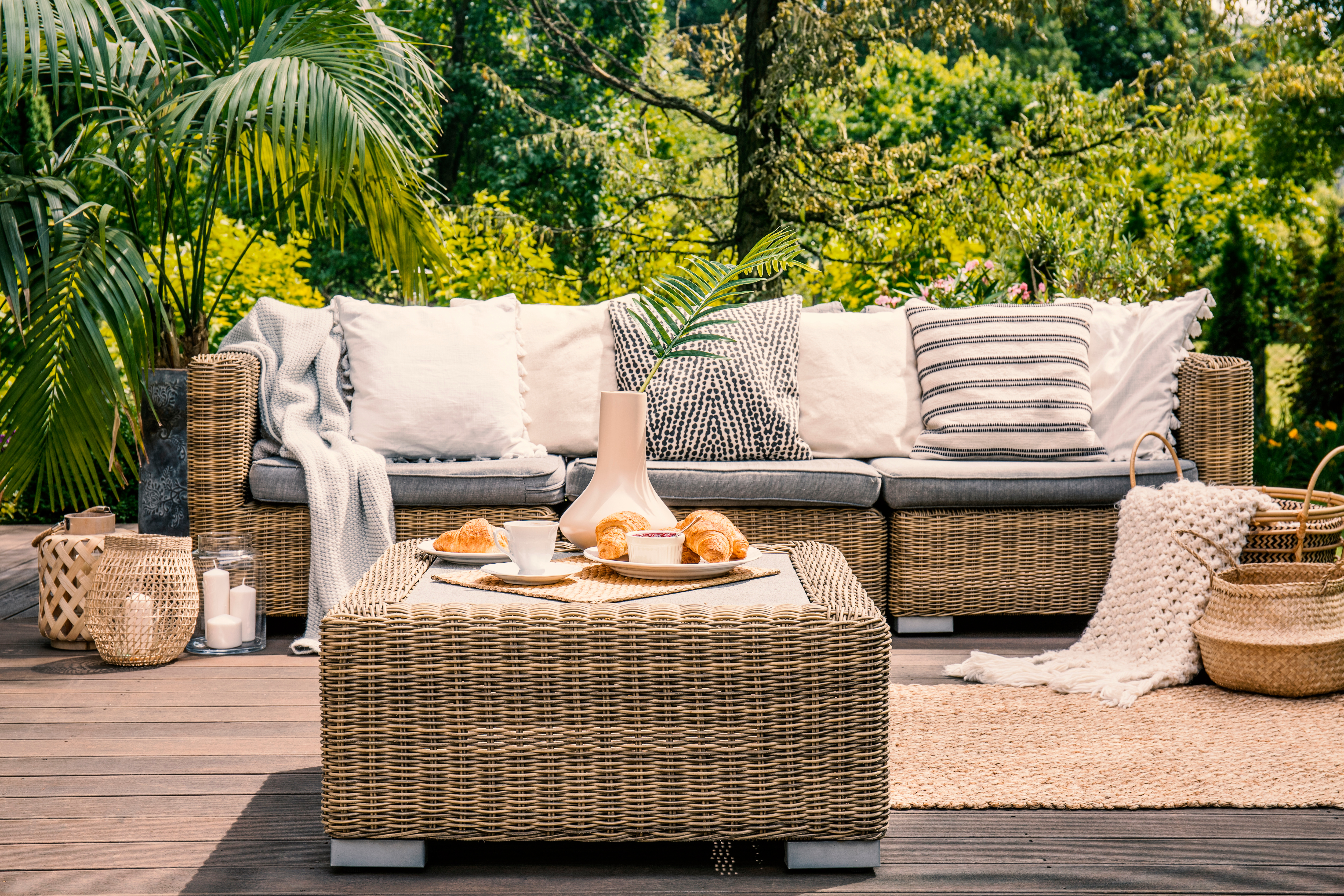 All in all, an outdoor rug is an amazing addition to your decor if you're trying to add some spice to the outside of your home as well as the inside. There are plenty of places you can use a rug, all of which will enhance the comfort and functionality of your outdoor spaces. If you're interested in shopping affordable outdoor rugs, be sure to check out Decorsify's listings for plenty of options in a wide variety of colors and patterns that are sure to make your home's outdoors pop!