Rugs are a staple of home decor, this is a fact we all know well by now. A room hardly feels complete without a rug to outline furniture, or to anchor the rest of its design. But as rugs have evolved over the years, so have our needs for them; now, rugs aren't only needed inside, in the different destination spaces of our homes. They're also needed somewhere else: outdoors! And the most popular of all outdoor rugs are those that are built to withstand the weather that outdoor rugs are subjected to: plastic rugs. This article will go over the benefits and drawbacks of these avant-garde products to make sure you know everything you need to know about them, and to help you decide whether or not you want to bring one into your outdoor decor.
An Introduction to Plastic Rugs
It's important to clarify what we mean by "plastic rugs" before getting into the benefits and drawbacks. They are rugs made from recycled plastic or plastic fibers, ones that are typically designed to be used outdoors, or to serve as rugs that can be placed inside or outside. Known for being both lightweight and durable, the interlocked plastic fibers are easy to clean, and will hold up against both sun and rain. They are a modern re-invention of traditional rugs, without the plush comfort most are used to, but that comfort is forfeited for a design that is wholly unique.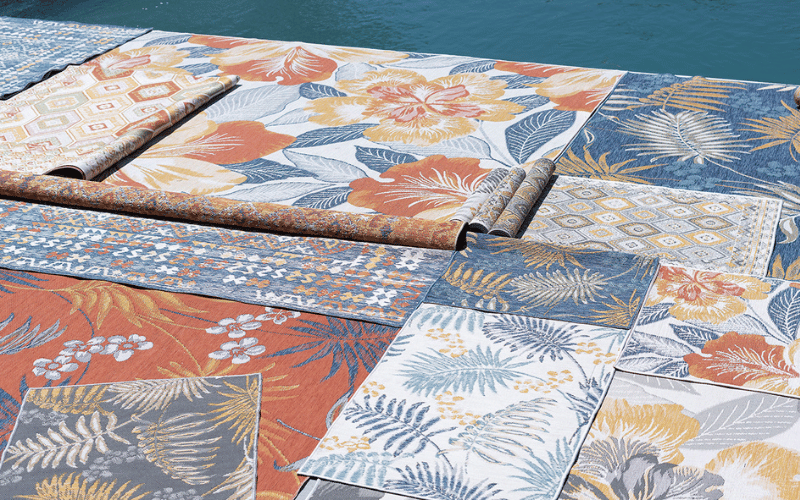 Benefits of Plastic Rugs
Simple Upkeep
The simplicity of maintenance is one of the most important benefits of plastic rugs, especially plastic outdoor rugs. They are moisture-resistant and simple to clean with a light detergent or a fast hose down, unlike traditional rugs.
Durability
The longevity of outdoor plastic rugs is well known. They outperform conventional cloth rugs in terms of resistance to extreme weather, foot traffic, and direct sunlight.
Cost-Effectiveness
In general, plastic rugs are less expensive than their wool or cotton counterparts, especially those created from recycled materials. They provide people looking for elegant yet affordable decor with an inexpensive option without sacrificing any visual appeal.
Versatility
Plastic rugs are available in a wide range of hues, dimensions, and designs. This makes it possible for you to choose the ideal rug for your design, whether it is a straightforward plastic rug protector for a busy corridor or a complex outdoor plastic fiber rug for a patio area.
Environmentally Responsible
By selecting a recycled plastic rug for your outdoor space, you may help reduce plastic waste. For those who care about the environment, they are a great option for making a green impact.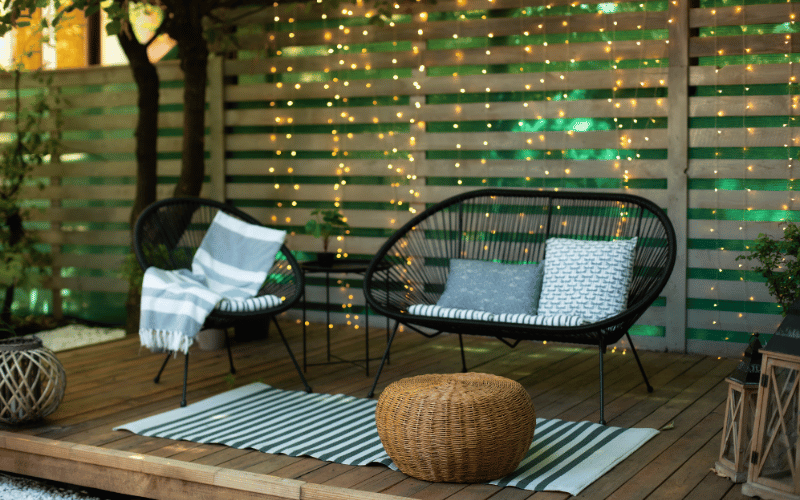 Drawbacks of Plastic Rugs
Comfort
Comfort is one area where plastic rugs fall short. They are less ideal for indoor places where comfort is important because they are not as soft or warm as typical fabric rugs.
Sensitivity to Heat
Heat-sensitive outdoor plastic rugs exist. They can get too hot to walk on comfortably in elevated temperatures, which is a major disadvantage for locations that experience extreme summer heat. They do, however, disperse heat better than the patio or deck you'd be laying them on.
Shade Fading
Plastic rugs, especially plastic outdoor rugs, can fade over time when exposed to direct sunshine, despite their resilience. They are hardier than regular rugs and will last longer when in direct sun, but repeated exposure will eventually fade them over time.
Incomplete Biodegradability
It is vital to keep in mind that recycled plastic outdoor rugs are not entirely biodegradable even though they employ recycled materials and are therefore environmentally friendly. This indicates that unless they are recycled once again at the end of their lives, they will continue to contribute to environmental degradation.
Rug Covers: A Plastic Alternative
A plastic rug protector can be a great option if you want to safeguard your indoor rugs. They offer a barrier against spills and stains while letting the beauty of the rug beneath show through.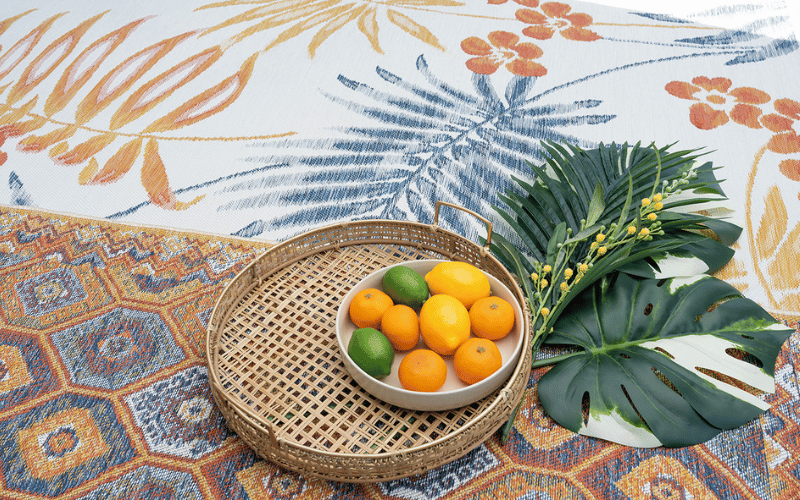 FAQs
Q: Are plastic outdoor rugs worth buying?
A: Yes, there are numerous advantages to plastic outdoor rugs that make them a great option for many homes. They are often more inexpensive than traditional cloth alternatives and are more enduring, resistant to moisture and mildew, and easier to clean. Additionally, they come in a variety of colors and patterns, making it simple to choose one that complements your outdoor decor. They do, however, have some drawbacks, such as the possibility of discomfort because of their firm texture and the possibility of heat sensitivity in extremely hot areas.
Q: Do plastic outdoor rugs get hot?
A: Yes, especially in direct sunlight, plastic outdoor rugs can become warm when exposed to high temperatures. They may be uncomfortable to walk on in extremely hot weather because of their heat sensitivity. If you live in a hot region and your outside space is exposed to direct sunshine, you may want to take this into account while selecting an outdoor rug. Opting for lighter colors or thicker weaves can help with this.
Q: How long do plastic rugs last?
A: A plastic rug's lifespan is influenced by a few variables, including the material's quality, how much direct sunshine it receives, and how much foot traffic it receives. But with the right care and upkeep, plastic rugs are typically highly resilient and can survive for several years.
Q: How do I clean a plastic rug?
Plastic rug cleaning is quite simple. The majority of spills may be cleaned up with warm water and mild soap. A soft brush can be used to gently scrape the region in order to remove more difficult stains. After cleaning your rug, always be sure to properly rinse it to get rid of any soap residue. Before reusing your rug, let it air dry fully for optimal results. For more about washable rugs, you can visit the Decorsify website.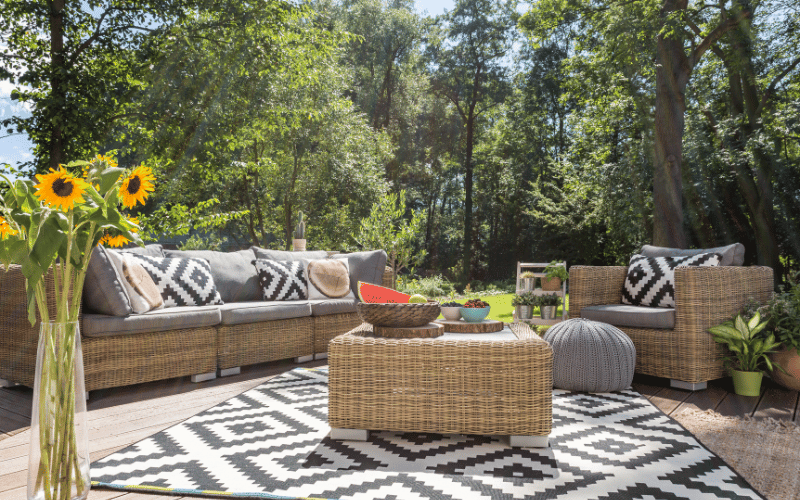 In conclusion, plastic rugs, from a straightforward plastic rug protector to a complex outdoor plastic fiber rug, provide a special combination of toughness, affordability, and variety. Before making a purchase, it is critical to examine these aspects because they each have advantages and disadvantages. Making the greatest decision for your specific requirements requires careful study, just like with any other investment in the interior of your home.
The Decorsify website offers a huge and varied collection of plastic rugs for individuals looking for the ideal rug to accent their home. Decorsify offers a variety of products to suit every taste and need, whether you are looking for a colorful outdoor plastic fiber rug to brighten up your patio, a sturdy recycled plastic outdoor rug for your pool area, or a useful plastic rug protector for your busy kitchen. No matter what you're looking for, we've got options!