Indoor/Outdoor rugs are one of the most popular methods on the market right now for enhancing both the inside and outside of your home! There's no reason that the beauty of your home décor should come to an end just because you move beyond your front door; outdoor spaces are just as important as indoor ones. With indoor/outdoor rugs you can have the best of both worlds, with rugs that can be used in both locations and moved with ease. Rugs that are suitable for both indoor or outdoor environments are rising in popularity due to their functionality, versatility, and the edge that they add to design. In this blog we here at Decorsify will walk you through everything there is to know about this style of rug, the different designs, how to place them, maintain them, and where to find the best ones. So keep reading!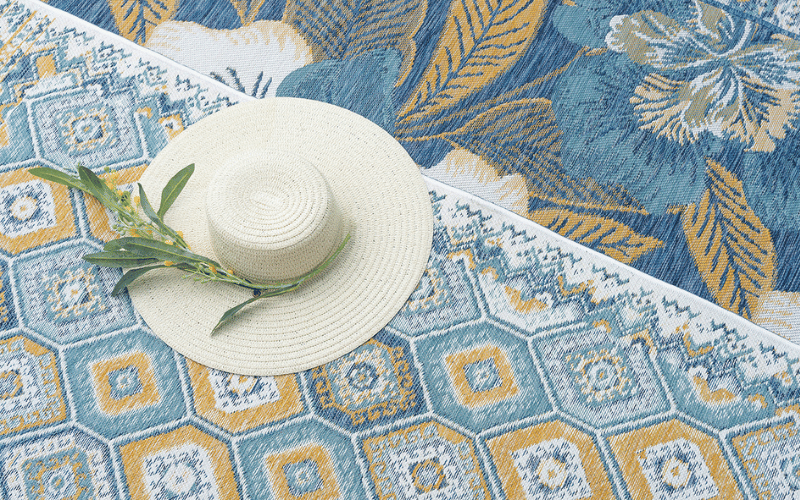 Knowledge of Indoor Outdoor Rugs
Indoor outdoor rugs are created using materials strong enough to survive outdoor conditions but are styled to resemble interior rugs. These rugs are made from synthetic materials such as polypropylene or other recycled plastics. They are resistant to staining, fading, and mold, which makes them an excellent choice for outdoor settings and busy areas inside the home.
Benefits of Indoor/Outdoor Rugs
Indoor/outdoor rugs have several advantages. First, indoor/outdoor rugs require little upkeep. They are simple to clean with a garden hose and may even be vacuumed like regular indoor rugs to get rid of any dirt and debris. An indoor outdoor rug is a hassle-free way to keep your areas looking clean and new if you have kids or pets, or place the rug in any area that is prone to accidents and spills.
Size and Position
A key consideration when buying indoor outdoor rugs is size. The rug you choose should be in a size that compliments the space you have available, as well as the furniture that you plan to place on top of it. Choose an outdoor area rug that is at least two feet shorter than the room's shortest wall as a rule of thumb. Or, if placed somewhere outdoors without any walls, make sure there is a border of deck/patio/porch space at least two feet wide around the rug's perimeter. Make sure the rug is big enough for outdoor areas to at least fit the front legs of your furniture.
One of the most popular size choices for indoor/outdoor rugs is the 8x10. This size is perfect for defining an area. It is not too big and not too small. It is great for living rooms, dining rooms, and larger outdoor settings.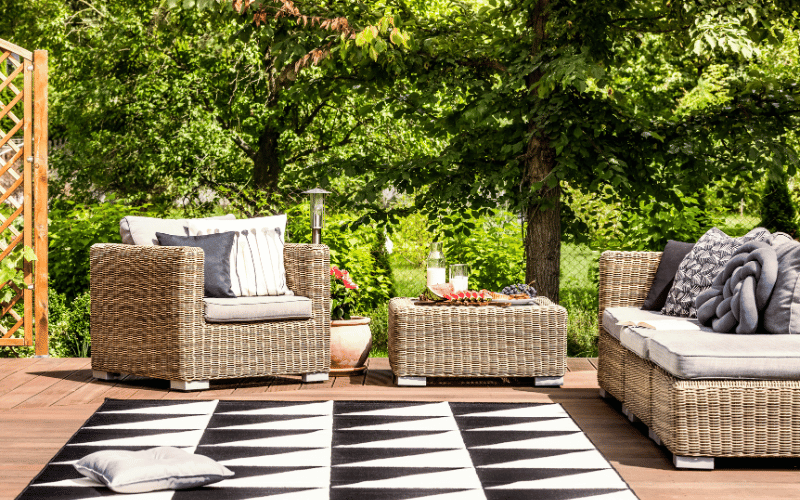 Material Choice
The majority of indoor outdoor rugs are made of tough synthetic fibers. However, variations in their manufacturing can affect their feel and durability. As a result of its resistance to stains, fading, and mildew, polypropylene is a common material and might be the safest choice. It is most frequently used outdoors, but is also a popular choice for indoor/outdoor rugs because of its durability and easy maintenance. There are other material options out there, all of which have their own list of pros and cons. Do some research before buying your rug, to make sure the material of your rug will be able to not only withstand the elements of the area where you plan to use it, but that it will be up to your standards of comfort and beauty, as well.
Pattern and Design Options
Your indoor outdoor rug's style and pattern should complement your decor. Choose hues that match those in your furniture or the landscaping outside for a unified look. Never be afraid to experiment with different designs, or step outside of the box for something bold if you're looking to really freshen things up! Naturalistic patterns can provide a neutral backdrop for furniture, while bold, geometric patterns in a contemporary style can create a focal point.
Maintenance and Care
Indoor/outdoor rugs are made to last, but with the right maintenance, they can last even longer. To maintain their optimum appearance, frequent vacuuming is the most important step you can take. Most indoor outdoor rugs can be thoroughly cleaned with a hose or by using a soft brush and light soap. To avoid mildew, always give your rug plenty of time to dry completely. If the rug happens to get any deeper stains, you can always have it professionally cleaned. There are also plenty of washable indoor/outdoor rug alternatives that make the maintenance process a breeze! Keep an eye out for these options when making your selection, if you want the cleaning of your rug to be as easy as tossing it in the washing machine and then letting it dry.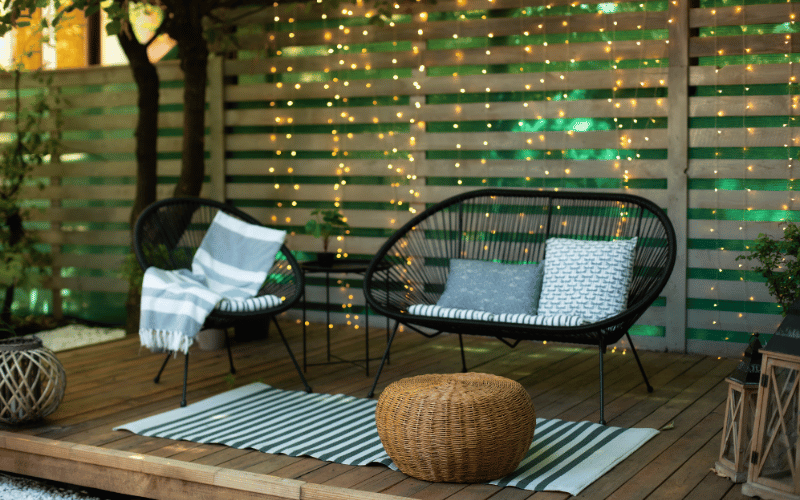 FAQs
Q: How do I clean an indoor outdoor rug?
A: It is easy to clean an indoor outdoor rug. Dust and dirt can be removed with a short sweep or vacuum for simple cleaning. Apply a light soap solution, hose down the rug, then scrub delicately with a soft brush for a deeper clean. To avoid mildew, give the rug a thorough rinse and let it air dry fully. Or, if you have an indoor/outdoor rug that is washable, cleaning it is as easy as washing it in your washing machine, letting it air-dry, and then placing it back where it goes!
Q: Can indoor outdoor rugs get wet?
A: Yes, indoor outdoor rugs are made to withstand moisture and can get wet without getting ruined. Typically, they are constructed from synthetic materials like polypropylene, which are water, mildew, and stain resistant. To avoid mildew formation, it's crucial to allow the rug completely dry once it has been wet.
Q: Are indoor outdoor rugs soft?
A: Even while indoor outdoor rugs are made to last, many of them are surprisingly soft to the touch. They are cozy underfoot because they are frequently made to simulate the texture of natural fibers. According to the rug's substance and weave, the precise softness can differ, so it's a clever idea to read reviews or, if feasible, feel the rug in person.
Q: Are indoor outdoor rugs waterproof?
A: Water-resistant indoor/outdoor rugs can endure spills or rain and dry rapidly thereafter. They are not entirely waterproof, though. They are still porous and will become wet if exposed to enough moisture even if they can withstand water. These rugs must be allowed to completely dry out after being wet to avoid mildew.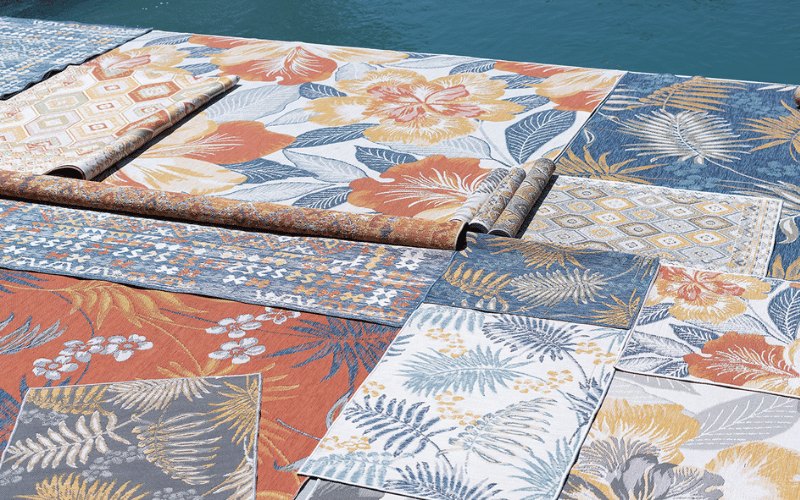 Indoor/outdoor rugs offer a fashionable, useful way to improve both your indoor and outdoor environments. They offer a lovely, low-maintenance solution for your house by fusing the elegance of interior rugs with the toughness of outdoor rugs. There are a wide variety of different options to choose from when it comes to shape, size, color, pattern, and material – especially when choosing a rug from an online retailer like Decorsify.com! We have plenty of different choices, ranging from small area mats, to larger washable area rugs! So if you have an outdoor rug that needs replacing, or if you're hoping to revitalize your indoor and outdoor spaces this summer season, be sure to check us out. And, as always, happy decorating!