The summer season is here, and you know what that calls for: plenty of time spent outside! Whether you're hoping to turn your patio into a hotspot for entertaining or simply an outdoor oasis where you can chill out during the hottest months of the year, equipping your space with the right pieces is a great way to help transform your patio into a wow-worthy space. Read on to learn about all the ways you can make this summer season the best one yet!
Find The Perfect Patio Furniture
The key to designing a great outdoor space is to first determine how you'll be using it. Do you love to entertain and plan on hosting large dinners for all your closest friends? Do you love playing lawn games and need a large, empty space to go on a winning streak? Or are you looking for a peaceful outdoor spot to be used solely for yoga and meditation on quiet summer mornings?
Setting an intention will help you decide what outdoor furniture or equipment you can use to help take your outdoor space to the next level. For example, born entertainers should prioritize a dining table for their outdoor dining room, while yogis may prefer to keep it simple by furnishing their patio with an indoor-outdoor rug in a mood-boosting color. Be honest with yourself and your expectations for the summer season, and you're sure to find the perfect patio furniture for your needs.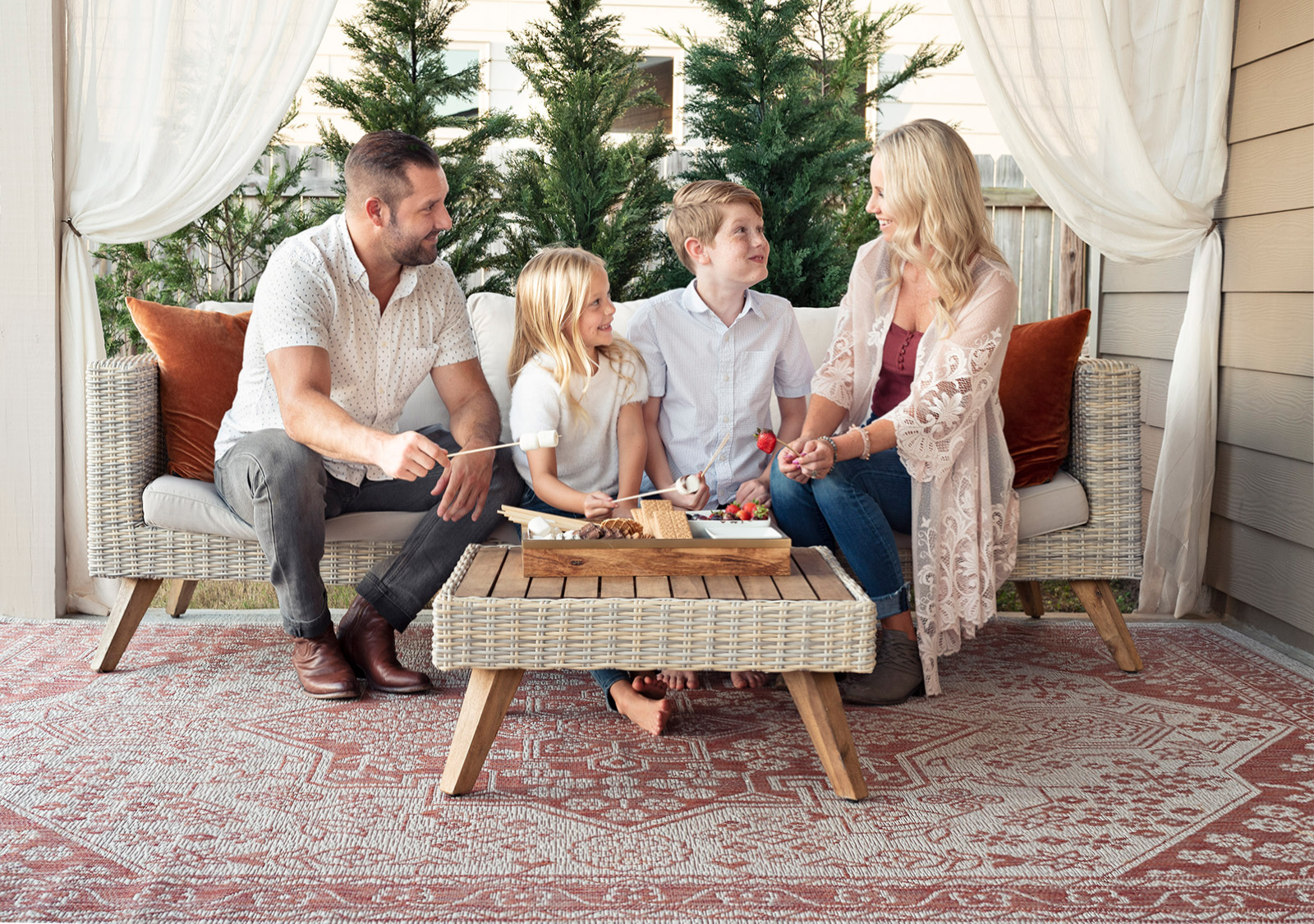 Take a Chance On Outdoor Dining
An outdoor dining room may conjure images of European glam and sophistication, but that doesn't mean you can't enjoy such splendor in your very own backyard! Start by finding an outdoor dining set that fits in your space, feels comfortable, and seats as many people as you expect to entertain. Ensure that whatever outdoor furniture you use - from area rugs to chairs - is weatherproofed for your climate and can withstand rain, spills, and more. For example, a washable rug can be a lifesaver if the wind knocks over a drink or two.
Once you've got the basics of outdoor dining covered, it's time to add a few personal touches, like a fire pit or some beautiful lighting (see below), to help make meals in your backyard feel even more special. Pro tip: set up a grill next to your outdoor dining table for the ultimate in fresh, grill-to-table dining! We hate to say it, but you may just stop eating inside altogether.
Add Some Fire
For many people, it's not summer unless they're roasting marshmallows over a roaring fire, gazing peacefully at the stars above. But there's no need to head all the way into the woods when you can bring the magic of fire into your very own backyard! Be sure to do some research - although traditional fire pits with metal grates are still enormously popular; high-tech fire tables are also gaining popularity due to their versatility and ease of use. There's a wide variety of fire pits and tables available for every taste and budget.
The best part? No matter what option you choose, you can enjoy every s'more of this summer season in the privacy of your own home. Because there's no need to gas up the car and drive into the wilderness, you can experience all the fun of summer without needing to spend more time and money on travel.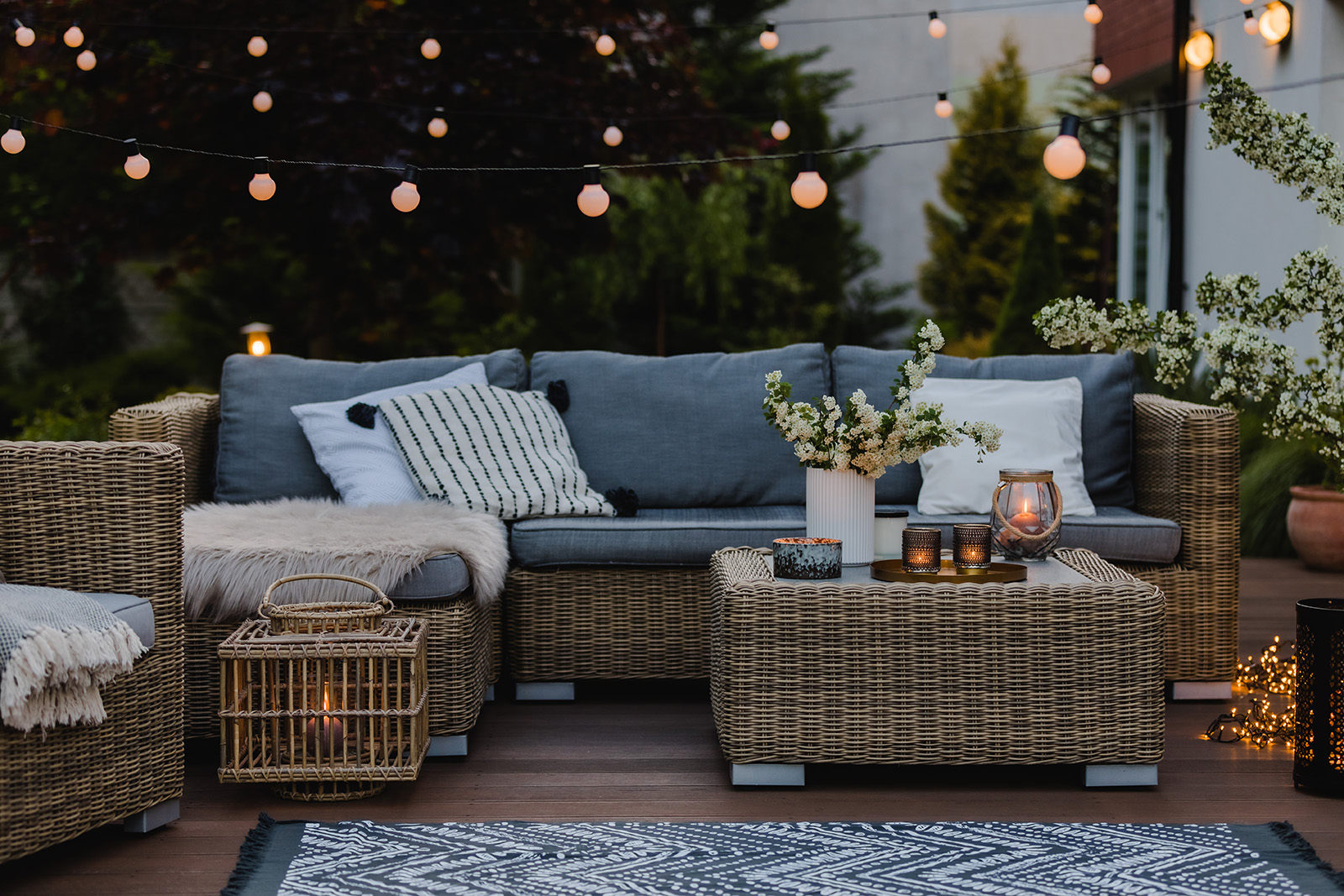 Let There Be Light
Whether you're sipping drinks around a fire table or trying to enjoy an outdoor dinner, it's important that you're able to see what you're doing. Fortunately, lighting can transform even the smallest, most impersonal space into a magical oasis. Consider stringing café lights across your outdoor space to give your home the feel of a Parisian bistro, or place tiki lamps in your yard for a tropical vibe. Looking to create a more intimate atmosphere? There's simply nothing more romantic than an outdoor dining table strewn with flickering votive candles.
Lest we forget, no outdoor space is complete without a citronella candle to keep away pesky bugs. The takeaway? No matter what atmosphere you're looking to cultivate in your outdoor space this summer season, don't forget about lighting.
Protect Your Inside Space This Summer Season
When your backyard space is part of your home, you can find yourself tracking dirt and debris into the house - which is clearly not ideal! Luckily, there are plenty of ways to keep your inside space looking pristine. First, invest in a heavy-duty door mat outside. Wiping your feet takes seconds and can help trap dirt outside that might otherwise ruin your indoor furniture. Many door mats also come in a wide variety of colors and patterns, allowing you to customize their look.
Second, consider outfitting your living room with an indoor-outdoor rug or another floor covering that can withstand high traffic. Decorsify offers a wide variety of machine-washable rugs, which can be tossed in the washer and come out looking new. Making simple changes now can keep your home looking its best day after day, both inside and out.
The Perfect Rug
Outdoor rugs are a must-have for transforming your backyard space! Whether you prefer the natural look of jute rugs or are simply looking for a rug to cover as much ground as possible, area rugs are great at adding texture, color, and comfort to any outdoor space. At Decorsify, we offer a wide variety of indoor-outdoor rugs that will look just as great in your living room as they will outside, in addition to outdoor rugs made with natural fibers that can hold their own in high-traffic areas.
No matter what type of floor covering is perfect for your indoor or outdoor space, we've got you covered at Decorsify. We feature eco-friendly rugs that are recyclable, along with indoor-outdoor rugs that can brighten up any living space. Check out our selection of beautiful outdoor rugs online and get ready to transform your outdoor space into an oasis that you'll cherish this summer season - and for many more to come.