Having a problem with picking your area rug color? You are not the only one! It can be hard work to choose the most suitable rug when you think it will stay in your room for a long time so it needs to be worth it. Let's look through some tips to help to reflect yourself in the home.
The color of your rug could change the entire room ambiance so it is important to decide with what colors you want to live. Why? Because rugs have a magical impact on you and the energy of your home. For example, it creates a perception of the space you are decorating. For your space to look bigger and cooler than it is, choose lighter colors while dark colors create a warmer, more intimate sensation in the room. So the right color choice is important to suit your place, alongside your personality.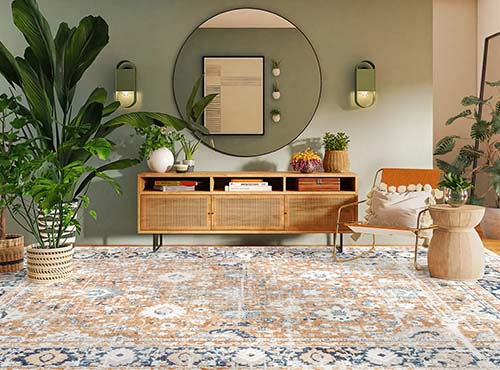 Another crucial tip before choosing your area rug color is natural daylight in your home. If you have daylight in your home you can go for darker colors and deeper shades for your rug to be eye-catching.
Of course, it's up to you if you want your area rug to blend in with your wall color, furniture, and decor or create a contrast to stand out. Yet, you may still want to balance between warmness and coolness to have coherence and harmony in the room.
If you decorate your room with muted colors you can go for dark colors for impact, yet if you just want to create the balance you can choose light colors with a solid or pattern, on the other hand, the best area rug color will be a single color and neutral tones for a room with a lot of colors and patterns.
My advice is that if you haven't decided on your furniture and wall color, you should choose the area rug first, and then it is easier to decide the rest of the colors of the room by using accent colors of the area rug.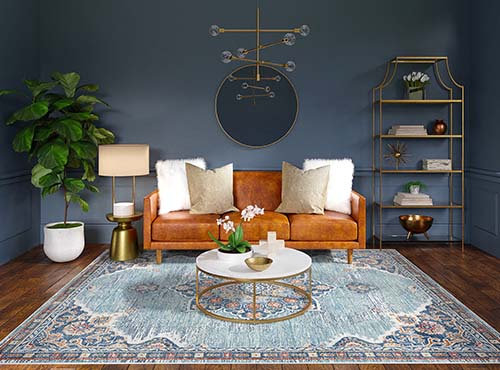 Did you also know that colors change your mood? No, you haven't misread! Colors can affect your mood and energy so you better decide how the room makes you feel. Some people like a relaxing and quiet atmosphere in their home, while the others like a lively and joyful environment. The best colors for those who like relaxing are natural colors such as green, blue, gray, and beige. Those who like a lively atmosphere at home prefer vibrant colors such as red, orange, or yellow.
What are you waiting for? Choose your side! Find the color to seize the room and reflect your energy!