If you've ever been rug shopping, chances are you've stumbled across two very popular styles of rugs: traditional, and contemporary. Traditional rugs are the rugs we all know and love, with classic medallion patterns and trimmed borders. Contemporary rugs, on the other hand, are rugs with a modern twist. This modern spin can be anything from an abstract art pattern to shockingly vibrant colors. However, when shopping between the two, it can often seem like there is no middle ground! What if you like the timeless oriental patterns but want a trendier set of colors? This exact debacle is what brought a new style of rug into being: transitional rugs.
Transitional rugs are rugs meant to bridge the gap between older and newer designs, keeping consumers from having to choose between two extremes. If you want classic colors but a bold new pattern, a transitional rug is the choice for you! Or if you want a traditional pattern with a modernized texture, transitional rugs are also the way to go! They are one of the newer styles, though since their creation they have climbed in popularity all over the world.
If you're looking for a new area rug, here are 10 reasons why a transitional rug might be the way to go:
Versatility
The most obvious plus of choosing a transitional style rug to add to your home decor is the rug's ability to be versatile. Transitional rugs were created out of the necessity for something more accommodating to multiple aesthetics and styles, and that purpose still applies today! Transitional rugs come in plenty of shapes, sizes, and color palettes so there is guaranteed to be one that fits your vision.
Versatility in style also means versatility in location. Transitional rugs can be used in any room of the house, so are great for home owners that are still figuring out their style, or might be tempted to move the rug from one room to another. For the same reason, they are great for people who tend to change decor depending on season! If for winter you want a neutral-tone transitional rug in your living room, but in the warmer months you want to change your main room decor, you can instead move the transitional rug to your bedroom. Transition is in the name of transitional rugs, and it's what they do best!
Comfort
Thicker styles of rugs, like shag rugs, are usually the go-to rugs when someone is looking for plush comfort. But you shouldn't overlook transitional rugs when making a purchase out of necessity for comfortability! Transitional rugs are known for being comfortable and beautiful, offering class with a modern spin. Their short pile might not be as fluffy as that of a shag rug's, but it is still incredibly soft and fuzzy underfoot. If you're looking for added comfort in your bedroom, home office, kitchen, or main living area, then a transitional rug might just be perfect for you.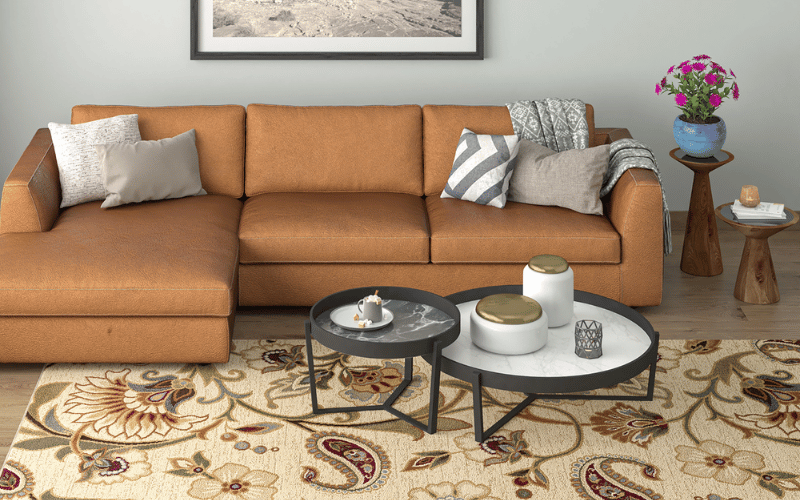 Easy Cleaning
Transitional rugs tend to be typically easy to clean! They have a short and even pile, which means that there are no lengthy strips of fabric to collect dirt and debris. Also, if you invest in a patterned rug, your rug will have the ability to easily disguise any stains until you can deep clean it!
Spot-cleaning your transitional rug is fairly simple. Beat the rug, vacuum the rug, and then if there are any stubborn stains, spot clean them with a bleach-free detergent. Scrub the stained spot for thirty seconds with detergent and hot water, or buy a rug-cleaning spray that is designed to help you spot treat. After a few rounds of cleaning, the stain should come out easily and your rug will be back to looking brand new! To make sure your rug lasts the longest it possible can, you should also invest in a rug pad to place underneath, which will be easier on both your rug, and your floors.
Cost-Effective
Transitional rugs are one of the most cost-effective rug styles, simply because you're getting the design of two rugs, in one! Rather than buying both a contemporary style area rug and a traditional style rug, buying a transitional rug that encompasses both styles you're looking for will keep you from breaking the bank. And at Decorsify, our transitional rugs are both luxurious and affordable, making sure to help you save your money when re-decorating your home.
To get the most bang for your book, invest in getting a large rug. While they're more expensive than smaller-sized rugs, they cover more surface area and typically last longer due to their larger spread. To look over some listings for cost-effective transitional rugs, check out Decorsify.com!
Noise Reduction
Rugs are known noise reducers, no matter the space they're placed in. The material of transitional rugs is no different; whatever area of the home they're used in, the noise will be cut back. If you have any room of your home that has hardwood, sleek furniture, or abundant windows, then having something plush within the space to remove the echo is a must. If you have a home office where you take work calls or produce work emails, adding a transitional rug to your office space can make a world of difference.
Colorful Accents
One of the most notable things about the style of transitional rugs is the abundance of colors they come in! Whereas traditional style rugs are typically calmer or more elegant colors, and contemporary style rugs are bolder and brighter, transitional rugs give you the perfect mix of all of the above. Transitional are rugs come in every color of the rainbow, in a multitude of different patterns that allow those colors to pop!
Transitional rugs are also perfect rugs for accent spaces, for this reason! If you have more neutral furniture, or neutral wall paint, then adding a splash of color to your decor becomes essential! One of the easiest ways to do this, besides throw pillows or blankets, is with an area rug that is outside of your designated color palette. Place a yellow accent rug in the corner of your gray living room, add a teal transitional rug in your beige kitchen, the options are endless!
Reduces Wear & Tear on Floors
This is a benefit that can be guaranteed by all styles of rugs, but especially those that are thicker in pile - the impact on your floors will be lessened in areas where you have a rug. If you choose to place rugs in higher-traffic areas, or in areas where things are often dropped, you will be saving your floors some strife by covering them with your rug. The great thing about using transitional rugs to do this is that the style and patterns available make it less noticeable when the rug takes the wear and tear instead. For any areas that will undergo a lot of spills or foot-traffic, a higher-energy pattern or a darker color will help to camouflage.
While this benefit typically applies to hardwood, tile, or vinyl flooring, the same can be true for carpet! Most don't consider layering a rug overtop carpet, but if your goal is to ensure that the carpet lasts longer, then a rug is the way to go. Placing a transitional rug overtop carpet in a bedroom will help alleviate the stress your carpet pile goes through, and will ensure that it lasts as long as you need it to.
The options are endless when it comes to upgrading your decor with a transitional area rug. As the perfect mesh of traditional and contemporary styles, these rugs are designed to fit any and every home. For ideas on how to style transitional rugs or other decor, check out the rest of our blog - and if you're in the market for anything new, take a look at our listings to help you Decorsify Your Home. Happy shopping!